Hold on...Did he see his shadow? Do we have 6 more weeks of winter to snuggle up and knit? I say yes, we will definitely make more warm hats, sweaters and shawls!
Last week, I mentioned the Saxifrage Tam as a pattern that could be knit for the Berroco-Lopi Knit-Along but since it is a free pattern, I will mention it again!
The Saxifrage Tam by Véronik Avery pays homage to the brightly colored yokes of Icelandic sweaters. With eight different colors of Ístex Léttlopi called for in the pattern, there's plenty of options for customization. The pattern is charted and has the finished measurements of about 26" around x 9" high. You need a total yardage of about 300 yards so if you have a lot of worsted weight leftover stash, this is a great stash buster project! The gauge is 22 stitches and 25 rows = 4 inches in stockinette stitch on 3.75 mm (US 5) needles in the charted pattern. 3.25 mm (US 3) needles are used for the ribbing.
Cozy Cowl by Danielle Comeau is another quick knit neckwarmer! It can easily be whipped up in one evening using big 12.75 mm (US 17) needles and be ready to wear the next day! Knit using a big super bulky yarn such as Malabrigo Rasta or Noro Kureyon Air or knit holding double with Drops Kid Silk for that halo! Two big buttons that are both decorative and used to create the perfect cowl! This is one I would love to cast on so keep an eye out for a future FO pic!
WIP's and FO's
My Comfort Fade Cardi WIP now has the hem ribbing done and I am on the first set of the fading of the first 2 colours on the shawl collar and front bands. I guess that for the pic, I could have put all of my stitches on waste yarn for a better pic but I am too lazy to do that and then have to put the stitches back on my needles! The pattern has you work on the sleeves before the front bands but I am funny that way - unless I need the sleeves first to continue, I usually work the collar and bands first.
The short rows on Colour A are complete in the collar and of course, I had to recalculate because I didn't pick up the same number of stitches as the pattern.
Natalie's Comfort Fade Cardi WIP is moving along! She has actually finished her ribbing and unlike me has started on her sleeves!
Connie wanted to finish a few projects first so has swatched her Comfort Fade Cardi! If anyone else wants to cast one on, I still have Koigu Kersti Comfort Fade Cardi Kits available in the shop!
I finished my second Arika Cowl by Jane Richmond! Once again I used one skein of Hikoo Kenzington - this time in 1030 Taranaki.
Caroline, my Girl Lamb by Julie Williams of Little Cotton Rabbits is finished and I must say she is the cutest thing! I love everything about her including her fuzzy little head where I held a strand of Drops Kid Silk double with Bergere de France Ideal yarn. Ideal is a favourite of mine for an easy care yarn with a lot of colours.
Kits are available in the shop which can also be used for any of Julie's patterns. Kits include enough yarn to make at least 2 little toys and their clothing. Did you see the 4 little rabbits I made last year? Check them out on my Ravelry Projects Page:)
Sigh, my Candy Cane Socks have only progressed a few inches this week but since I won't need them until next Christmas, I guess that is totally ok. I really want to cast on another sock...maybe Zigzagular from last week's post but I really want to finish both socks first so the next pair, I will work 2 at a time!
KNIT GROUP AND GALLERY
The current Knit-Along is going to be an Any Project Knit-Along! The deadline for this one will be March 31, 2018 so there is a lot of time to get a bigger project such as the Comfort Fade Cardi or a bunch of smaller projects complete to enter in the next draw! You don't have to come to a Knit Afternoon or Knit Night to be included in the draw but you do need to post your finished projects to the Group Finished Objects thread on Ravelry.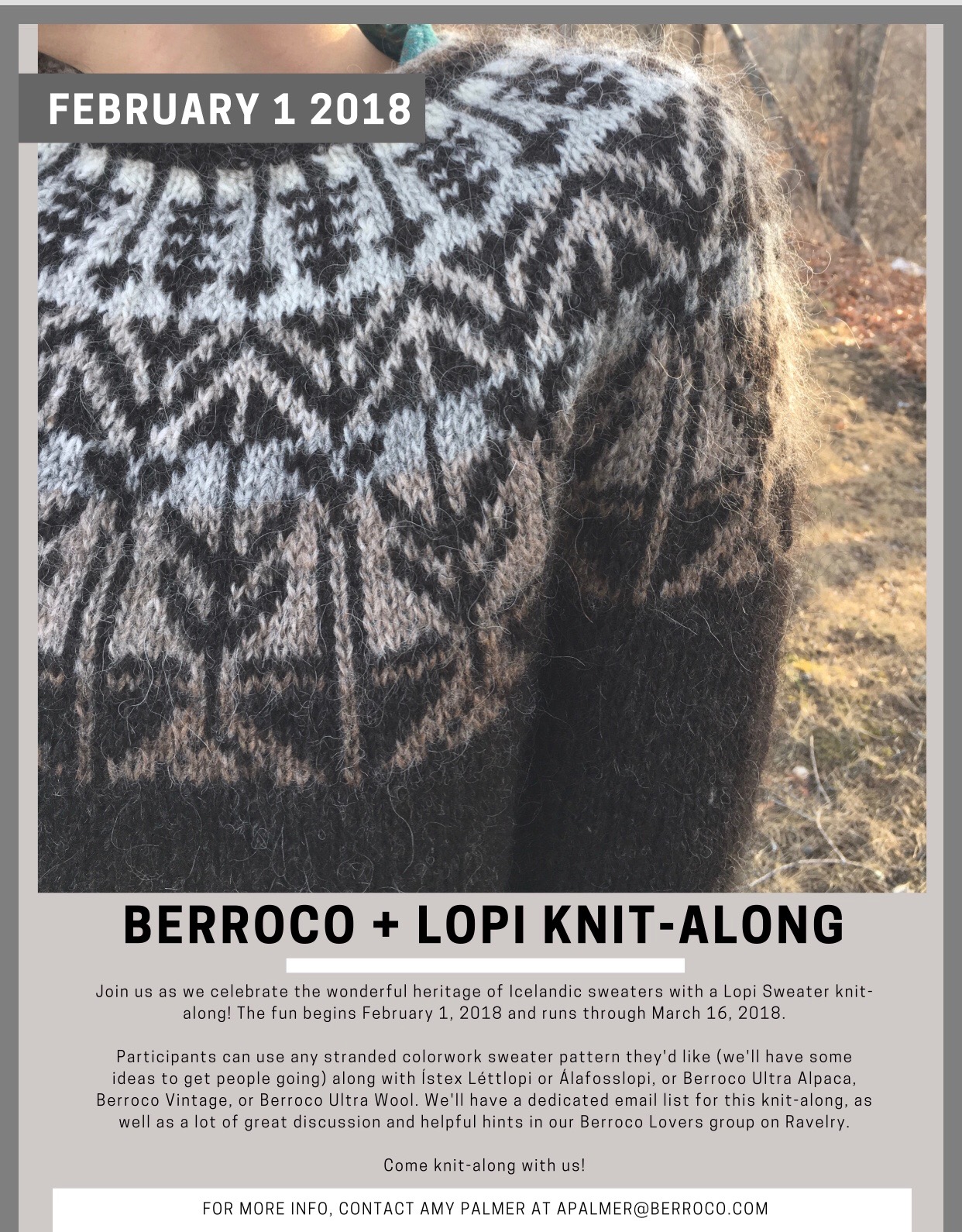 Berroco and Lopi have partnered up for their first Knit-along of 2018! Any one who wants to join in for their KAL can also include their project in my KAL. The Cast-on day is Thursday, February 1 and the Bind Off day is Thursday, March 15. You can knit any sweater pattern that calls for stranded colourwork.
Yarn: Knitter's choice of Ístex Léttlopi, Ístex Álafosslopi, Ístex Plötulopi, Berroco Ultra Wool, Berroco Ultra Alpaca, Berroco Vintage, Berroco Ultra Alpaca, or Berroco Vintage (always be sure to do a gauge swatch).
The Berroco - Lopi KAL will be an extra Knit-Along that will run at the same time as my regular Any Project Knit-Along, the shop will be joining this Knit-Along! We will cast on February 1 as well so if you want to join in, please do! You can do this on the Ravelry Group or come in during the Knit Afternoons or Knit Nights.
Vintersol by Jennifer Steingass is the pattern that I have decided I will cast on. However, I am still undecided as to whether I will use Istex Lettlopi or Berroco Ultra Alpaca!
Linda's On the Spice Market WIP. On the Spice Market Kits (SweetGeorgia Party of Five and Tough Love Sock) are available in the shop.
Linda's Lemongrass by Joji Locatelli.
Connie's Adult Surprise Jacket
Lise's Little Cinnamon Test Knit
Socks that Nicole knit for Valentines Day using Zen Yarn Garden's Superfine Fingering Art Walk-Stamped Lips.
Angela's Auspice by Lisa Mutch
CLASSES AND WORKSHOPS

A reminder that our list of classes and workshops is up on the website! Take a look to see if there is anything you are interested in and sign up soon. There is a First Cardigan Class, a Beginner Knitting Class, a Beginner Knit Hat Class and any one who saw the rabbits that I had for a short time in the shop before they went to their forever homes with my grandbabies will recognize the Girl Lamb and Boy Ram as a pattern by Julie Williams of Little Cotton Rabbits. This Class will introduce you to colourwork, increasing, decreasing, and grafting to name a few although it is recommended that you be an advanced beginner to intermediate knitter to be able to keep up. The Fixing Mistakes Workshop is Friday, February 9 – 6:30 to 8:30 pm.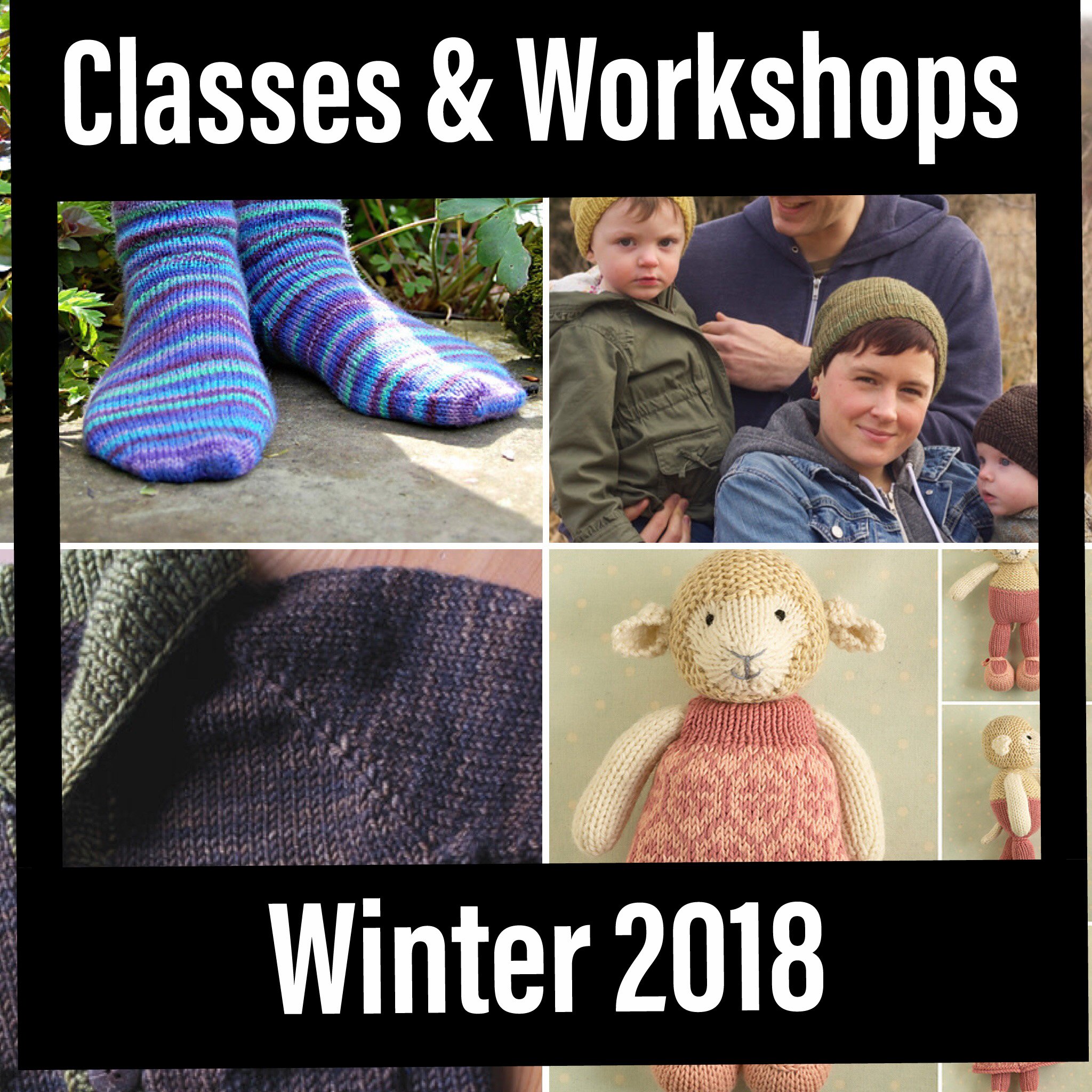 Happy Friday, Happy Knitting, Crocheting and Crafting!