The first of the 4 little rabbits that I knit, I started in April, this last one I finished this week so I will be saying goodbye to them soon! My daughter's family came for a short visit on Monday so that we could babysit the baby and she and hubby could take Griffin to Adventure Bay in Windsor! Of course Griffin was so excited to watch me finish his "Harry" who now sports a belly button at his request.
FREE PATTERNS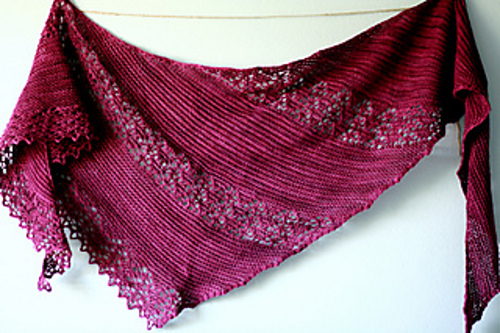 MatanuskaWind's Nurmilintu showcases a single, gorgeous color for Nurmilintu by Heidi Alander's beautiful shawl that alternates garter sections and lace sections that you can repeat as many times as you want!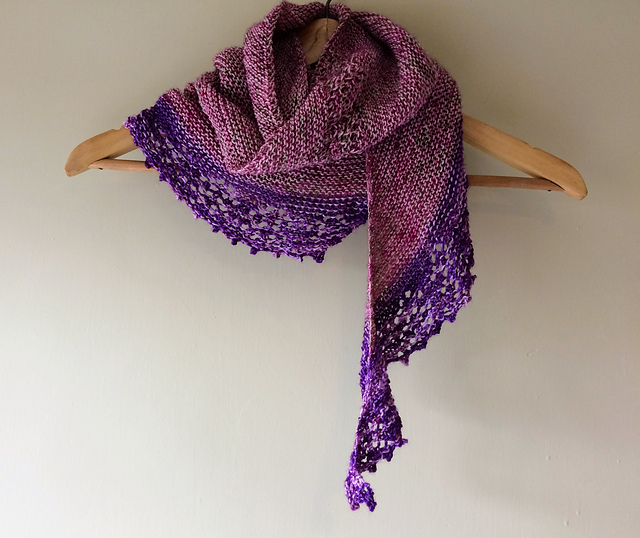 Amuneiro's Nurmilintu showcases how you can add a second color - Wow!
Tamarisk's Nurmilintu incorporates beads at "yo, k, yo" spots! I love that there are so many variations of this pattern!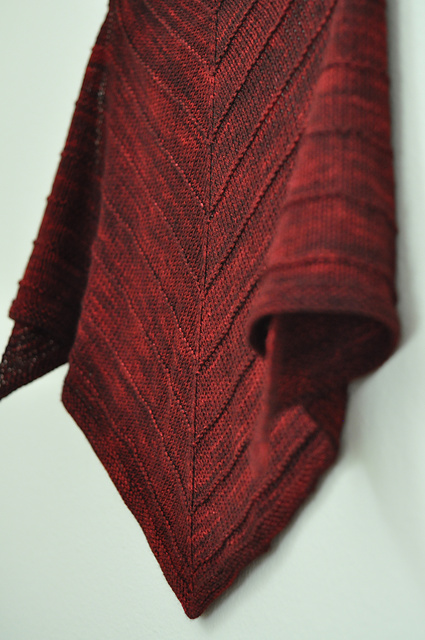 Boneyard Shawl by VeronicaMM is from Stephen West's Boneyard Shawl - one of Stephen's first patterns! It is a simple triangular shawl featuring ridges and a garter stitch border. There is also a striped Boneyard Shawl with extra edge increases for an elongated wingspan.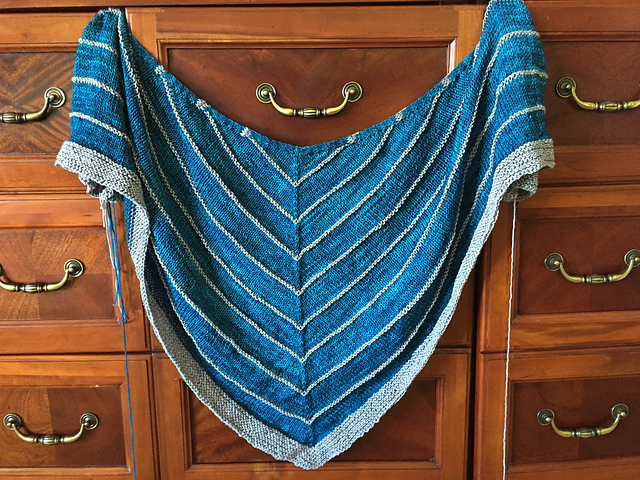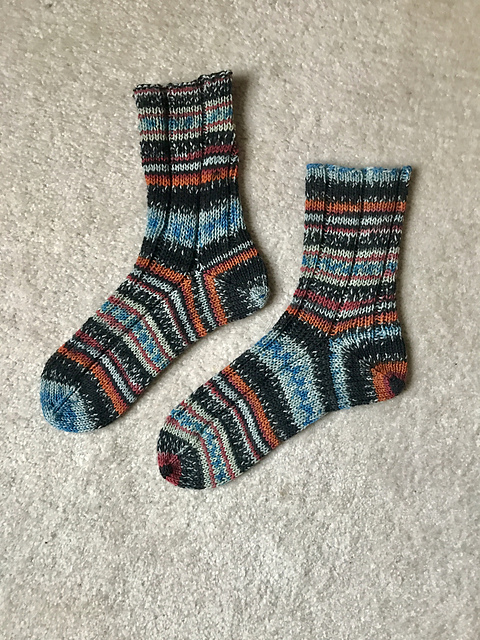 auricula82's Basic Ribbed Socks is knit with Schachenmayr Regia Design Line by Arne & Carlos in Fall Night. The pattern is Basic Ribbed Socks by Kate Atherley, socks she designed "as a solution to two irksome issues: socks with a plain stocking-stitch leg tend to fall down, and I find k1p1 ribbing tedious". The ribbing helps your socks hug your feet!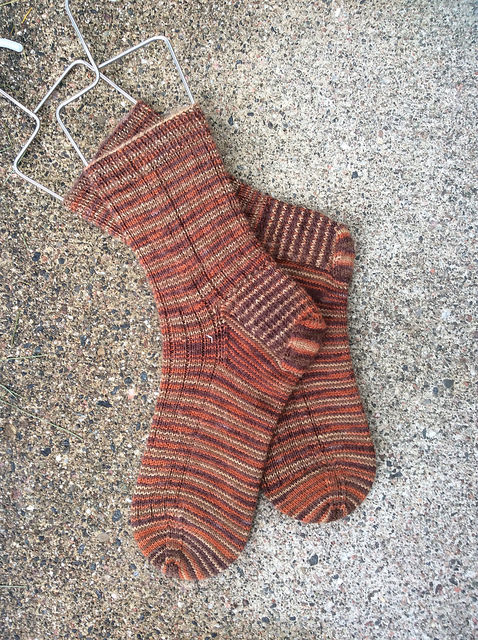 VestaLPC's Basic Ribbed Socks is knit in Rowan Fine Art.
WIP's, and FO's
I finished my 4th rabbit as I said above. Here are a few more pictures!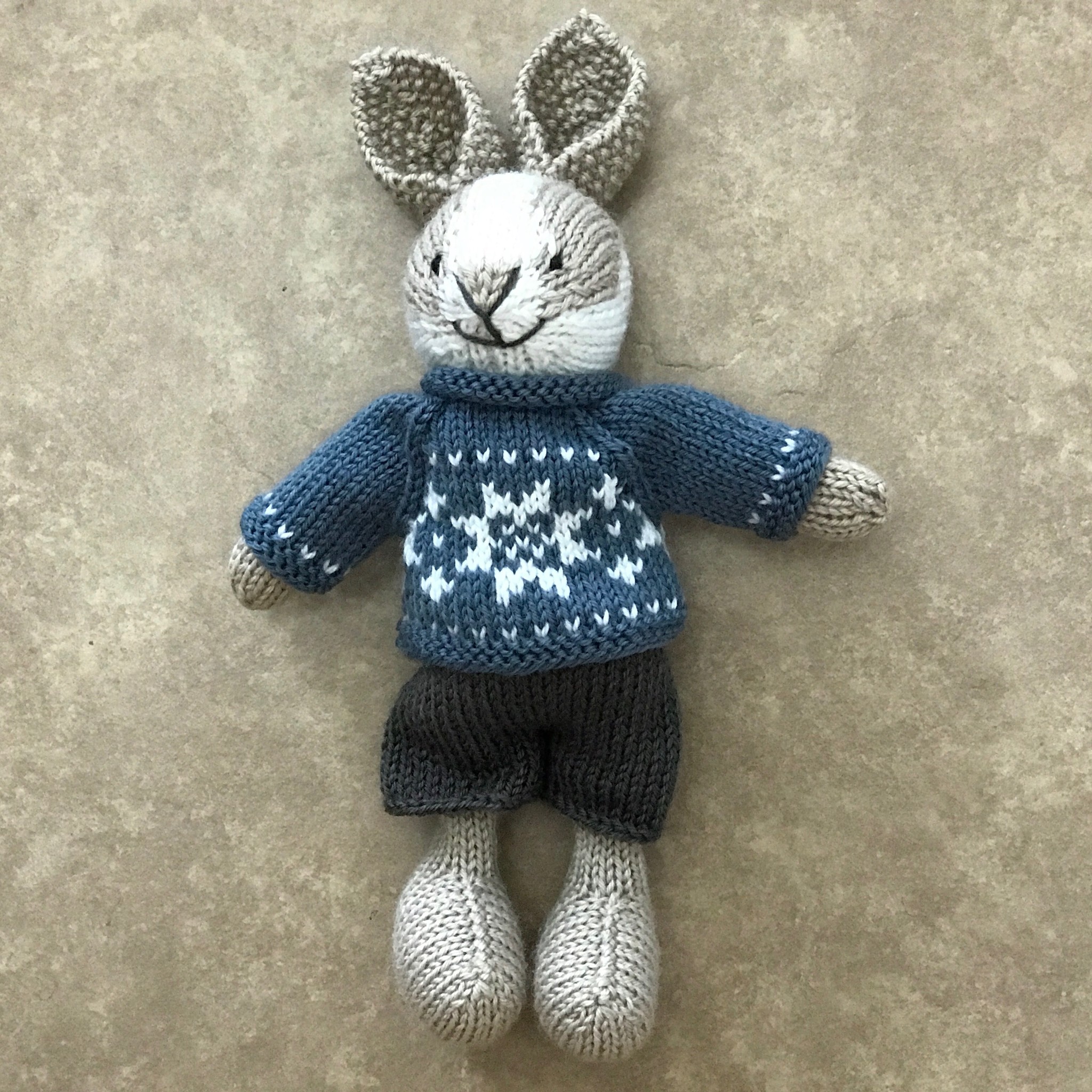 Harry in his fairisle snowflake sweater and shorts.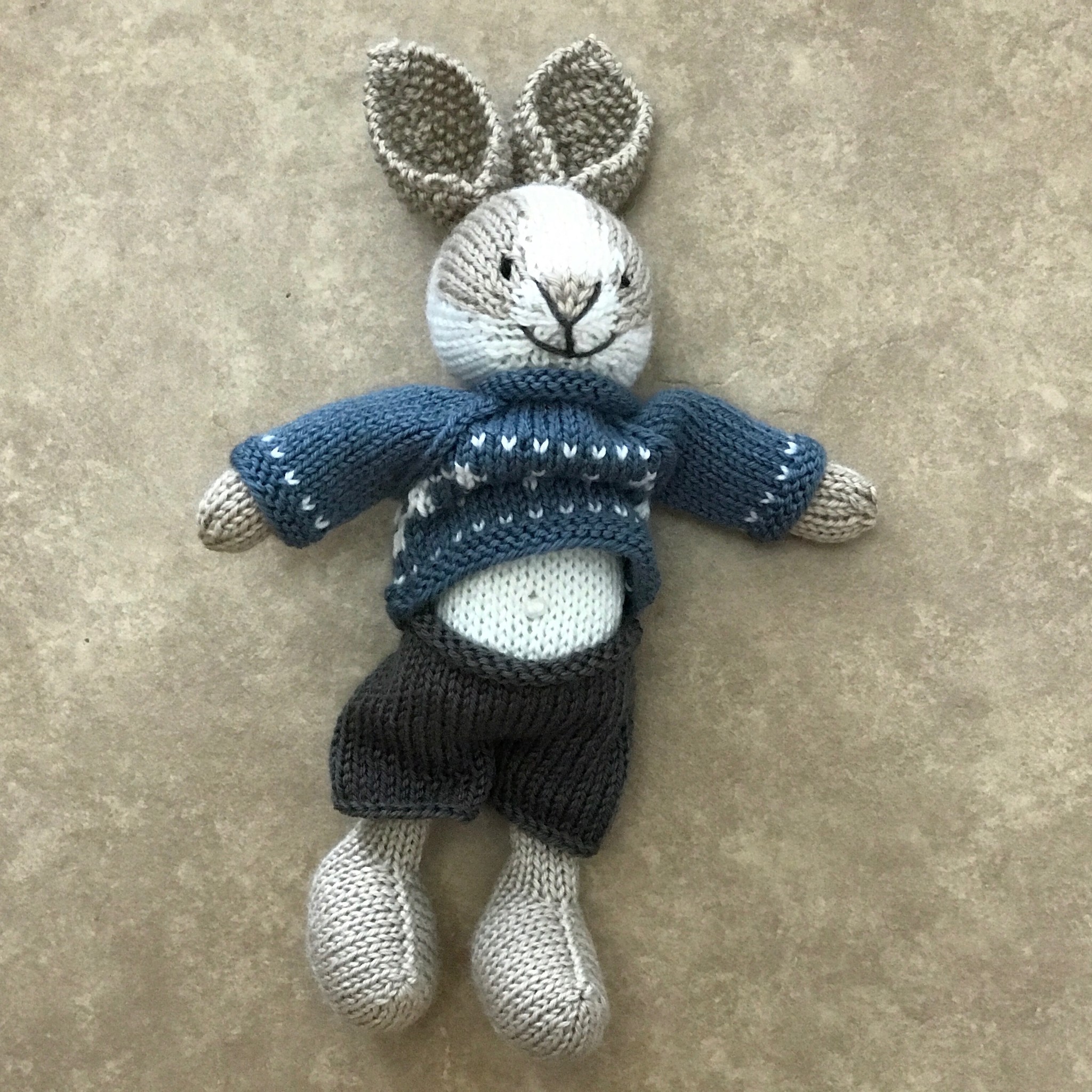 Can you see Harry's belly button:)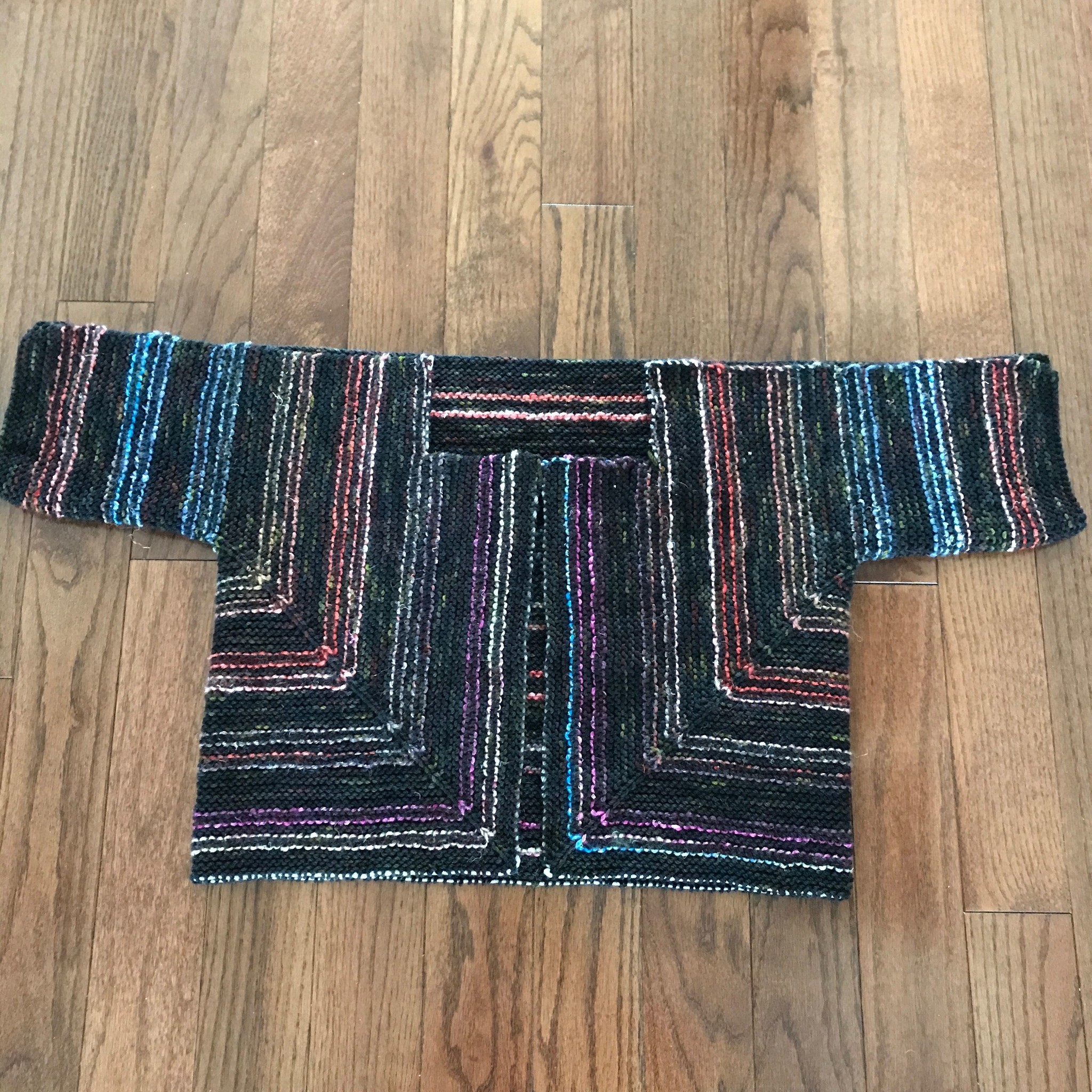 My Adult Surprise Jacket has progressed to the end of the increases. I have put all of the stitches onto waste yarn so that I can move onto adding length to the sleeves and then doing the shoulder seams. The sleeves are actually deep enough so I might not add the extra width to the shoulders for this ASJ (I did add about an inch on my first two ASJ's).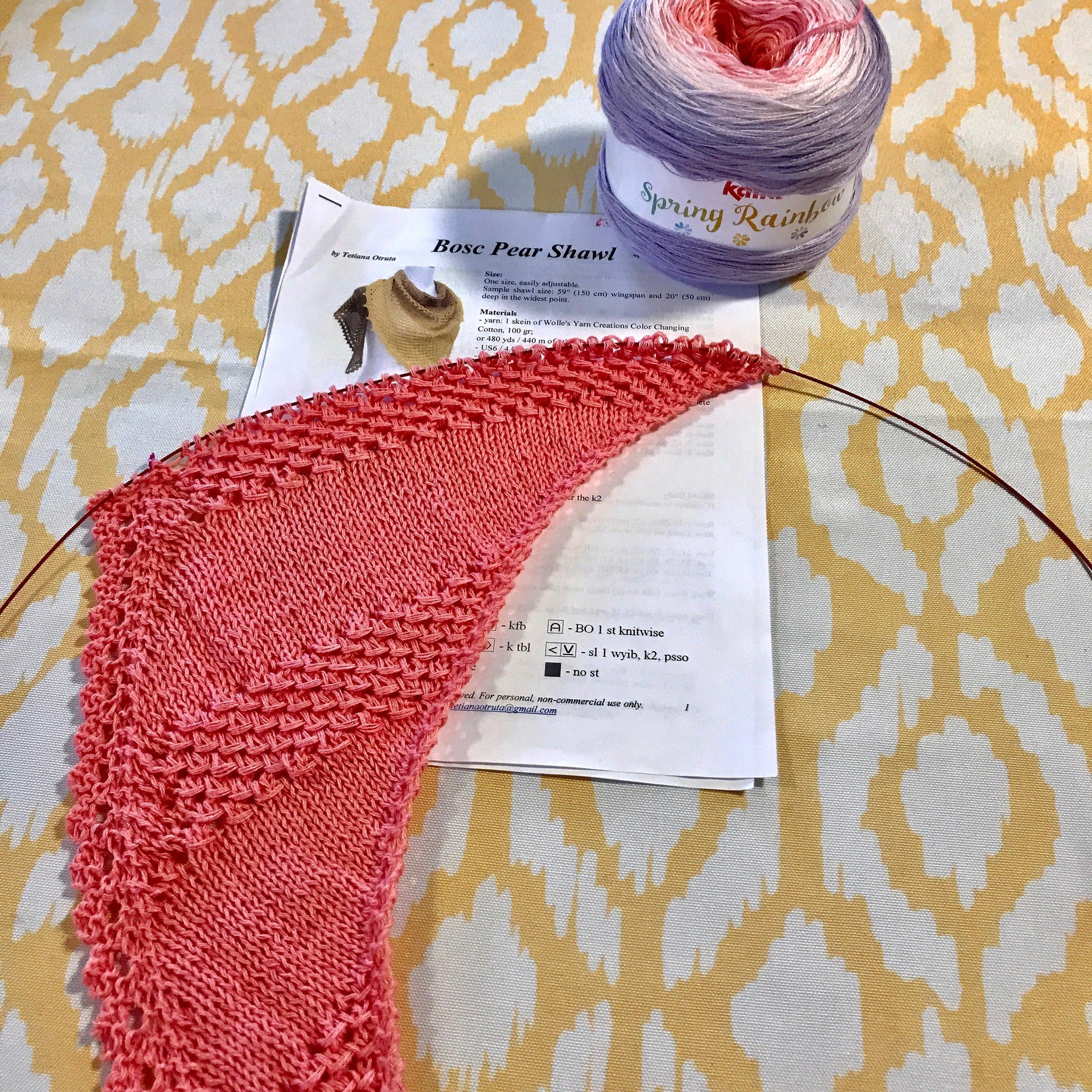 I finally an hour or so of time to work on my Bosc Pear! It had been languishing on my table for quite awhile since I seem to have a lot of projects on the go!
I also worked a little on my River Ripples by Yumiko Alexander! Not a lot but a little!
GALLERY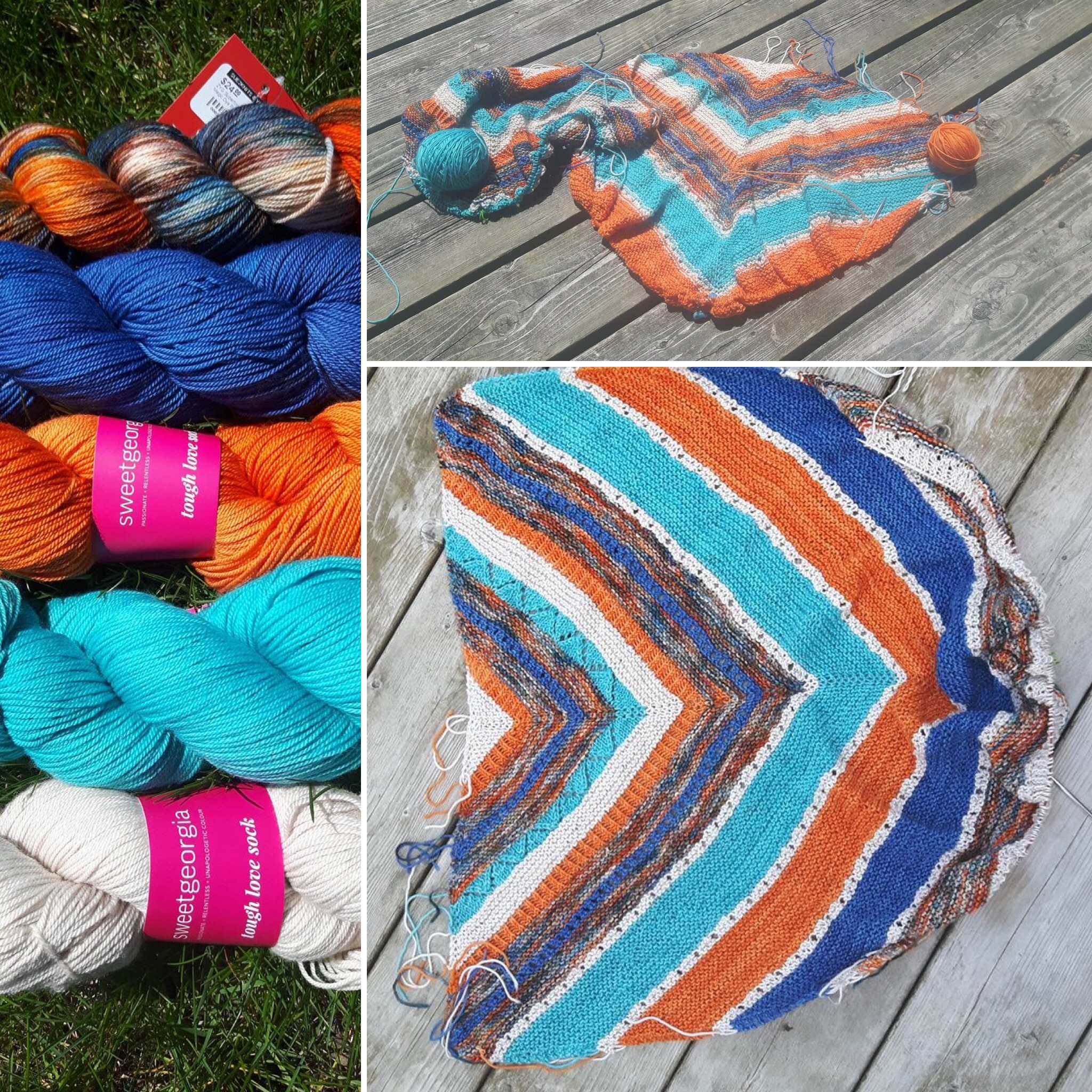 Nikki's Starting Point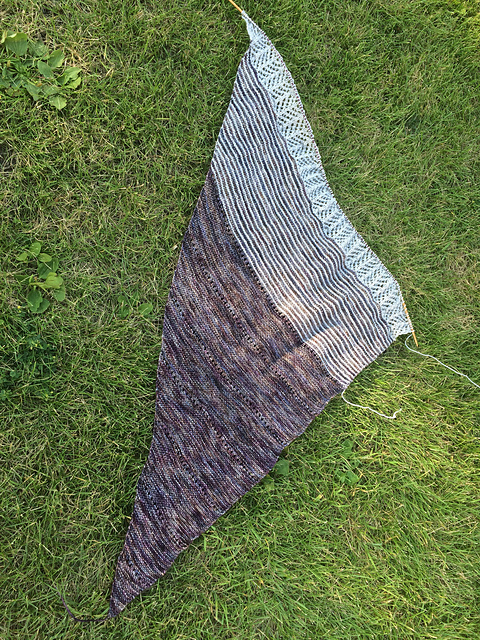 Mattedcat's Moonlight knit using the skein of Zen Yarn Garden Serenity 20 that she won in the last KAL draw (Tuxedo) and Silvermoon. The pattern is Spotlight by Janina Kallio.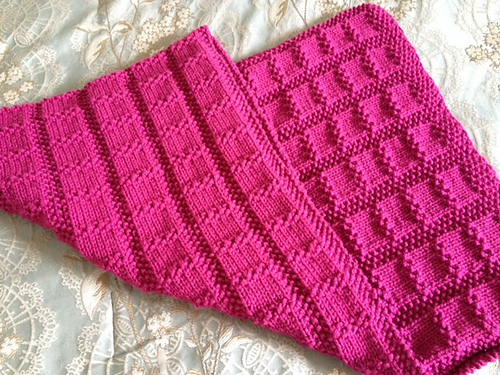 Maltesecross Cornerstone Prayer Shawl. The pattern is Cornerstone Shawl by Marian McKittrick.
I thought that I should mention the "Free Pattern Fridays" can all be found in my blog posts on my website at https://www.sue2knits.com. This is Free Pattern Friday # 13!
Happy Friday and Happy Knitting!
Save
Save
Save
Save
Save
Save
Save
Save
Save
Save
Save
Save
Save
Save
Save
Save
Save