The secret to having it all is knowing you already do...This is the quote my daughter recently posted.
I am so thankful to have great friends, family and three beautiful grandchildren! My husband has seven and 2 great grandchildren. In the spirit of Thanksgiving and making our gifts, here are a few more free patterns for your gift giving pattern folder - you really cannot have too many!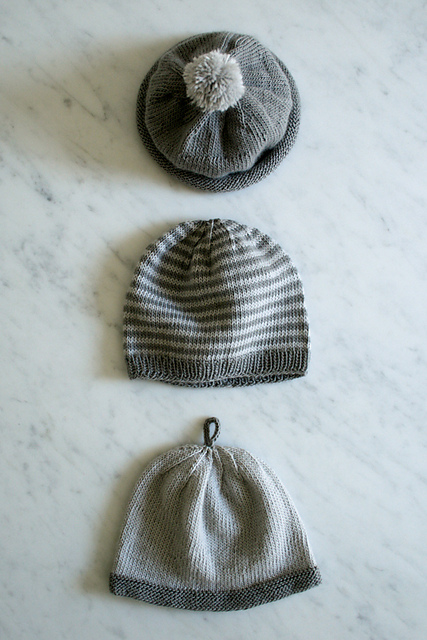 Heirloom Hats for Newborns by Purl Soho is a great little hat for anyone trying to welcome every new baby you know with a hand knit gift! Choosing 2 simple, pure colours in fingering weight yarn will give you enough for several hats with understated beauty. Each hat uses about 115 - 120 yards (105 - 110 m) of light fingering yarn. The gauge is 8 stitches = 1 inch in stockinette stitch using 2.75 mm (US 2) needles. The finished circumference is 13 1/2 inches.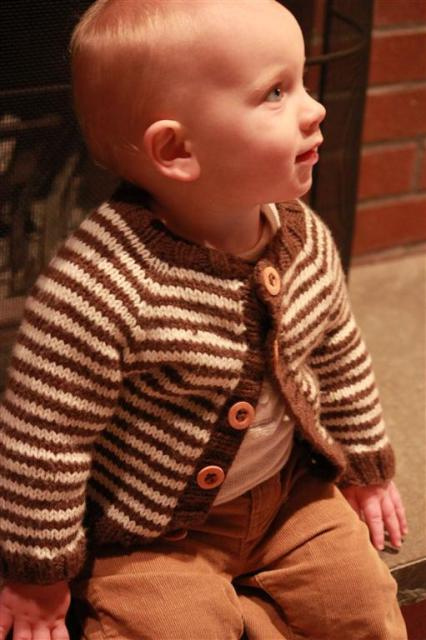 Little Coffee Bean Cardigan by Elizabeth Smith is a sweet easy, cute baby cardigan designed in 3 sizes. It is knit with a top-down raglan construction which makes this a completely seamless design, perfect for your first sweater project.Little Coffee Bean requires 80 (217, 250) yds for the main color and approx. 100 (130, 160) yds for contrasting color of worsted weight yarn. You need 4.5 mm (US 7) and 5.00 mm (US 8) needles for a gauge of 4.5 stitches and 6 rows = 1 inch in stockinette.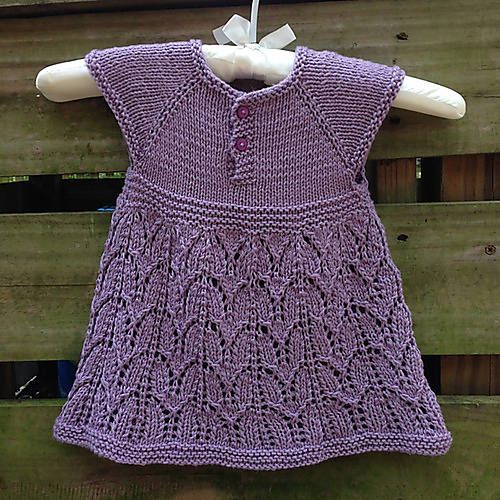 Paulina Dress by Taiga Hilliard Designs is a classic little dress with a simple lace skirt wit a top down construction, buttons at the back and a full skirt. This free pattern only includes to newborn to 3 months size requiring 300 yards (274 m) of DK weight yarn for a gauge of 22 stitches = 4 inches using 3.75 mm (US 5) needles. It is really an adorable first dress.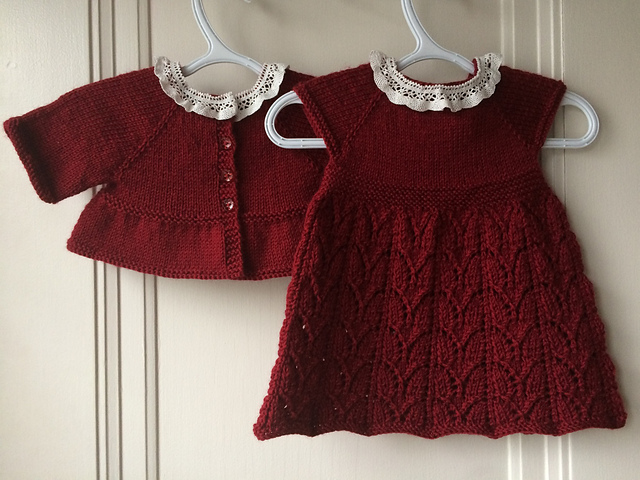 Last week, I posted Lise's Paulina Dress that she knit for her granddaughter. Now, she has knit a matching jacket! Isn't it the most adorable set!!
WIP's and FO's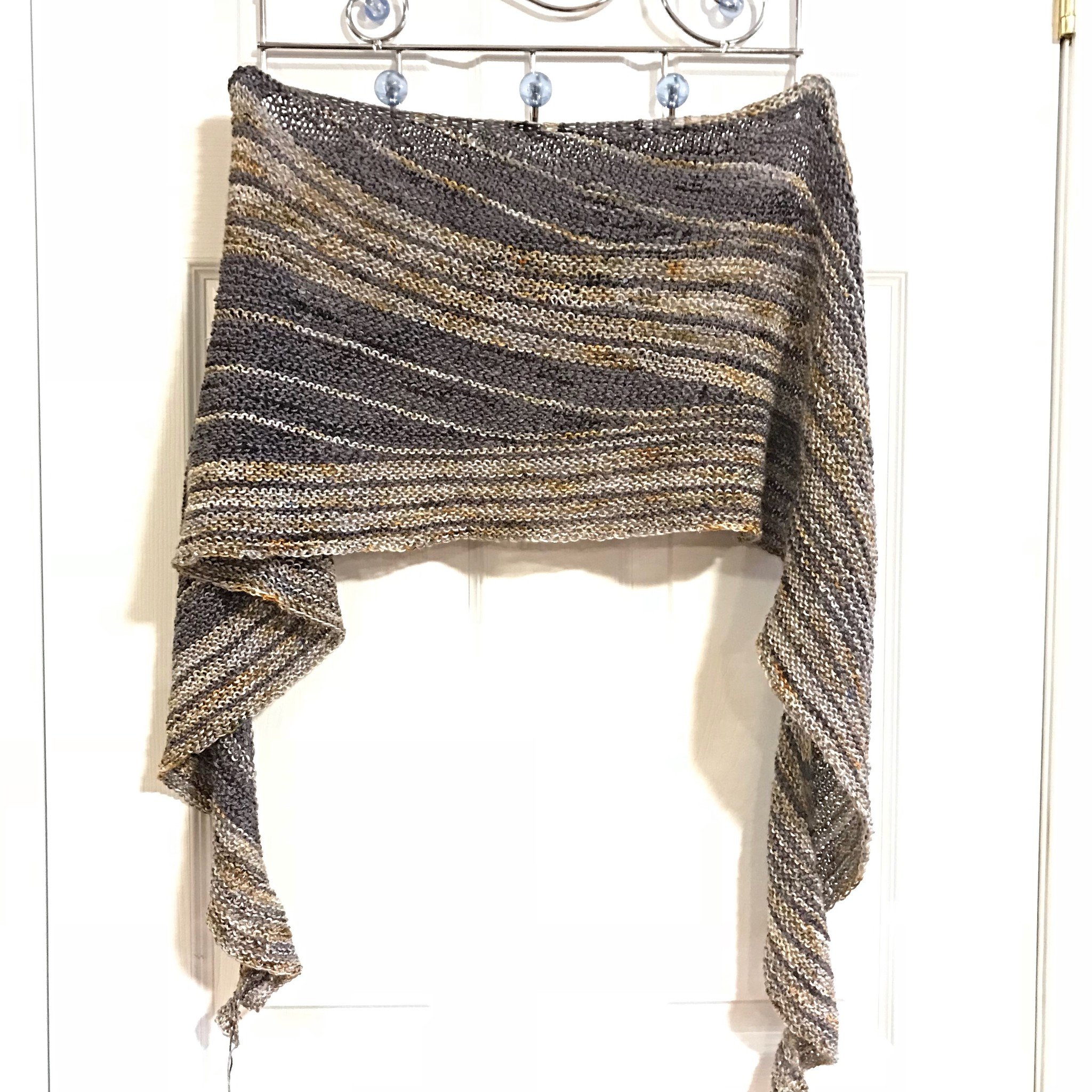 I finished my Surge by Lisa Mutch but it still needs the ends sewn in and to be blocked! I really love the colours and the shape of it - long and fairlynarrow that I can loop around my neck! Everyone who knit one of Lisa's shawls has turned out amazing so I will have to post them together in a collage:)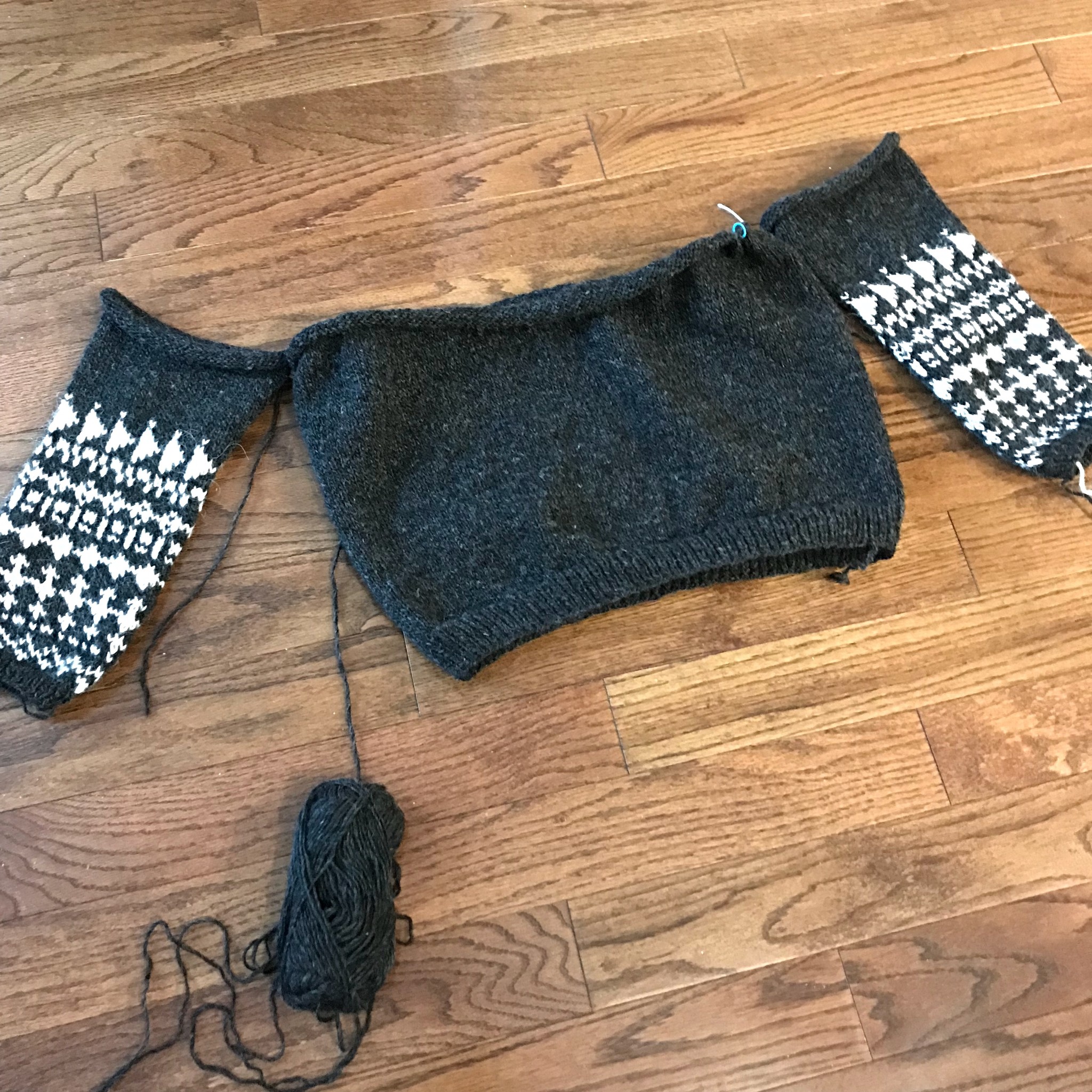 My Öræfi by G. Dagbjört Guðmundsdóttir has progressed to the back increases before I attach the sleeves! I am looking forward to starting the yoke! This has been a great pattern to work on while in the car - I always knit while Ed drives. If I hadn't decided to change the size and gauge, I am sure I would have a finished object already but I also know that the change will be a sweater that I will wear to death.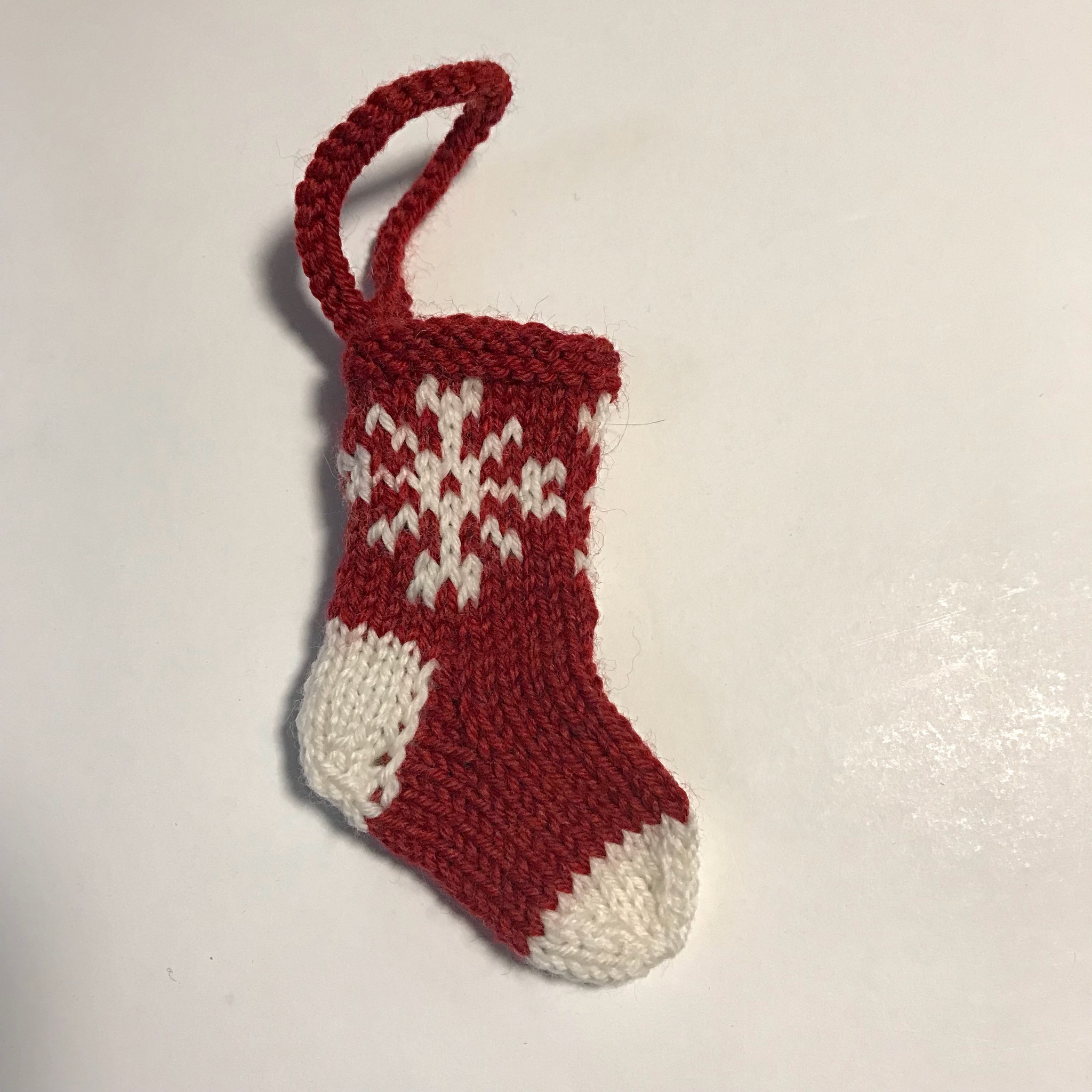 I love my Christmas Mini Stocking sample especially since red and white is my favourite Christmas colour scheme. It has made me think that I should start decorating the house soon!
The Christmas Mini Stocking Workshop is now up on the website so register early! You can register online or in the shop.
Date and Cost

$40 – Saturday, December 9, 2017 – 1:00 to 3:00
Deborah Meadows will be my new teacher! Our introductory special "Meet the New Teacher" Christmas Mini Socks Workshop is suitable for anyone with a basic knowledge of knitting who can knit and purl.
Details
Cast on mini Christmas Stockings that can be used as tree ornaments, to hold your cutlery at your holiday table, as a small gift bag, as an advent calendar or strung from an i-cord garland! They are knit flat and then sewn together.
Sizing
Finished sock ornament measures 3.25 inches
Needles
3.00 mm (US 2.5) needles
Gauge
26-28 sts = 4" in stockinette stitch
Notions
darning needle
Kits will be included for this first Workshop! The kits are included and will have Christmas Red, Green and White yarn as well as some Christmassy buttons! Needles are not included in the kit.
Click HERE to register!
KNIT GROUP AND GALLERY
The Lisa Mutch (Northbound Knitting) Shawl Along: Asunder or any of her shawl patterns is running from October 1 to November 30.
OR
Any Project Knit Aong: An everlasting knit-along to encourage and support you to knit your own project (any project, and join in anytime!). This has the same dates and deadlines as any other knit-along running so is included in the same draws! This KAL has also started is also running from October 1 to November 30.
Please sign up and post pictures HERE by the November 30th deadline to be included in the next draw.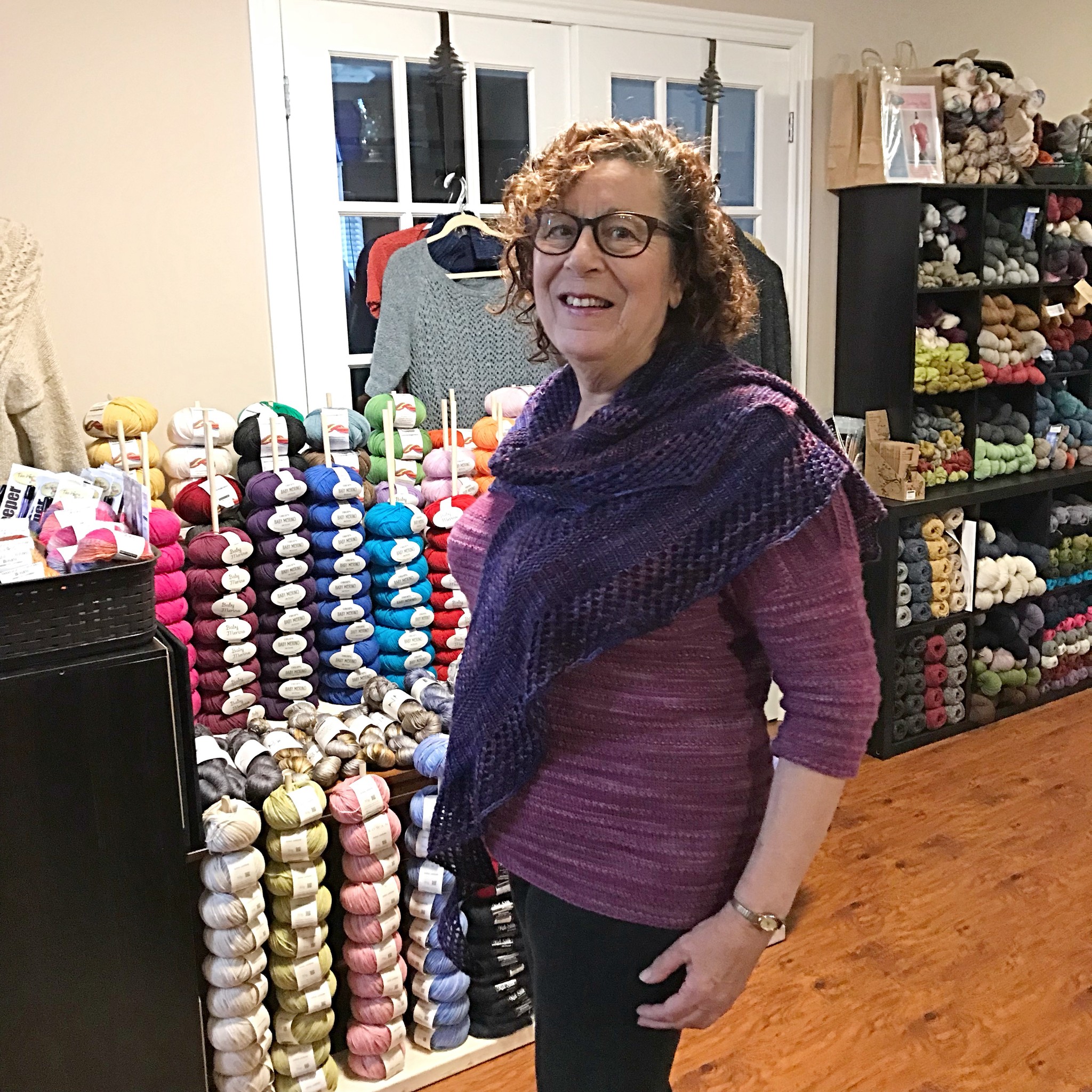 Connie's Brickless by Martina Behm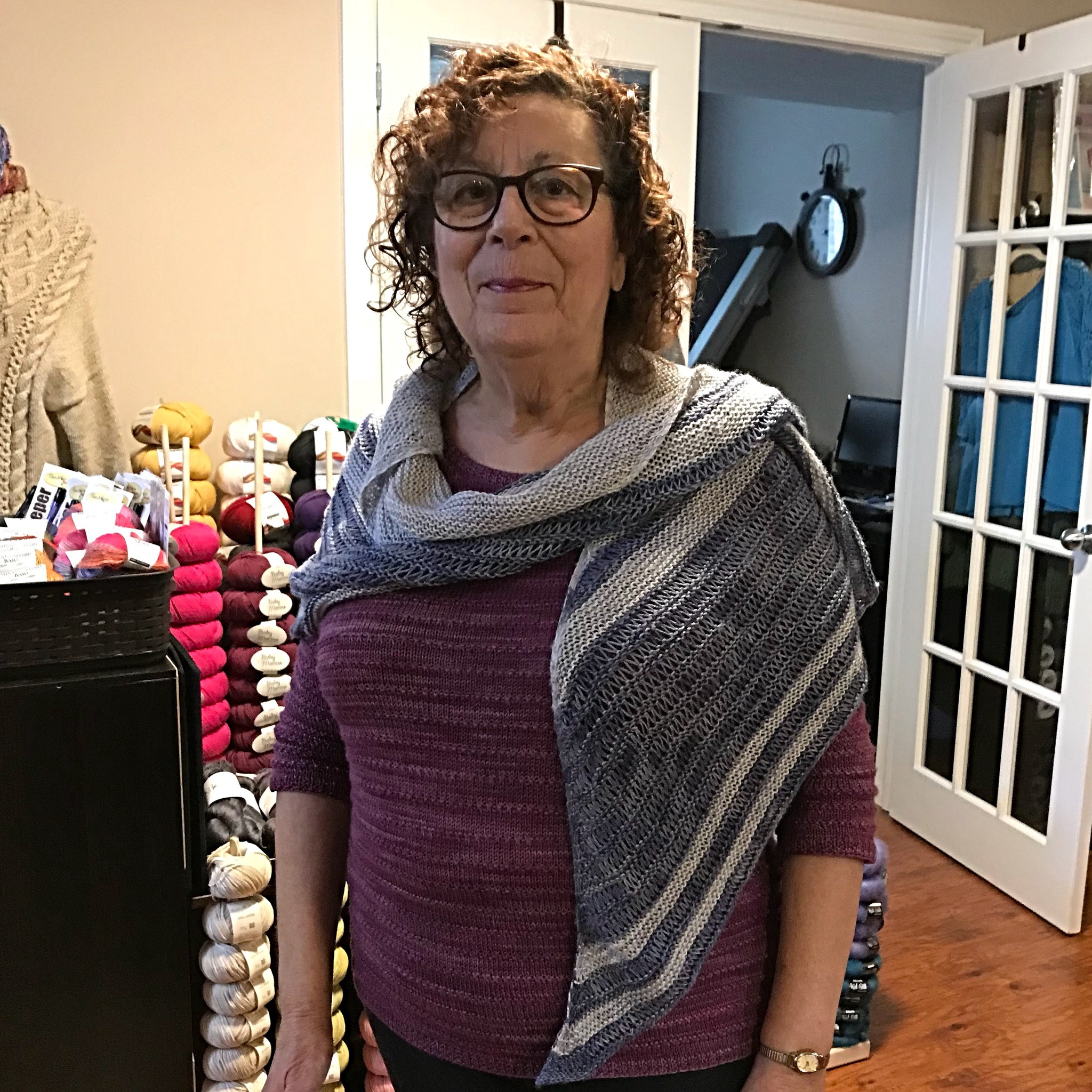 Connie's Asunder by Lisa Mutch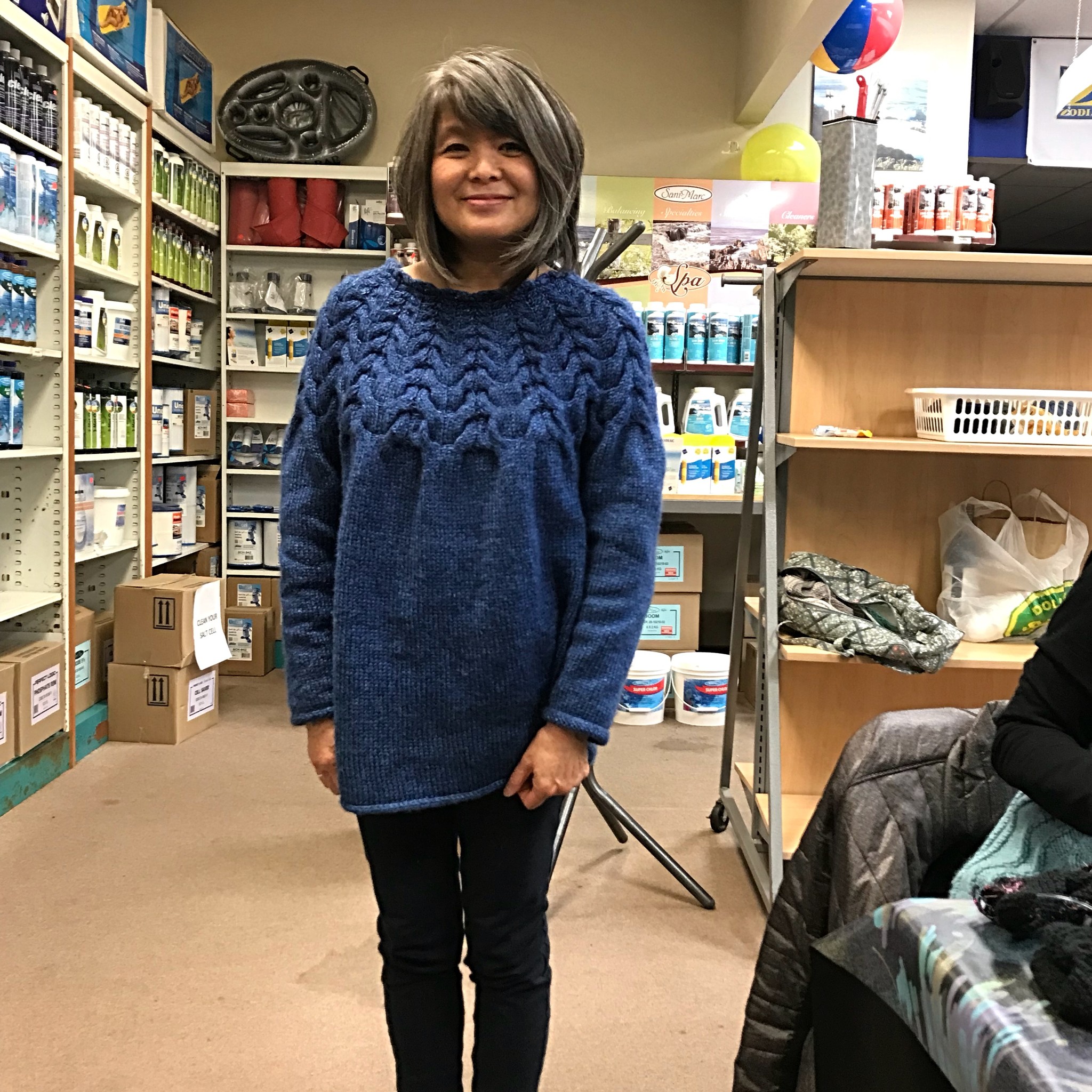 Catherine's Angelina Pullover by Mary Anne Benedetto from Interweave Knits, Fall 2017.
Happy Friday and Happy Knitting, Crocheting and Crafting!!