It is Thanksgiving weekend and the days are finally starting to feel like fall - crisp and cool. It is time to think about cardis, shawls, other autumn and winter knitting!
Last week I mentioned Thanksgiving with my family and that we hadn't yet discussed the plans. Well our FB Messenger dialogue started and by the end of the day it was decided (I thought) that it would be hosted by my son this coming Sunday. I had been knitting my pumpkins and thought OK, I need to get a few more done. My sister texted her girls to see if they were going and then the confusion started!
I had completely missed that we are having a delayed Thanksgiving - not until October 29th! Ed and I would have arrived and what!!! The joys of Messenger where you don't always see everything especially if the group has more than 10 people piping in:)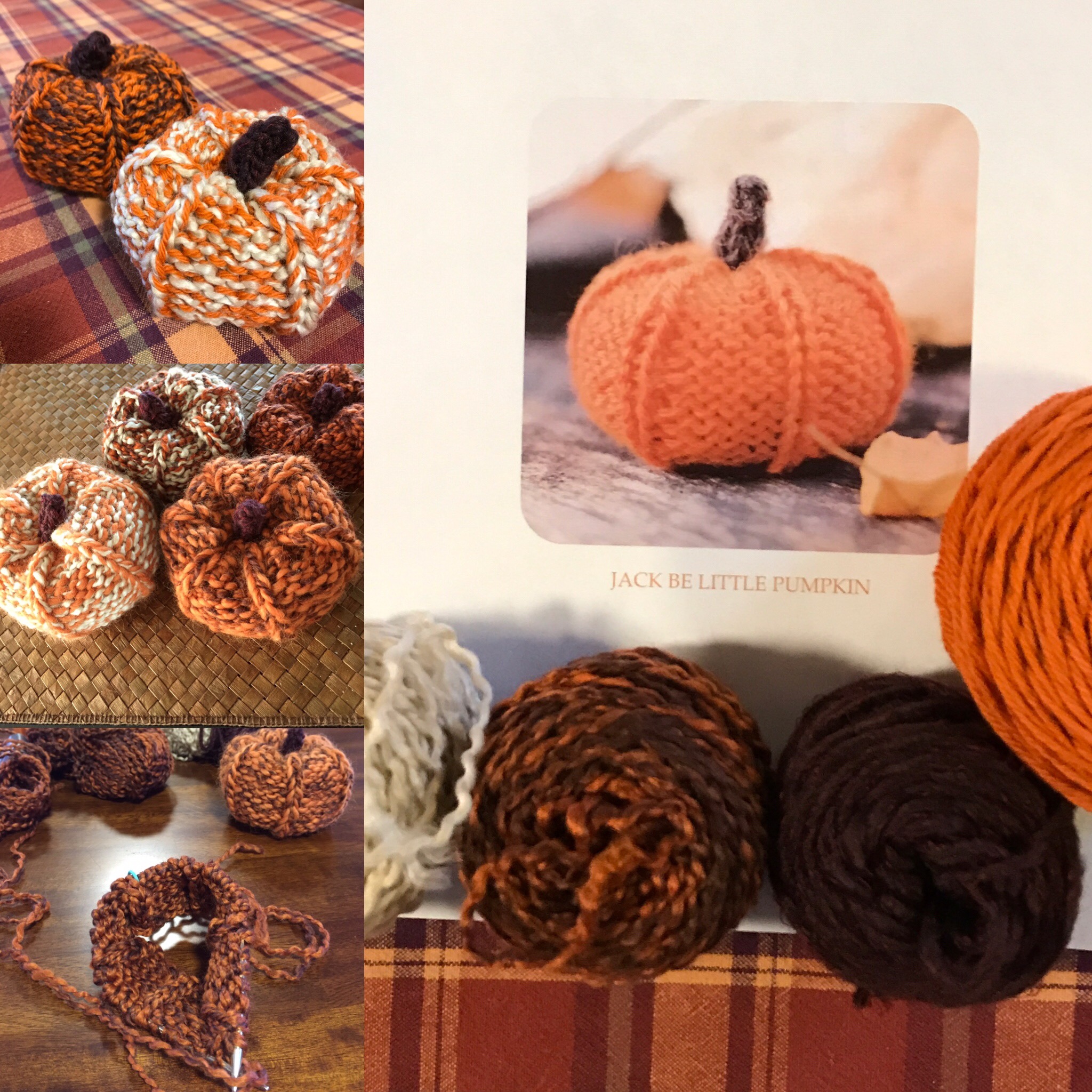 I still have 2 of my Autumn Pumpkin Kits left. Each kit includes enough yarn for 4 pumpkins, the pattern is emailed from Ravelry and the page with my modifications.
I knit all summer but many of you put down your needles and are just now picking them back up just in time to start those fall sweaters and knitted holiday gifts! Are you as enamoured with the rich colours of fall as I am?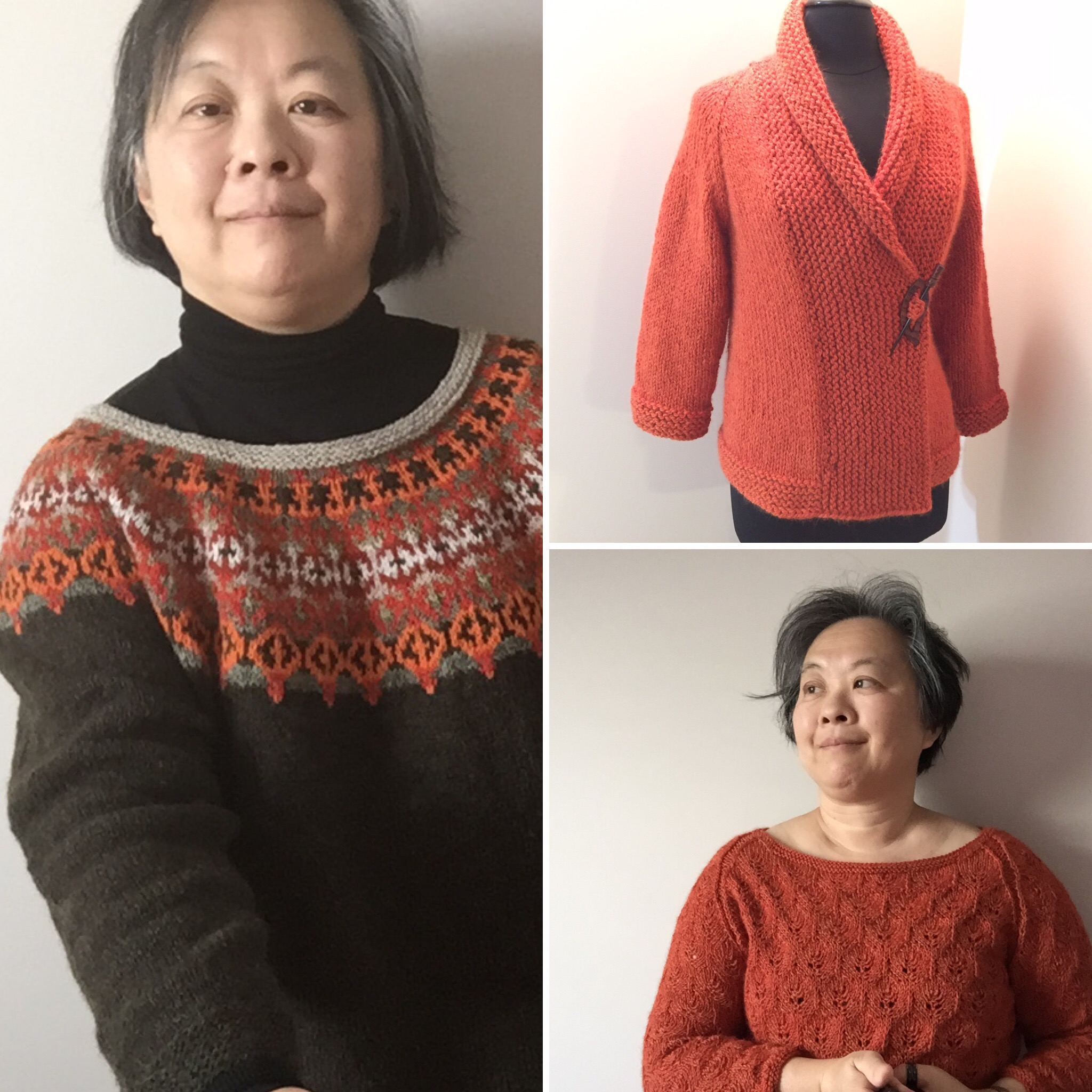 Sue2Knits Helsinki Sweater , Iced , and Autumns End. Can you tell I love an autumn palette of colours?
FREE PATTERNS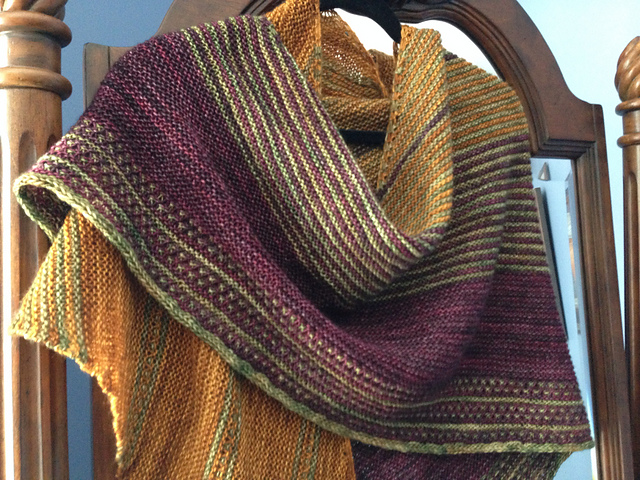 milosofathens' Drachenfels is her richly hued version of Melanie Berg's Drachenfels. This cosy shawl has asymmetrical increases and an elongated triangle shape "pays homage to the dragon of lore with a slipped garter colorwork pattern that hints of scales. It is worked in garter stitch from tip to edge, then neatly finished with I-cord bind-off."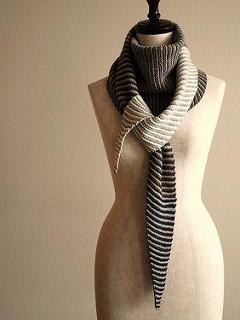 knittimo's Baktus Scarf is fabulous! I love the neutral shades that she used as well as her project notes! Can you picture it knit with oranges in place of the off-white? Baktus Scarf by Strikkelise is a garter stitch triangular scarf designed to use your exact amount of yarn. It is a great way to use up single skeins or leftover yarn and can be knit using any weight of yarn.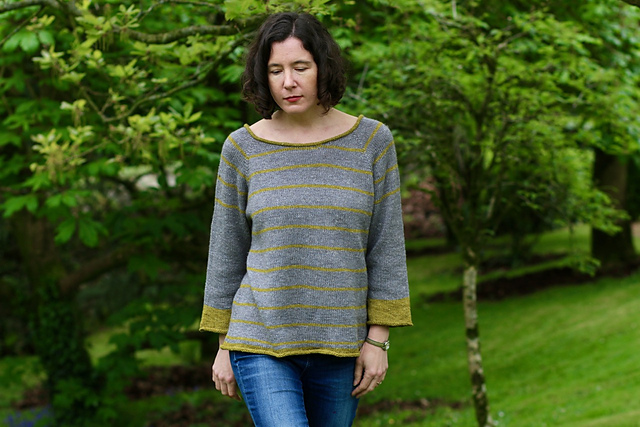 Pistachio Saffron by Carol Feller is her take on a knitted sweatshirt with a loose swing to make it easy to wear with anything. Throw it over a casual dress or jeans and you won't feel the cold in the evening! This sweater is knit from the top down with a wide neck and sleeves and A-line body shaping. It's designed to be worn with plenty of ease so that it swings around your body but if you prefer something more fitted, drop down a size and maybe even omit the A-line body increases.
Tin Can Knits Antler Hat is another free hat with a matching Antler Cardigan pattern available for purchase. I forgot the photos last week so will include it again this week.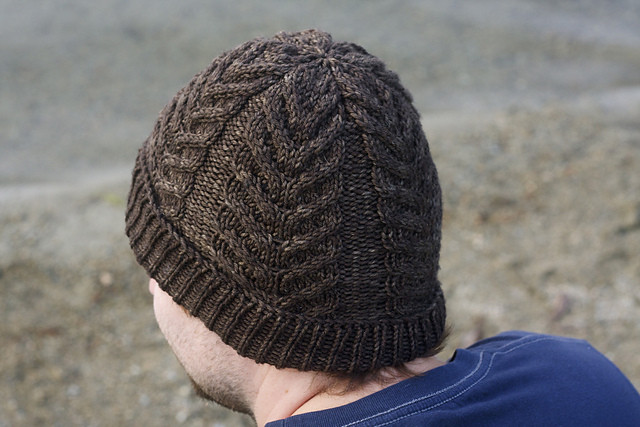 WIP's and FO's
I didn't finish anything this week but now I have 2 more works in progress even tough I haven't finished my thrummed mitts and have a blanket to stitch together! The new KAL started October - the Asunder or Any Lisa Mutch (NBK) Pattern OR Knit Your Project KAL so I cast on Surge! I don't have too much done since I cast on with 4.5 mm needles (5.0 mm needles are recommended) but I didn't like the fabric so I frogged it and started again with 4.0 mm needles. Much better and it also helps to really pay attention to what the pattern says for the number of repeats for each colour!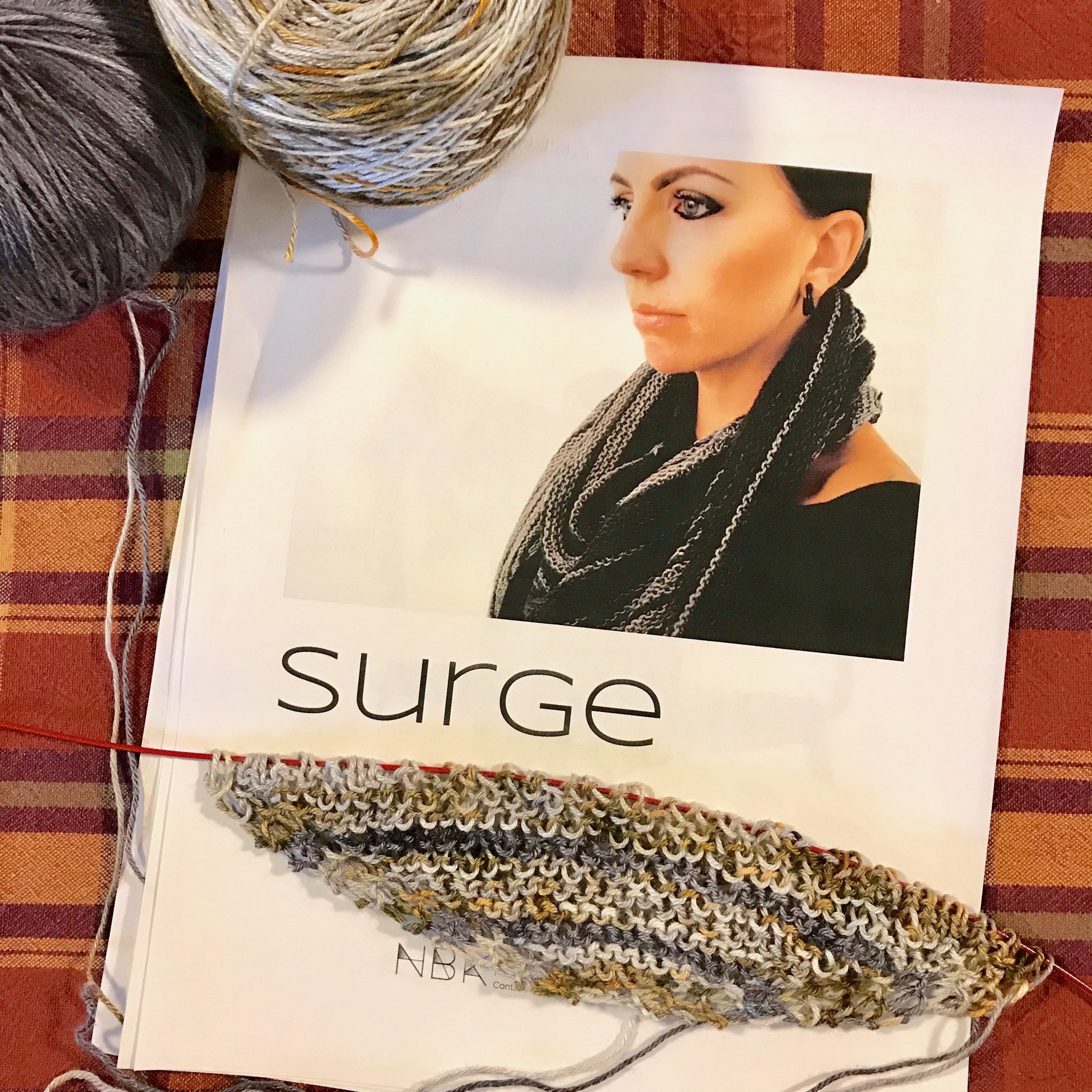 I also couldn't resist casting on Öræfi which I saw on Ravelry almost as soon it was posted! I have 25 cm (the pattern is in metric) of the body done - the body is 42 cm to the underarms. Do I shorten it since I am short? I will have to decide soon! My Helsinki is 31 cm to the underarms but I made the yoke extra deep.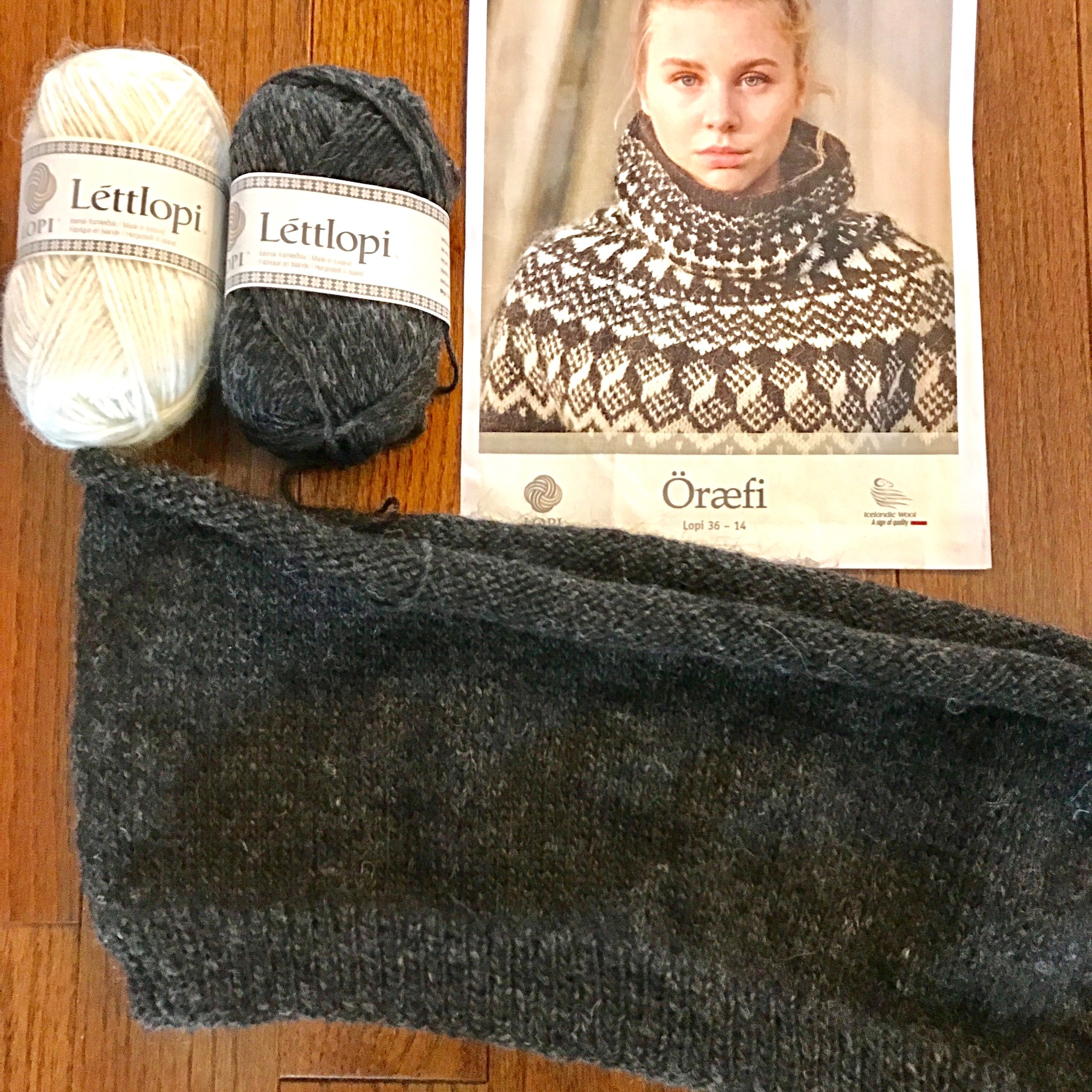 KNIT GROUP AND GALLERY
The draw for the Adult Surprise KAL and Knit Your Project KAL that was extended until September 30th has been done with the random number generator.
Congratulations to Natalie (abrnat) who won the July 1 - September 30th KAL draw! She has won a Pumpkin Coach Shawl kit.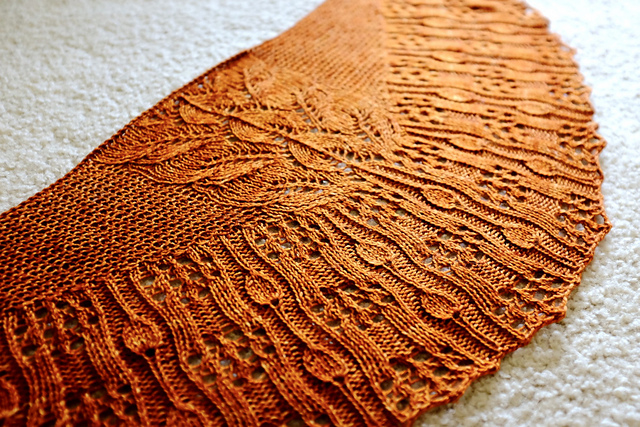 The new KAL's:
Lisa Mutch (Northbound Knitting) Shawl KAL: Asunder or any of her shawl patterns will run from October 1 to November 30
OR
Knit Your Project KAL: An everlasting knit-along to encourage and support you to knit your own project (any project, and join in anytime!). This has the same dates and deadlines as any other knit-along running to be included in the same draws! So this KAL will also be October 1 to November 30.
There should be plenty of time to finish one or many projects!
Ravelry can be a challenge and I am not excluded! I am not sure of the best way to have you join the KALS or to post since many of you knit along but don't post. Please post finished projects to this Ravelry thread Sue2knits and Yarn Group thread for finished objects for both KALs.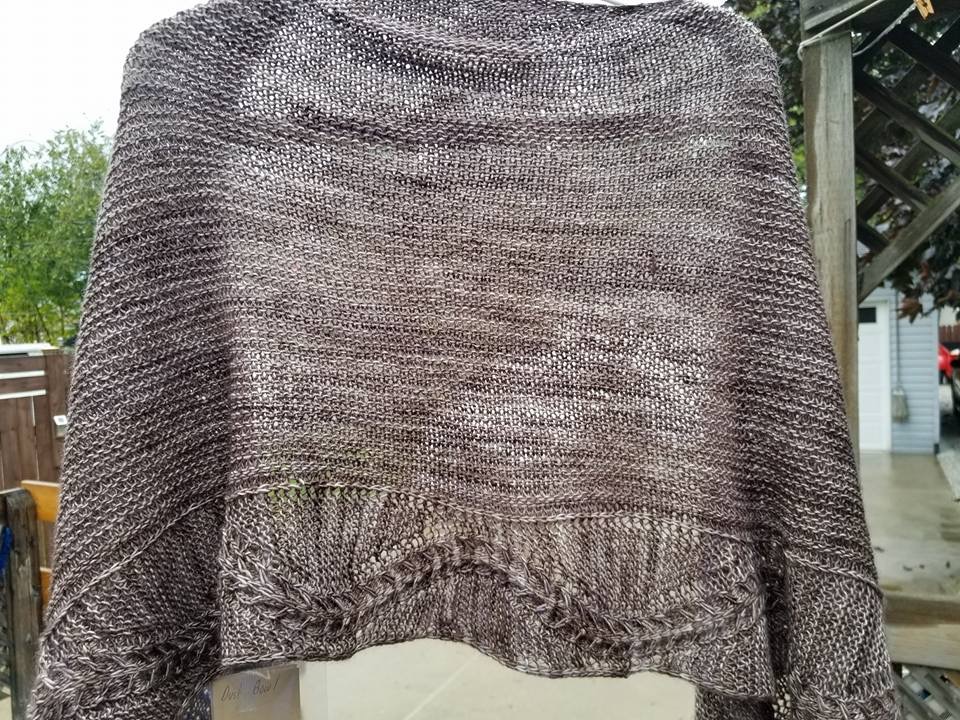 Cecilia's Dragonfly Shawl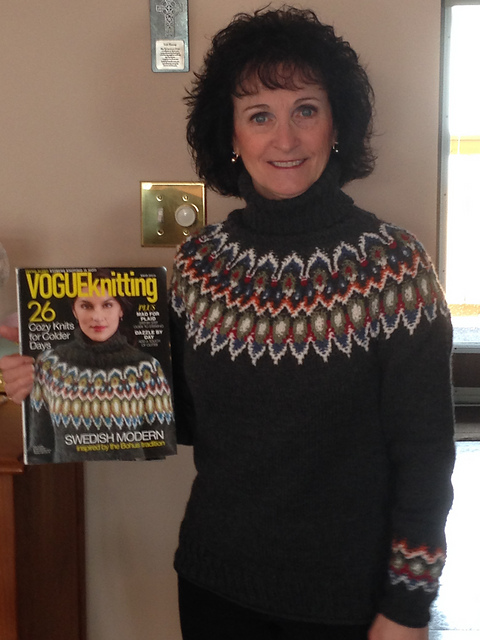 Jean's #01 Turtleneck Pullover by Amy Gunderson
If any of you watch podcasts, Jodie of Art Space Essex and her husband Adam were interviewed by Kristy Glass Knits: Jodie and Adam Matte on her YouTube channel!
Happy Friday and Happy Knitting, Crocheting and Crafting!!
Save
Save
Save
Save
Save
Save
Save
Save
Save
Save
Save
Save
Save
Save
Save
Save
Save
Save
Save
Save
Save
Save
Save