I started writing this blog on December 21st but time flew away from me so here I am re-writing it. The days just flew by last year and it was quite a year!
Connie came to Knit Afternoon wearing her Swoncho so I quickly put mine on too so that Bev could snap a picture of us! I love how they turned out and I must say that I love how comfortable they are.
My sister tried on my Ninilchik Swoncho too!
FREE PATTERNS
I knit my Wurm Hat by katushika in September of 2017, blogged about the pattern in July but I recently came across this beautiful adaption of the pattern!
CatReading's Yellow Wurm Cowl which she knit using less than 2 skeins (367.5 yards) of Malabrigo Worsted but any worsted will work including Malabrigo Rios.
I sold out of all of this colour in Diamond Luxury Mulberry Linen on the same day and didn't know why until I checked Ravelry...This pattern popped up! Queen Mab Cowl by Kelly McClure is free until January 15, 2019 so hurry and download it. The cowl uses three skeins to create a soft cowl will be a pleasure to knit and a pleasure to wear. It's nice and long so you can wrap it once, twice or even three times! The cowl is knit lengthwise with a DK weight yarn for a finished size of approximately 20 cm wide and 178 cm circumference lying flat after blocking. 4.5 mm (US 7) needles were used to get a gauge of 22 stitches and 28 rows = 4 inches in on 4 mm in St st or the needles to get gauge. While I no longer have the Mulberry Linen in 02 Eggshell, I have other colours but I also happen to carry the other recommended yarn - The Fibre Company Acadia!
Arboreal by Jennifer Steingass is not a free pattern but if you like stranded yoke sweaters, it is one of my favourites! This one is worked seamlessly from the top down. The stranded yoke is worked and then short row shaping is added on the back to shape the shoulders and neckline. The sleeves and body are separated and worked top down. The pattern is written to be knit with DK yarn using 3.5 mm (US 4) and 3.75 mm (US 5) needles to get a gauge of 20 stitches and 28 rows = 4 inches in stockinette stitch with larger needles. Knit it with Kelbourne Woolens Scout for a beautiful classic and timeless look.
My sister Mary has Arboreal on her needles. She had a cuff and one sleeve to go on December 29th so may very well be finished now! She knit hers using Istex Lettlopi.
WIP's and FO's
I knit this Chullo Headband with earflaps knit using Berroco Ultra Alpaca Light at my daughter's request.
I used a combination of 2 patterns with modifications to knit it - P Chullo by Susette Newberry and Andean Chullo Hat by Kerin Dimeler-Laurence. Both were hat patterns so I guessed how tall to knit it with the final height a little tall so I added elastic through the i-cord edging to tighten up the top.
I cast on Pretty Brioche Thing by Justyna Lorkowska using Madelinetosh ASAP in Holi Festival and Chicory.
It turned out beautifully but I this one, I will have to frog and re-knit using smaller needles and fewer stitches. It knit up very quickly even though I did frog back 2/3 of it because upon turning it to the reverse side, I could see 3 rows where I brk'd where I was supposed to brp!
I brought 3 projects for the drive to my son's house on Christmas Day. I finished my Pretty Brioche Thing (or so I thought), then cast on Callie by the Berroco Design Team but on the purl row changed my mind to modify the pattern and knit it in the round. I didn't want to work out the numbers in the car, so I cast on the Fairy Lights Sock pattern. I decided to go with Bubblegum for my ribbing, heels and toes instead of the green or red. While visiting with my family for Christmas, the drive to and from, I finished the first sock in no time at all and am now working on the heel flap of my second sock!
KNIT GROUP AND GALLERY
The current Knit-Alongs are the Knit Your Any Sweater KAL and the Knit Any Shawl KAL: As always there is also an everlasting knit-along to encourage and support you to knit your own project (any project, and join in anytime!) from January to April 30, 2019. Don't forget to post a pic to the finished object (FO) thread  whenever you finish a project during the Knit-Along so that you will be included in the next draw!
Congratulations to Christina (Christinabouchard on Ravelry) for winning the December 31, 2018 draw!
Carola's Billy Bunny is finished! Isn't he sweet? Pattern is Boy Bunny by Julie Williams
Carola also knitted these fun gift knits!
Nadine's Lotta dress by Marie Greene found in Laine No# Five that she knit with Sandnes Garn Sisu. Nadine is now ambitiously started Sode by Hiroko Payne from Laine No# Six using SweetGeorgia Superwash Worsted.
Sandi knit these Kinda Magic socks using Wool and the Gang's Kinda Magic Socks pattern
As Sandi (Sandima) put it on Ravelry, "Such fun, I bought an advent calendar for me" and posted a pic of each day!!
A little taste - here is Sandi's Day 13, 14 and 15!
Linda finished her Adventurous by Joji Locatelli
Heids that Paulette knit in December from her Milarrochy Heids book by Kate Davies
Paulette (psknitting50) posted this as her #2018bestnine
This is the photo I posted as my #2018bestnine.
WINTER CLASSES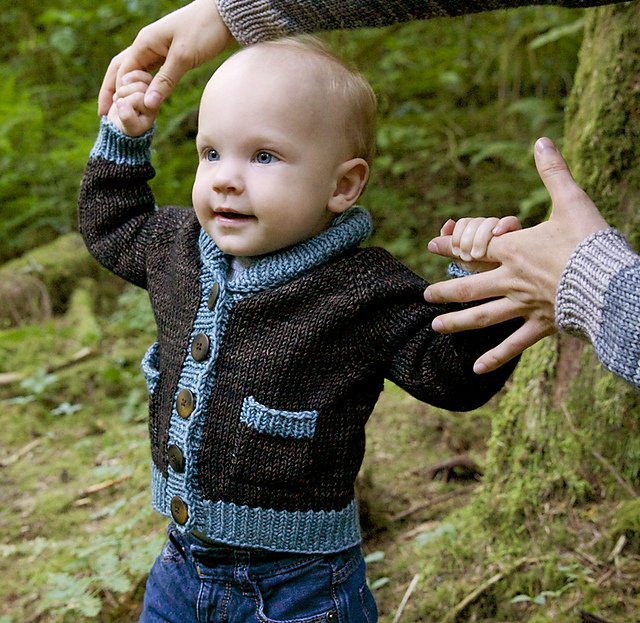 Reminder that the First Cardigan Class is coming up soon - Four sessions starting Tuesdays, January 15, 22, 29, and February 5 – 6:00 to 8:00 pm.
Knit 1, 2, and 3 are also set to start soon for anyone wanting to learn to knit!
OOps!! My internet and telephone with Cogeco has been going down for the last few hours and so I am going to have to finish updating the upcoming classes soon. Cogeco said I could try to connect with ethernet so now I am working on my old laptop which has an ethernet slot!
Here is our Christmas family photo missing a few but including two via Facetime!!
Happy Friday, Happy Knitting, Crocheting and Crafting!