With the blustery cold weather we have been having and the upcoming snow, let's get snuggle in and get knitting because there is no better time than now!
Here are a few of my favourites shawls that I have included in my blog before revisited!
The ZickZack Scarf by Christy Kamm (shown) is an impressive yet easy to knit scarf in the style of a great Italian designer. The chevrons are worked with single increases and decreases – no knots in your fingers trying to knit complicated double decreases and no double increases where the stitches get tight and hard to work with…It is designed to be knit using 2 colours of Lang Mille Colori Baby.
Marilyn has started 2 ZickZack scarves - this one using Phildar Phil Folk sock yarn!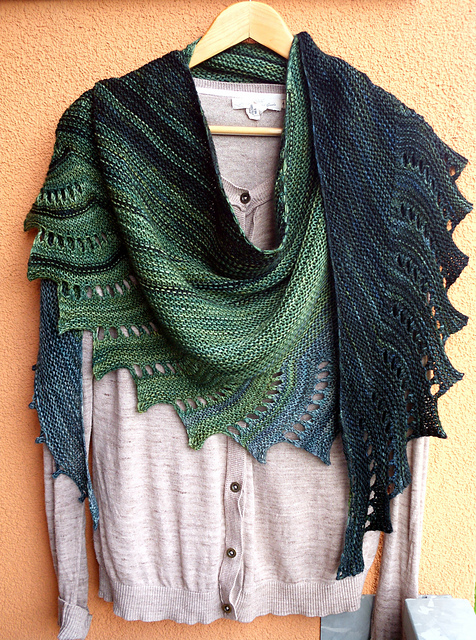 Close to you shawl by Justyna Lorkowska is a simple but stylish shawl is knitted from one end with gradual increases to form a triangular shawl which is fun to knit and easy to wear. The zigzag border with eyelets gives it a nice touch and makes the knitting interesting. The design was born after her husband Martin asked her to buy him some undyed yarn while she was at a yarn festival, started studying about yarn dyeing and then showed her his creations.
"Why are you doing that?", I asked.
"To be close to you", he replied.
…and this is how this shawl was born.
Pictured is ranmoray's "Common Welsh Green dragon" - Close To You which she knit using 3 skeins of Malabrigo Arroyo, a sport weight yarn instead of the called for fingering weight.
Carduelis' Close to You knit with Malabrigo Mechita in Whales Road
Linda445's Rocky Mountain High knit using Madelinetosh Light
Waiting for Rain by Sylvia McFadden (paid pattern) is a lovely, beautiful garter and lace crescent shawl that uses an unusual short row lace technique. It fits perfectly over your shoulders and drapes in a way which is very pleasing to the eye. It's worked top down with lacy increases. The pattern now includes stitch counts and instructions for how to do stripes, how to move or add lace panels, make the lace panels larger, and how to do the fancy knit-on cast-off shown in the two colour version. It also includes a tight-edge fix.
knittingthestash's Waiting for Rain knit using Madelinetosh Light
WIP's and FO's
Hot off my needles are my Fairy Lights socks! I love the fun colours so am looking forward to knitting with the leftover yarn! I haven't decide but I am leaning towards knitting a Garter Yoke Baby Cardi by Jennifer Hoel or a Little Coffee Bean Cardigan by Elizabeth Smith. Truly, I'd love to do a pint sized Compass from tincanknits' Strange Brew book but I think the Fairy Lights is little too busy!
On my needles is Turtle Dove by Espace Tricot knit using Berroco Brielle! So soft and lightweight! It is knitting up quickly using 6.0 mm (US 10) needles. The pattern calls 7.0 mm (US 10.75) needles but I always go down one needle size in order to get gauge.
KNIT GROUP AND GALLERY
The current Knit-Alongs are the Knit Your Any Sweater KAL and the Knit Any Shawl KAL: As always there is also an everlasting knit-along to encourage and support you to knit your own project (any project, and join in anytime!) from January to April 30, 2019. Don't forget to post a pic to the finished object (FO) thread  whenever you finish a project during the Knit-Along so that you will be included in the next draw!
psknitting50 (Paulette)'s has knit up seven colourwork hats from Kate Davies book Milarrochy Heids!
Paulette knit up a poncho in quick to knit chunky weight merino and yarn that she handspun.
Marie (thecatsmom) knit this Transformers Toque by Lori Magnus as a birthday gift!
Pinkie the Hedgehog also knit by Marie. The pattern is Tinsel Hedgehog by King Cole
Connie's Eyeball Shawl by Stephen West is finished but I am waiting to see the blocked result!!
In the last few weeks, I have also seen some fabulous finished pieces that I completely forgot to get photos of!! I love showing off your finished pieces...now I need to figure out how to create a gallery of the photos that you can see outside of the blogs!
Happy Friday, Happy Knitting, Crocheting and Crafting!