Posted on
By Susan Wong-Tsang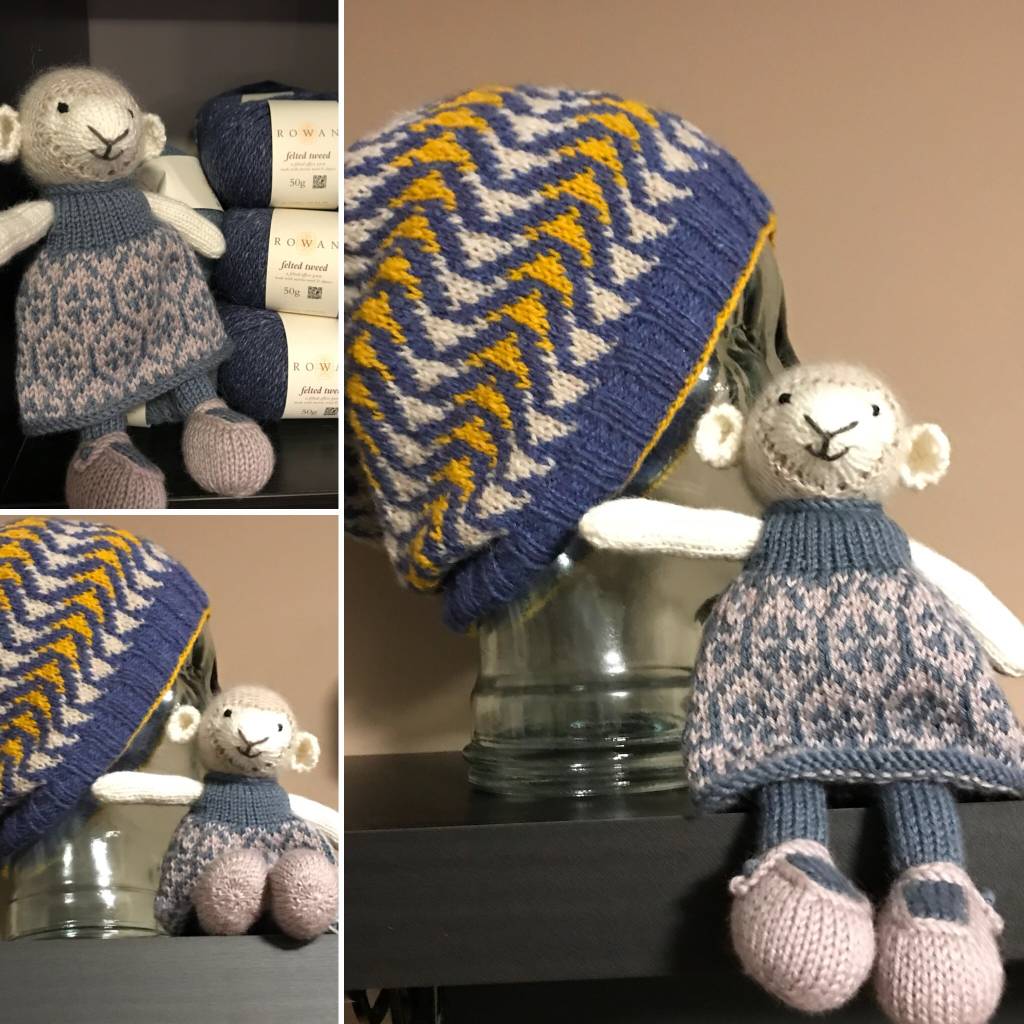 With all this snow today and the next couple of days, I will be sitting by the fireplace and knitting with my finished Girl Lamb, Caroline will be looking over my shoulder!
It is Valentine's Day next week.. What better way to celebrate than with a few heart patterns!
I Heart Cables by Justyna Lorkowska is a cute cabled hat worked in the round that is sized for a baby, toddler and child with head circumferences of 14 to 18 inches. The pattern includes 2 versions - one with earflaps and one without. The hat is great for boys as well as girls, depending on the color of the yarn.  Different sizes can be made by changing the cable length as well as how many. The gauge is quite dense (especially ribbing) giving you a windproof hat perfect for winter fun in the snow. Knit it with a worsted weight yarn using 4.0 mm (US 6) and 4.5 mm (US 7) knitting needles or as needed to get a gauge of 24 stitches and 28 rows = 4 inches in the cable pattern.
Bottom of My Heart Baby Bloomers by Jordana Paige is a cute pattern for bloomers for that baby girl in your life! They are knit top down in the round, divided to knit flat for the leg holes and kitchener stitched together. The heart pattern is fun to knit and charted for ease. Stitches are then picked up and ribbed around the legs. It is sized for a 3 month old using about 160 yards of sport weight yarn using 3.25 mm (US 3) needles for a gauge of 25 stitches and 34 rows = 4 inches in stockinette stitch.
Valentinesox by Wenche Roald (Knitnetty's Designs) are cozy socks knit with DK weight yarn using 3.0 mm (US 2.5) needles for a gauge of  22 stitches = 4 inches in stockinette stitch. They are knit cuff down in the round. The pattern includes both charts and written instructions. Knit someone a pair and knit yourself a pair as well!
WIP's and FO's
I cast on Vintersol by Jennifer Steingass this week for the group Knit-Along and Berroco-Lopi Knit-Along and although I couldn't get it to lay flat to take a photo, I knit up to Row 9 of the yoke chart. It is a beautiful pattern but it was the first time I had come upon a pattern that has 3 colours in one row! I can knit 2 handed with the main (background) colour using my right hand and the contrast colour using my left continental style but this pattern has a third colour added to the mix. A third colour with 9 stitches in between which I had trouble coordinating along with catching the floats. I finally tried it using a knitting thimble and now the round finally looks neater which pleases my obsessive self!
I picked up 326 stitches for the collar and front bands but they are finished on my Comfort Fade Cardi WIP! 4 sets of fading and short rows for each colour meant that there was a lot of knitting and since I did not pick up the same number of stitches as the pattern, I had to recalculate. I wove in the ends as I went but I haven't trimmed the ends yet. I used a different version of stretchy bind off as well - there are so many available to use and I am very happy with the result! Blocking will bring the 2 x 2 rib out to the width of the cardi since I want a straight silhouette just as the pattern intends. Just the sleeves to go!!
Natalie (abrnat on Ravelry) finished the body and ribbing and has one sleeve finished!
Connie (maltesecross on Ravelry) cast her Comfort Fade Cardi on her needles last weekend and has madev amazing progress! The shop still has a few kits, if you want to join in and knit this Andrea Mowry cardigan!
KNIT GROUP AND GALLERY
The current Knit-Along is going to be an Any Project Knit-Along! The deadline for this one will be March 31, 2018 so there is a lot of time to get a bigger project such as the Comfort Fade Cardi or a bunch of smaller projects complete to enter in the next draw! You don't have to come to a Knit Afternoon or Knit Night to be included in the draw but you do need to post your finished projects to the Group Finished Objects thread on Ravelry.
Angela's red Auspice is all ready for Valentine's Day!
Connie (knitnut246 on Ravelry)'s Groovy by by JumperCables - Annie Baker
Lise (mattedcat on Ravelry)'s Barley by Tin Can Knits
Lise's second Barley hat and matching fingerless mitts.
Sandi (sandima) loves to sign up for test knits. This is one of the two she recently finished.
>
This is Sandi's second test knit.
Kathy has added another outfit for Elle, her Girl Lamb!
CLASSES AND WORKSHOPS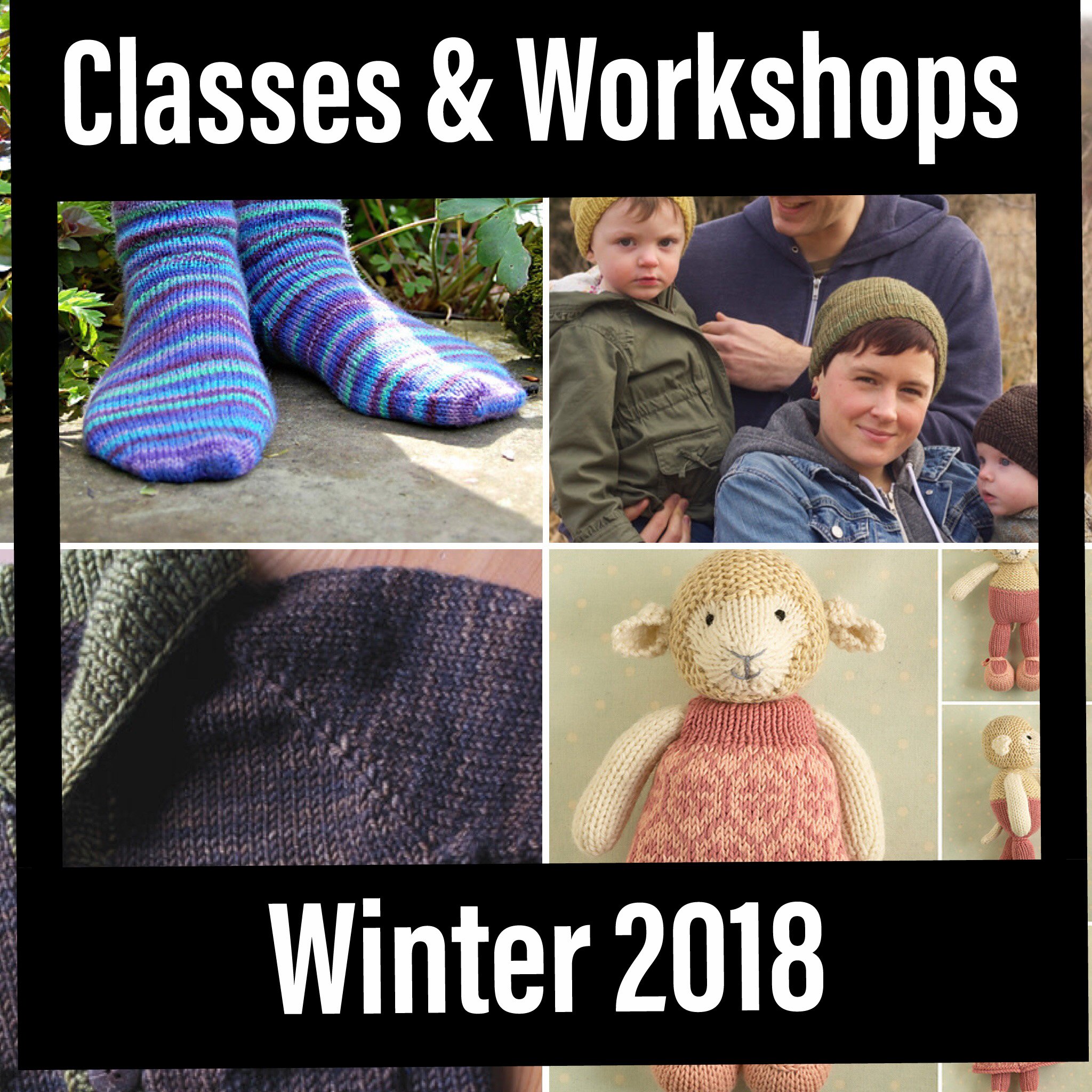 A reminder that our list of classes and workshops is up on the website! Take a look to see if there is anything you are interested in and sign up soon. There is a First Cardigan Class, a Beginner Knitting Class, a Beginner Knit Hat Class and any one who saw the rabbits that I had for a short time in the shop before they went to their forever homes with my grandbabies will recognize the Girl Lamb and Boy Ram as a pattern by Julie Williams of Little Cotton Rabbits. This Class will introduce you to colourwork, increasing, decreasing, and grafting to name a few although it is recommended that you be an advanced beginner to intermediate knitter to be able to keep up.
** The Fixing Mistakes Workshop which was for tonight has been re-scheduled until Friday, February 16 – 6:30 to 8:30 pm because of the snow.
** The Girl Lamb and Boy Ram class for tomorrow has been re-scheduled to push the 3rd class to Sunday, March 4 - 10:00 am to 12:00 pm.
Happy Friday, Happy Knitting, Crocheting and Crafting!