It was a week where I was able to see my sister-in-law Marie, her family, and even two of my sisters, said goodbye to my father-in-law Albert and knit a lot during the drive.
Albert, my father-in-law passed away suddenly on Sunday, January 21st. He was 94 and would have turned 95 in June so this has been a week of saying hello to family that you don't often see and saying goodbye to a loved one. Albert will always be remembered as a loving man who was a father, husband, grandfather, great-grandfather and great-great-father to so many and he will truly be missed.
I am sorry if any of you made the trip out to my shop and found me closed but I was closed on Wednesday and Thursday to make the trip up to Orillia for the visitation and funeral. Shop hours are back to normal!
Zigzagular Socks by Susie White is another of the many free sock pattern that I have favourited! It is designed to be knit with that skein of variegated yarn you don't quite know what to knit with. A sock with just enough pattern to maintain interest and sanity, and plenty of 'plain' knitting to showcase the yarn. It is written to be knit using dpn's but is easily adaptable to be knit toe-up with one's preferred sock knitting method.
Stormy Sky Shawl by Life is Cozy is a lightweight, asymmetrical shawl that is knit from the corner in a skewed triangular shape and makes a relatively fast project for that special single skein of yarn. The alternating sections create a textured and easily memorized pattern. The pattern calls for 420 - 550 yards (384 - 503 m) of fingering weight yarn and 5.5 mm (US 9) needles for a gauge of 18 stitches and 24 rows = 4 inches in garter stitch but the yarn weight and gauge are not important.
WIP's and FO's
With all driving that we did over the last 2 days, I managed to get a fair bit of knitting done although I didn't finish anything lol! I worked a little on 3 projects though...
I finished knitting the Arika by Jane Richmond that I started last week but since I gifted it to Ed's niece, I no longer have it for the shop so I started another one! I used Hikoo Kenzington yarn for both of them, the one above in 1000 Pavalov and the new one in 1030 Taranaki.
The only modification that I made was to make my fringe 8-8.5" instead of 14" by using a coaster to wrap it around when making them. It should take 1 skein but I only had 6 pieces of fringe left when I knit the light coloured Arika!
I didn't work too much on my Candy Cane Socks this week - I really want to start another pair of socks since these are now for next Christmas but I will finish them first! I do like the Christmassy colours though.
My Girl Lamb (I really should give her a name - how about Caroline?), now has more pieces knit up but I still need to sew them up and stuff them before attaching! Too cute! Don't forget to sign up for the upcoming class if you want to knit one along with us! Kathy has knit one up as well a wardrobe of clothing  too!
My Comfort Fade Cardi is ready for me to start the bottom ribbing but since I didn't bring another cake of yarn with me on our trip north, this was as far as I could go with it. My project page can be found here.
KNIT GROUP AND GALLERY
The current Knit-Along is going to be an Any Project Knit-Along! The deadline for this one will be March 31, 2018 so there is a lot of time to get a bigger project such as the Comfort Fade Cardi or a bunch of smaller projects complete to enter in the next draw! You don't have to come to a Knit Afternoon or Knit Night to be included in the draw but you do need to post your finished projects to the Group Finished Objects thread on Ravelry.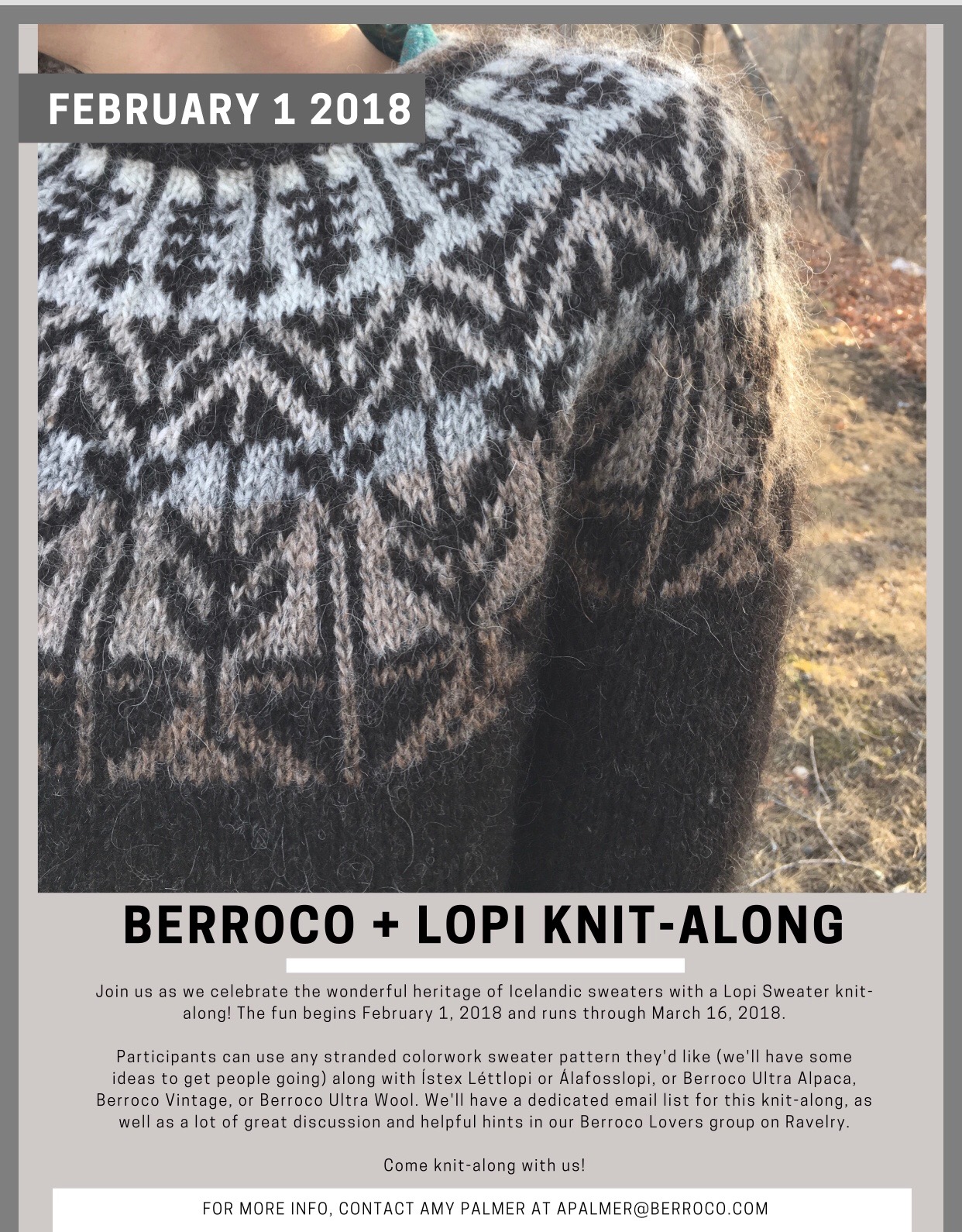 Berroco and Lopi have partnered up for their first Knit-along of 2018! Any one who wants to join in for their KAL can also include their project in my KAL. The Cast-on day is Thursday, February 1 and the Bind Off day is Thursday, March 15. You can knit any sweater pattern that calls for stranded colourwork.
Yarn: Knitter's choice of Ístex Léttlopi, Ístex Álafosslopi, Ístex Plötulopi, Berroco Ultra Wool, Berroco Ultra Alpaca, Berroco Vintage, Berroco Ultra Alpaca, or Berroco Vintage (always be sure to do a gauge swatch).
As an extra Knit-Along that will run at the same time as my regular Any Project Knit-Along, the shop will be joining this Knit-Along! We will cast on February 1 as well so if you want to join in, please do! You can do this on the Ravelry Group or come in during the Knit Afternoons or Knit Nights.
Some patterns that might inspire you are:
Kathy (chantrykathy)'s Cozy Robe for Ellie
Natalie (abrnat)'s Wurm Hat
Sandi (sandima)'s Wurm
Natalie (abrnat)'s Suffolk
Sandi (sandima)'s Betua Hat and Mitts
Lise (mattedcat)'s Cable Hat
Happy Friday, Happy Knitting, Crocheting and Crafting!