It may be summer but how about starting those accessories like hats, cowls, scarves and fingerless mitts early? Small projects that you can work on during those hot days at the beach, on your deck, or at your cottage without getting too hot with a large project on your lap!
FREE PATTERNS
Skacel's Channeled Colors Brioche Loop is the perfect example of how combining the right yarn with the right stitch pattern can create a real "wow" piece! The stitch pattern is all the rage and although I have only done the brioche stitch once before on my Westknits Building Blocks Mystery Kal, this is a project that I want to make soon!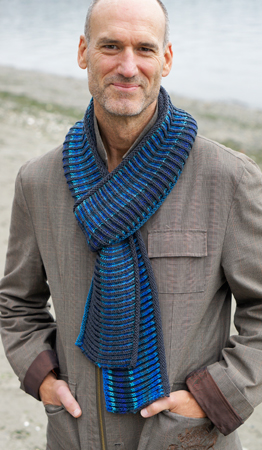 Unisono Channeled Colors Brioche Loop or Scarf (2014 version) used 1 skein of Zitron's Unisono Solid and 1 skein of Unisono multi/variegated color. Ravelry's Version 2 of the pattern was re-written to feature different Skacel yarns but is essentially the same.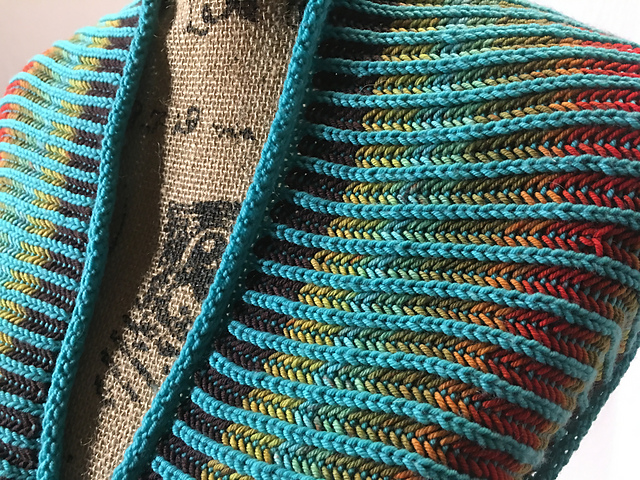 SasKnits Channeled Colors Brioche Loop is knit using the revised Channeled Colors Brioche Loop by Marcy New for Skacel pattern.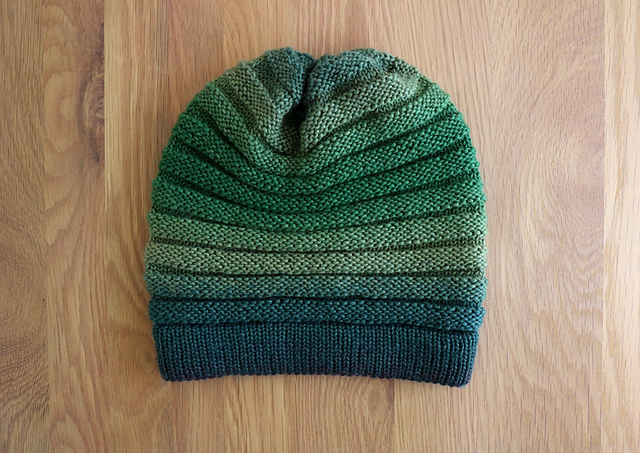 EspaceTricot Wurm is a wonderful Wurm hat by Katharina Nopp that can be knit with one ball of Schopell Wolle Gradient. It is squishy and warm, looks awesome on both women and men and would be a great quick knit gift item!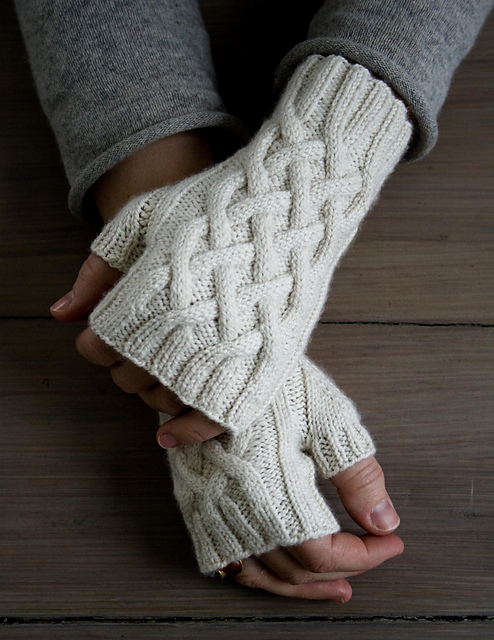 Traveling Cable Hand Warmers by Purl Soho is beautiful knit in a sport weight yarn -keep your hands warm while your fingers are free! Purl Soho even has a matching hat pattern that features the same stitch. Knit this with Malabrigo Arroyo or Drops Baby Merino.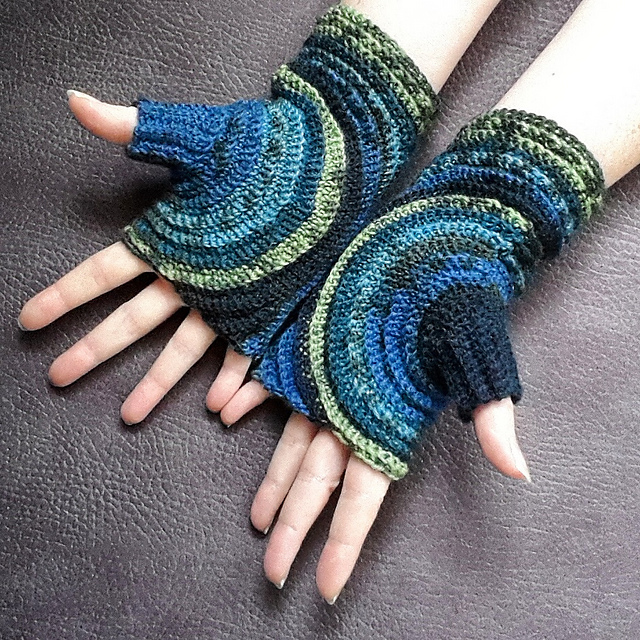 Kreisel Fingerless Gloves by Sybil R or sybilra on Ravelry are stylish and unique fingerless gloves. They are crocheted around the thumb which allows you to show off your variegated yarn to the best effect. They are the crocheted version of her Circle Mitts.
WIPS
My Gemstone by Veera Välimäki's body is complete...in retrospect, if I had read more closely the project notes on some of the finished projects, I would have changed the increases in the front sides from every 4 rows to every 6 rows. This would have resulted in a more gradual swing on the fronts and I might have been able to get away with using 3 balls of yarn instead f needing to start the 4th ball halfwaythrough my first sleeve! Although, I probably would still have needed some of that 4th ball!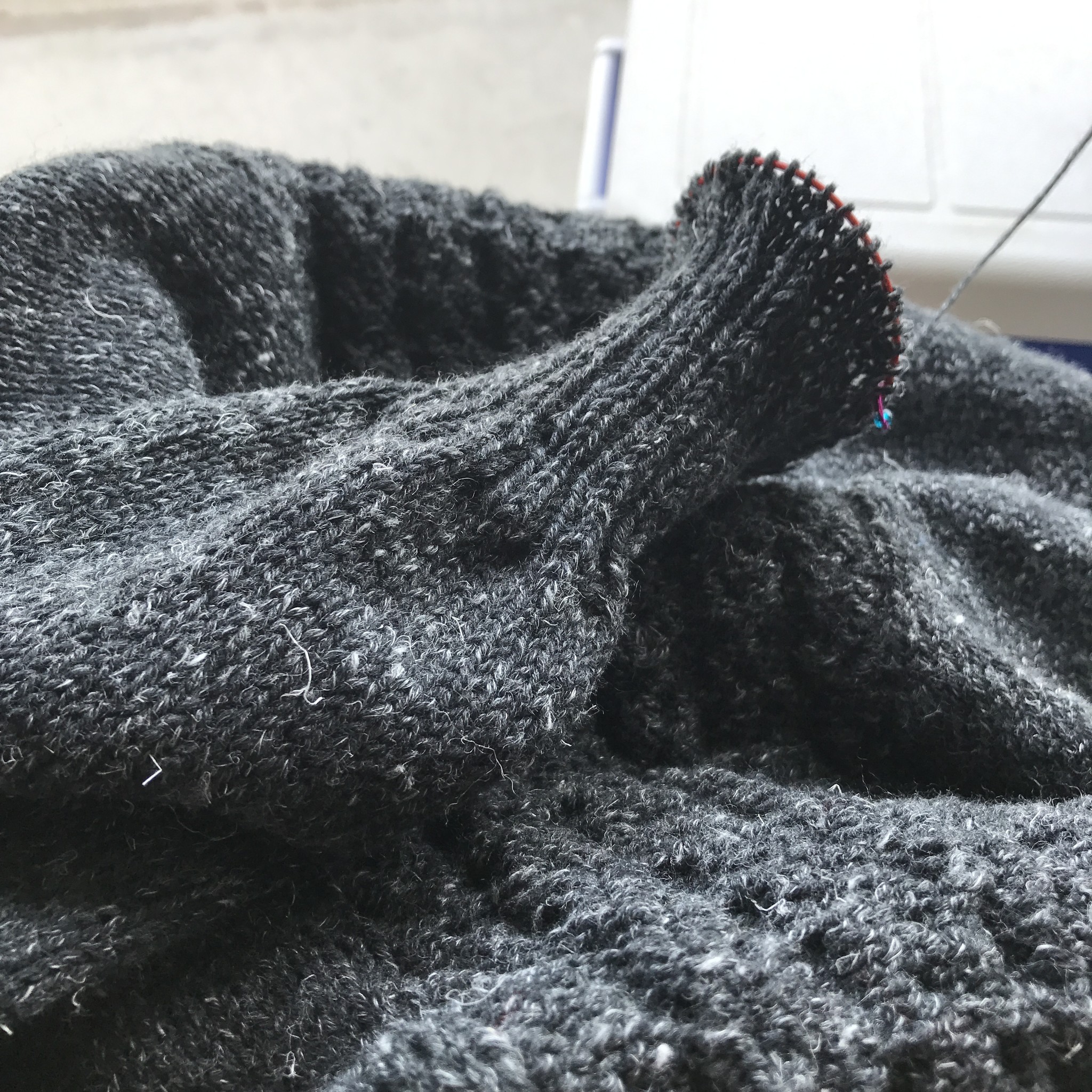 I took advantage of the coolness and the cross breeze by knitting whenever I got the chance in my garage. The sleeves, I also knit inside out since they are reverse stockinette so I could knit all of the rows instead of purling them. Just half a sleeve and of course, blocking to go!!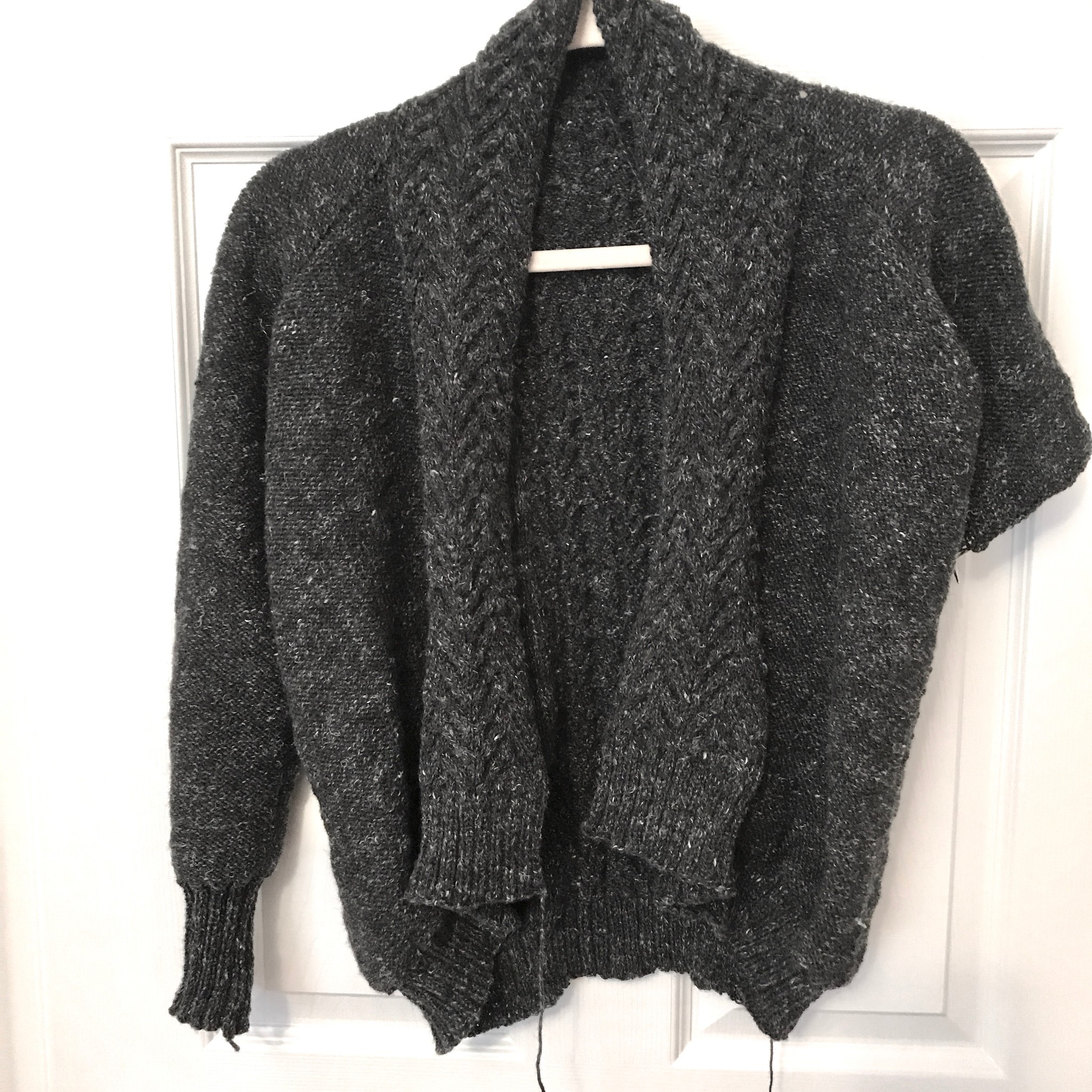 KNIT- ALONG NEWS

The Spring/Summer Garment Knit-Along wrapped up June 30th. There are a couple of unfinished projects that I hope to see as FO's soon but there were 6 FO's not including mine:) posted to the Sue2Knits and Yarn Group's thread by the deadline. Each submission was assigned 6 random numbers and then I ran the Random Number Generator! Congratulations to Lise (Mattedcat)! Choose your ZYG Serenity 20 skein when you're here next:)
Lise, Connie, Natalie and I are knitting the Adult Surprise Jacket by Elizabeth Zimmermann. Linda, Carola, Nadine, Nicole and Sandi are all working on their own chosen projects! Always so inspiring to see what everyone is working on!
GALLERY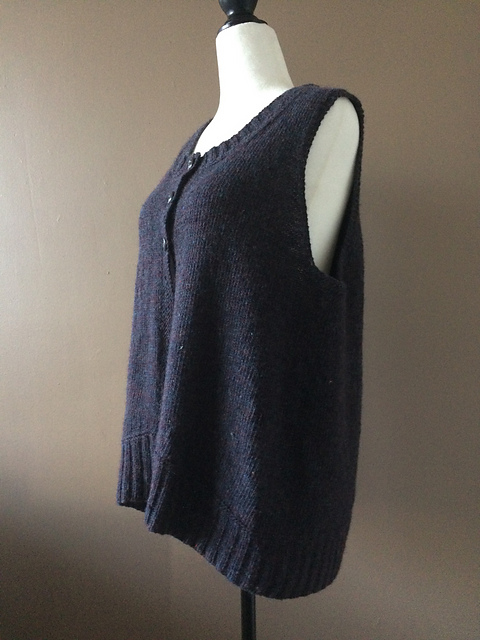 Mattedcat's A Vest For All Seasons knit using Carrie Bostick's Shoreline Vest.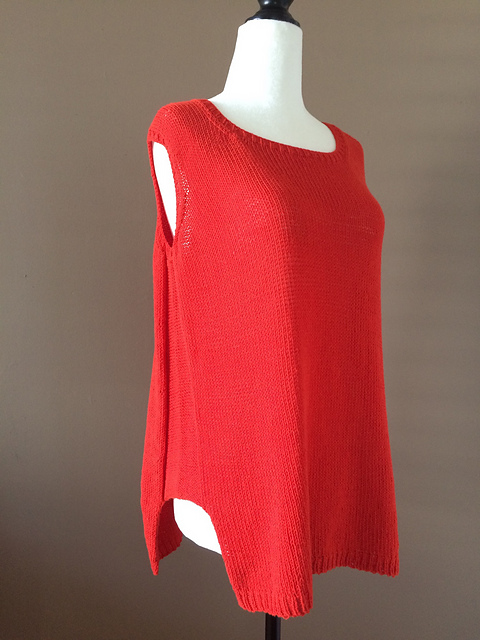 Mattedcat's Knitting Up A Notch or Two knitted using the free Notched Hem Tank Top using Cobasi.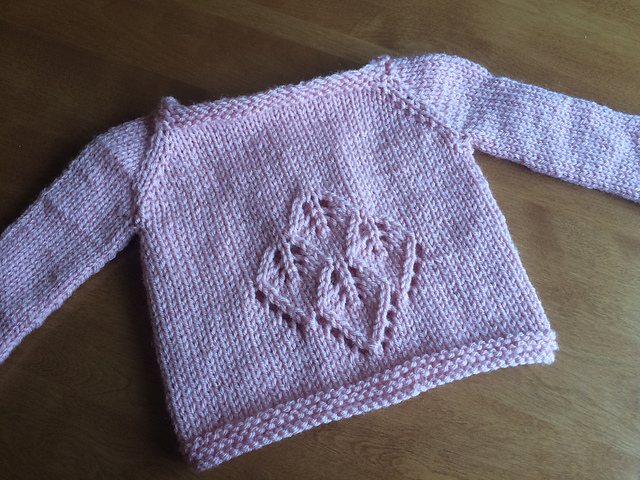 Mattedcat's Little Pink Sprout, her take on Little Sprout Cardigan.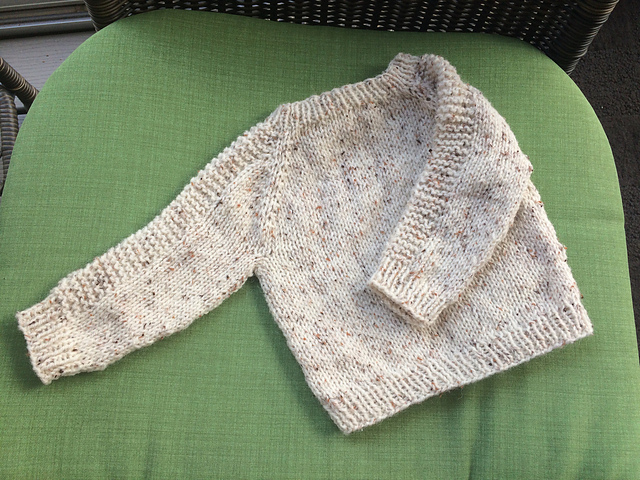 Mattedcat's Baby Flax knit from Flax by tincanknits (free pattern) using Bergere de France Chinaillon.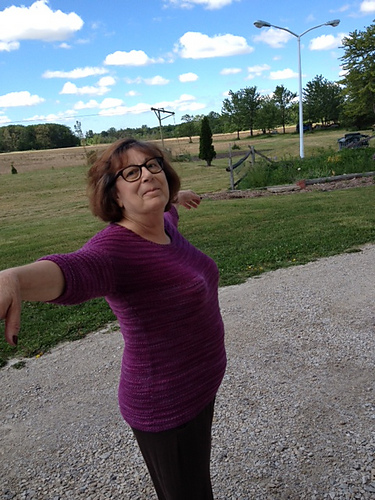 Maltesecross's Excited To Be Here, Connie's take on Donner by Elizabeth Doherty.
Happy Friday and Happy Knitting!!
Save
Save
Save
Save
Save
Save
Save
Save
Save
Save
Save
Save
Save
Save
Save
Save
Save
Save
Save