Imagine that! Only 2 weeks that I missed:) There really are a lot of free patterns available on Ravelry and other sites that I have enjoyed sharing with you. Now if only I knew how to organize them on my website by month and year for easier access to older posts...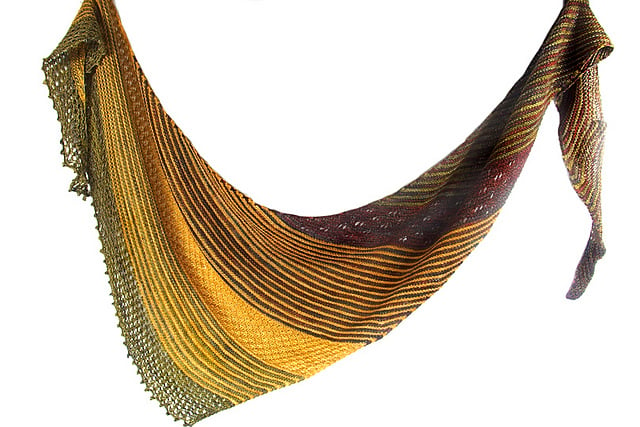 The first blog was posted on April 28, 2017 when I featured Yours Truly Summer by Michele C Meadows including this photo of the one knit by YavannaRaven using Malabrigo Sock.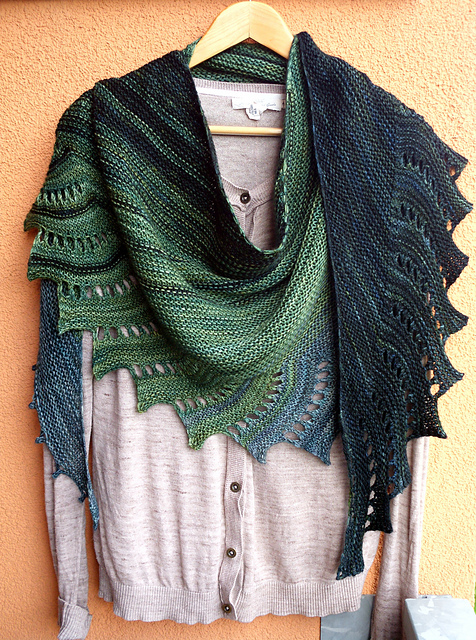 The second blog featured Close to You by Justyna Lorkowska where I included the beautiful one knit by ranmoray knit using 3 shades of Malabrigo Arroyo.
Moving forward, Adrienne Ku's Simple Skyp Socks is a sock pattern Adrienne designed to use one of her favourite stitches. ssummerer knit her pair with Koigu KPPPM starting with a cast on of 64 stitches. The pattern includes several sizes using 2.75 mm (US 2) needles to get a gauge of 7 stitches = 1 inch in stockinette.
aug3zimm's Simple Skyp Socks were knit using Rowan Fine Art in Chiff Chaff for her husband. Love the look of them!
Nymphalidea by Melinda VerMeer has both a paid version but the original free version nymphalidea will always be available on Knitty! In the new paid version, the original was re-written to include added information to help you create your own one-of-a-kind shawl, instructions for an updated shape, tips on using color, making your own alterations and a step-by-step blocking photo tutorial. Because this is cast on with few stitches and expands, it easily can be adapted to alternate weight yarns or be made smaller or larger to suit the individual knitter. As written, you will use about half a skein of the two yarns or approximately 450 - 500 yards of fingering weight yarn for a finished shawl that is 60" wide x 15" deep using 4.0 mm (US 6) needles to get a gauge of 18 stitches and 32 rows = 4 inches in Stockinette.
Love MJP's Nymphalidea # 7 version which she knit using Schoppel-Wolle Zauberball Crazy for the long gradient self-striping yarns paired up with a contrasting solid so that each wedge is different and unique like the wings of a butterfly.
WIP's and FO's
Last week I posted that it was highly likely that I would frog my Vintersol back to the armholes so that I could I could make the boxy shape that I prefer. Well as you can see, I did! I frogged it back, wound the yarn into a giant ball, wound it on my swift so that I had a big skein, put the remaining stitches all on waste yarn and then I used Eucalan to soak both the yoke and the skein. Of course, then I had to wait 2 days for it all to dry - I dried the yoke flat not hanging up. I worked on my third Arika Cowl while I waited but I am still back to the 4th round of the bottom border. Yay!!
Third time is the charm?? One Arika Cowl (pattern by Jane Richmond)was given away, one sold to my sister-in-law...maybe this one can stay in the shop as a sample? Once again I have used Hikoo Kenzington and as usual I am loving its rustic tweedy character!
My Comfort Fade Cardi is finished and blocked!!
I have finally finished the heel of my second Candy Cane Sock! It won't be long now with just the foot and toe to go.
Paulette helped me get my Knitter's Loom ready to use for my first foray in to weaving! Super excited but I need to finish my Vintersol first!
KNIT GROUP AND GALLERY
The current Knit-Along is an Any Project Knit-Along! The deadline for this one is March 31, 2018 so there is still time to get your project completed and entered in the next draw! You don't have to come to a Knit Afternoon or Knit Night to be included in the draw but you do need to post your finished projects to the Group Finished Objects thread on Ravelry.
Kandy's socks knit using Bergere de France Goomy 50 in Imprim Prun
Mattedcat (Lise)'s Leaf Love Dress by Taiga Hilliard Designs
Nina's Minion Hats
sandima (Sandi)'s Stitch Surfer Socks (free) knit with Stray Cat Socks and Malabrigo Sock
Jean's Glaswegian Cardigan by Amy Christoffers knit for the Berroco-Lopi KAL.
CLASSES!
Just a reminder that it isn't too late to sign up for Knit 2 - Hat Class running Saturdays, March 17 and 24 – 10:00 am to 12:00 pm or to sign the kids up for the Kids Knitting for March Break - 2018 running March Break - March 12 to 16 – 9:00 am  to 12:00 pm.
NEW and re-stocked to the Shop
Interpretations 5 from Joji Locatelli and Veera and Pom Pom Quarterly Issue 24: Spring 2018
Laine Magazine 4 and back issues of Laine 1 and 2. Also in are My Knitting Notes by Laine Magazine, a journal to use to collect and organize past and future knitting projects in a beautiful way. If you haven't come in to check out the collection of books and magazines, you should!
Rowan Selects Limited Edition Handknit Cotton - Kaffe Fassett Colours and complimentary pattern book with purchase.
Rowan Creative Linen
Wrist Rulers and Eucalan Wrapture Balm
New buttons!
Happy Friday, Happy Knitting, Crocheting and Crafting!