My grandson Lennox in his "Spiderman" helmet and hand-me-down hoodie that I knit his big brother!
The Toddler Raglan Hoodie by Megan Goodacre is a top down easy raglan hoodie. This makes a great gift, because, well, you can never have enough hoodies! Lennox has had to wear a helmet for several months now to help re-shape his head and my daughter has been creatively painting them. It has has several incarnations and I am sad to say that Spidey is gone and has been replaced with another version!
This week while checking my Instagram news feed, I saw Tanis Fibre Arts post! The photo of her boys with her caption "Mother of dragons" totally rocks:) Dragon or dinosaur balaclavas would make awesome gifts for some lucky little boys and girls!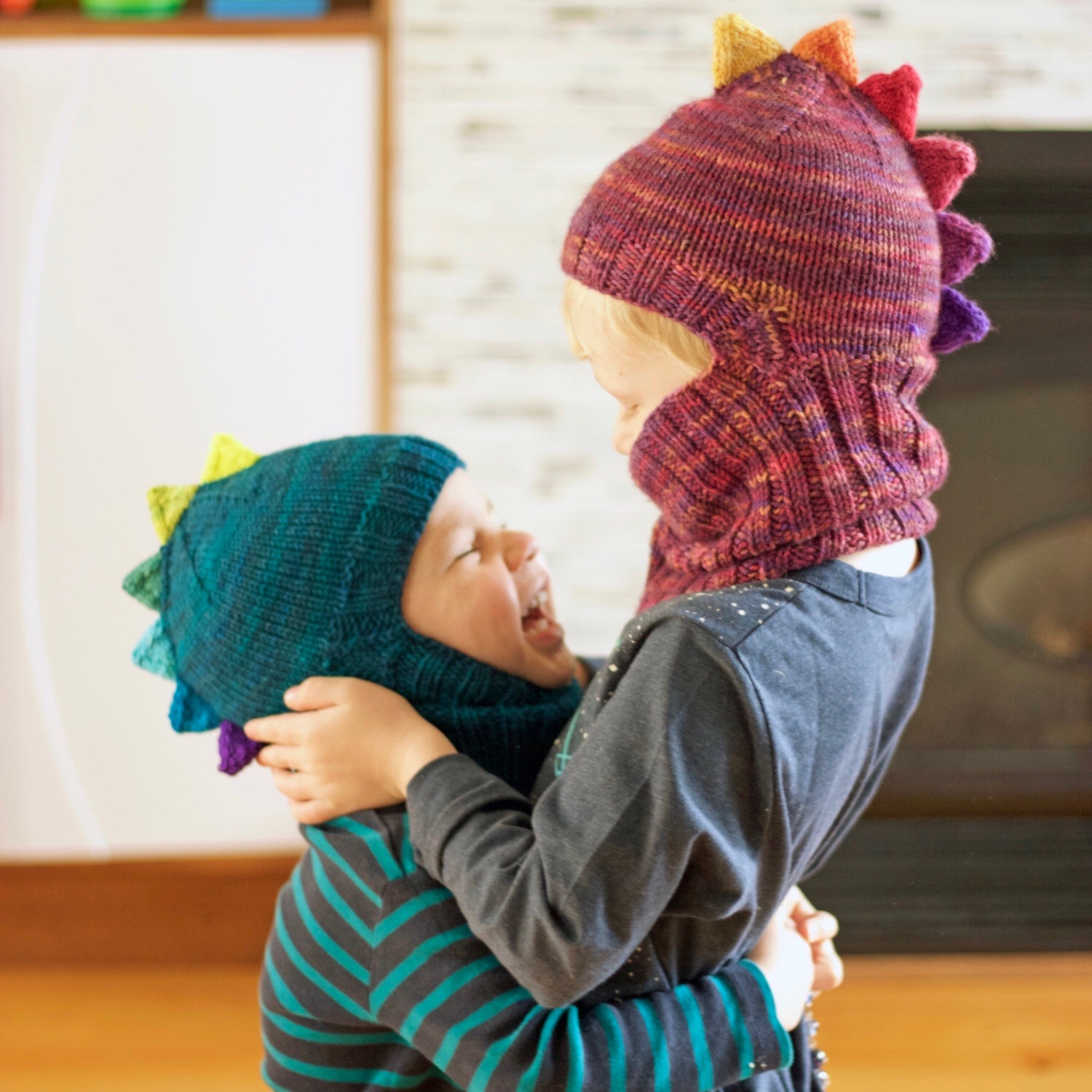 Tanis's tanisfiberarts' My Blue Dragon was knit using Wee Balaclava by mama cerise, using the modifications from pfong001's Dino Wee Balaclava. Now I want to try to find the time to knit one for each of my grandsons but with the time crunch and all that I already have on my needles, it may be next year before they get them!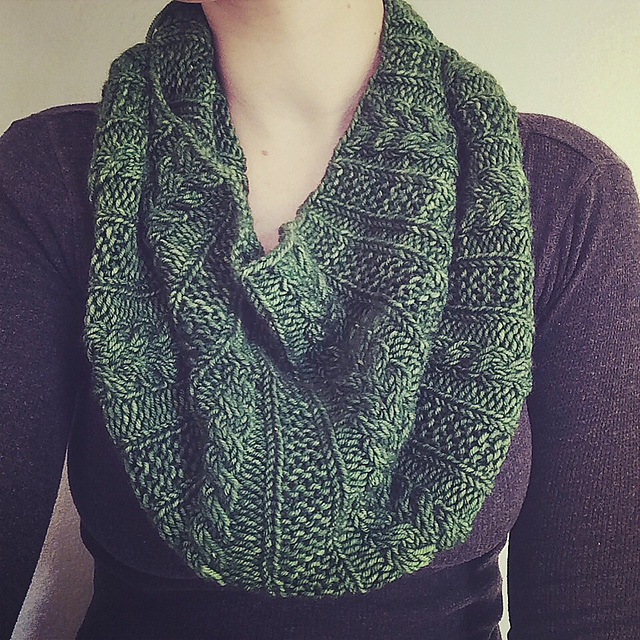 Forest Park Cowl by Liz Abinante is a simple cabled cowl with garter stitch ribbing with an asymmetric shape - wider at the bottom and narrower at the top to allow for a more stylish slouch when worn. The simple repetitive cable pattern is spaced by garter stitch ribbing to give this cowl a classic, textured look.
The cowl requires approximately 300 yards/274 meters aran weight (or worsted weight, depending on your gauge) yarn. The gauge is 16 sts, 24 rows per 4"/10cm, garter stitch ribbing using a US 7 (4.5mm) 16" circular needle.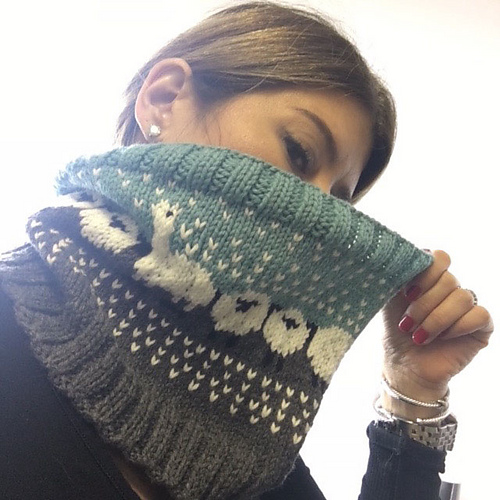 I'll Pack a Cowl for Rhinebeck by Deb Jacullo is a cowl designed to go with the Baa-ble Hat. with a simple and big chart making it a perfect first color work project. The approximate yardage by color required: Main color = 100 yards, Secondary color (CC) = 100 yards, White = 50 yards, Black = 25 yards of worsted weight yarn using US 7 (4.5 mm) needles. The finished cowl is approximately 24" x 9". Donna Smith, the original designer of the Baa-ble Hat also has a paid pattern for Baa-ble Mittens and Cowl.
WIP's and FO's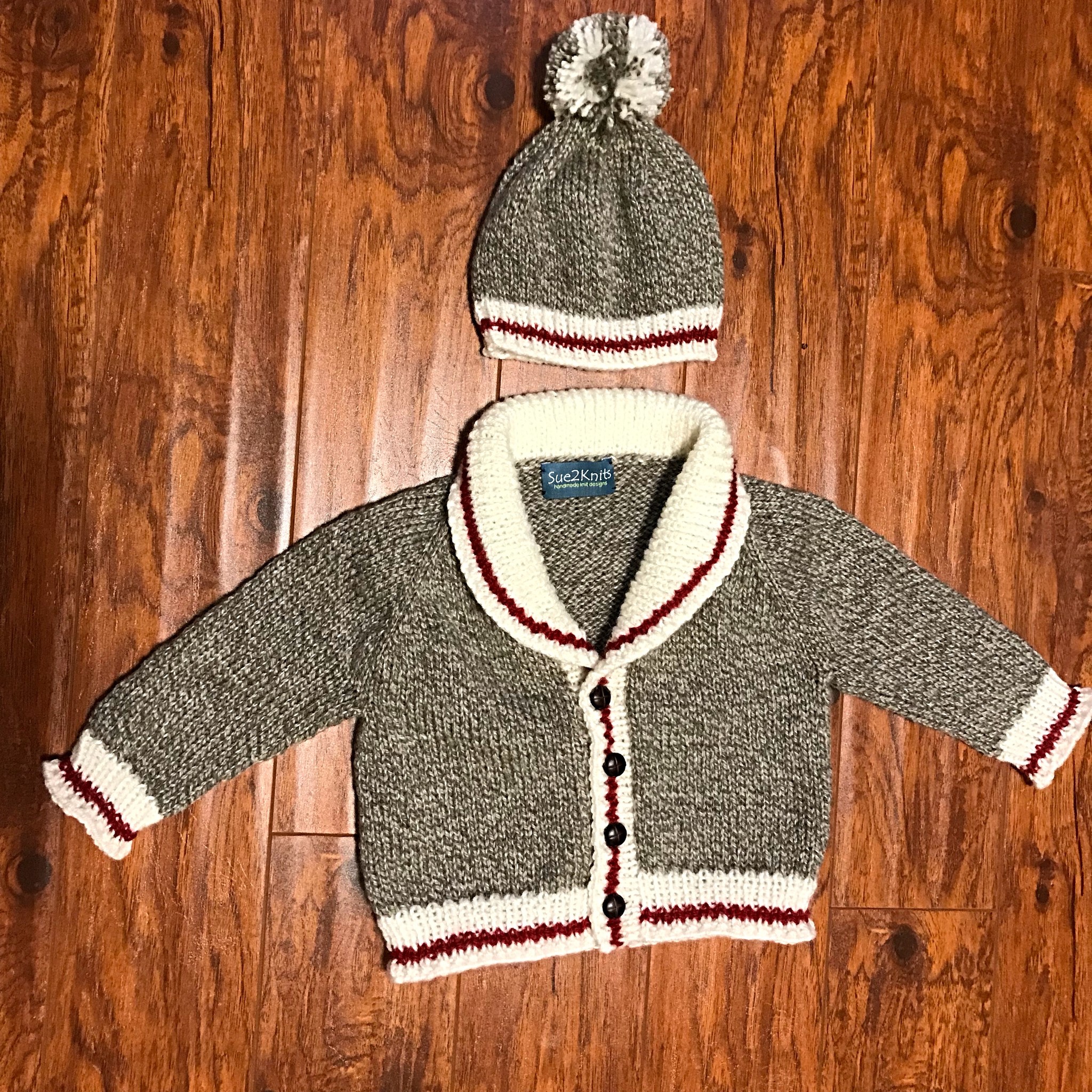 I finished my Sue2Knits Another Sock Monkey Gramps - my Gramps by Tin Can Knits and a matching hat. I have yet to finish posting my notes and how I knit the hat to my ravelry page! I knit it with Bergere de France Jaspee which is my favourite yarn to knit this with so that it is squishy but easy care.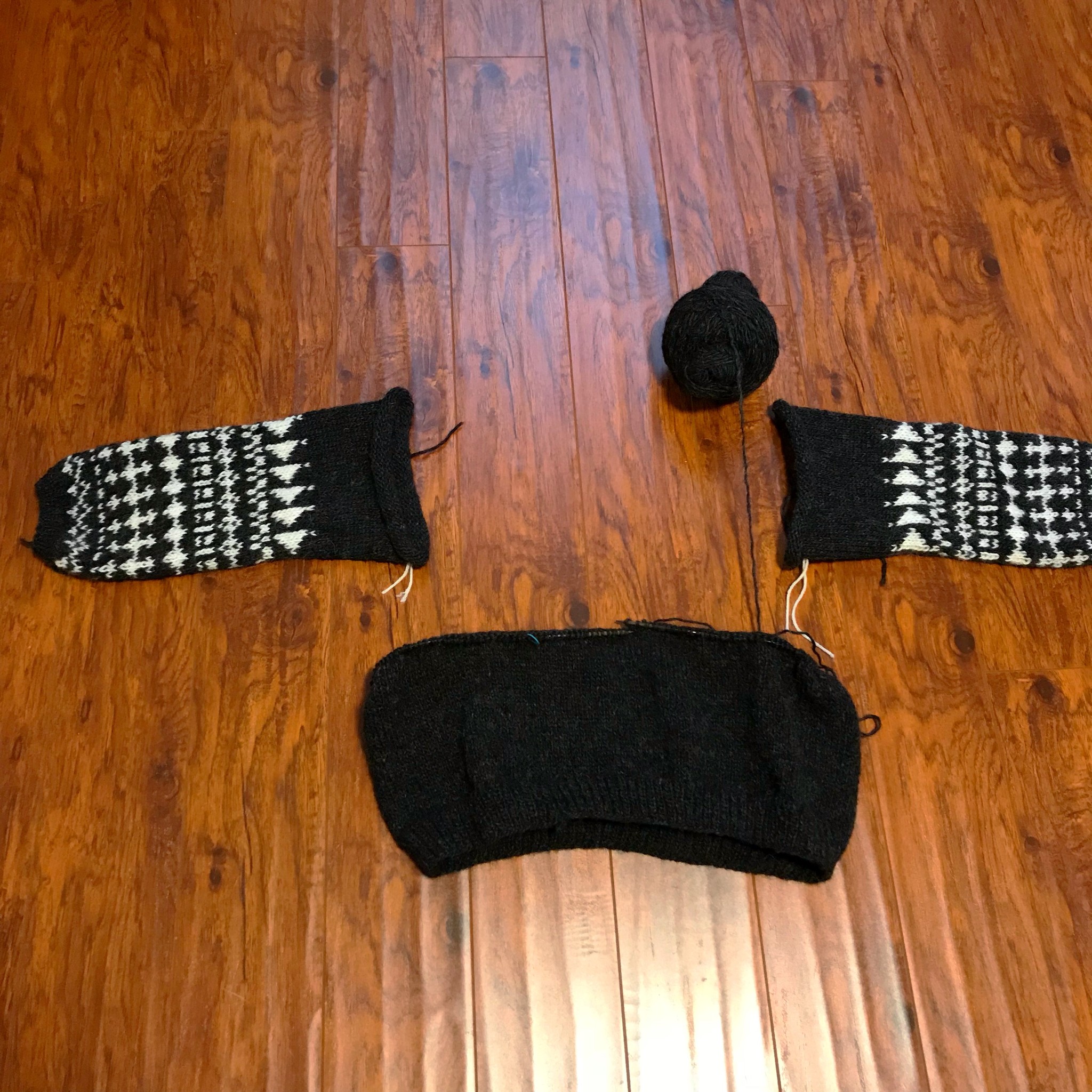 My Öræfi by G. Dagbjört Guðmundsdóttir has only progressed a few more inches. I have a lot of stockinette to go before I can start the fun yoke! I know I could have cast on using a provisional cast on and knit the fun part first but then sometimes you don't want to finish the boring stockinette. This way I have the fun part to look forward to!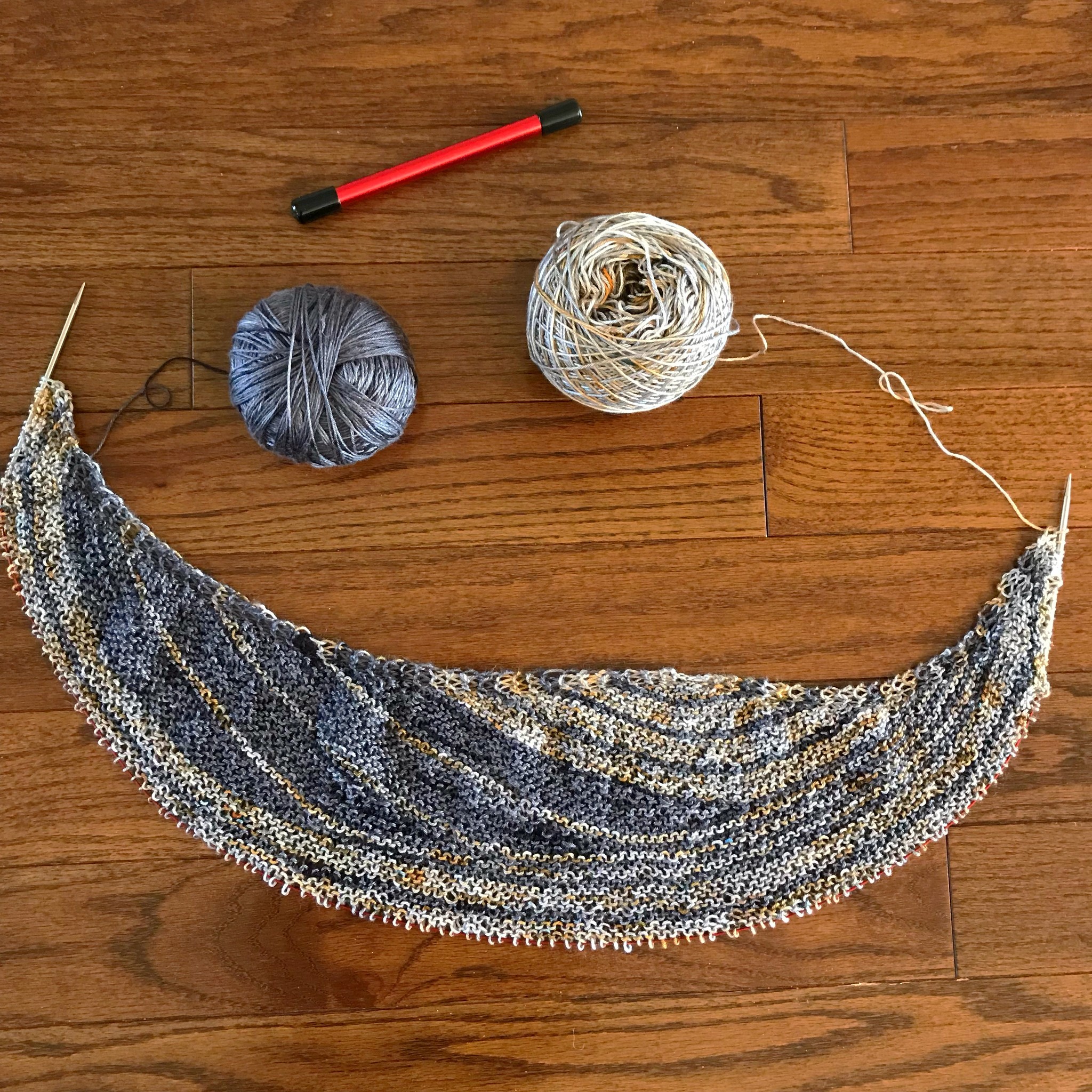 I am halfway through Section 3 on my Surge by Lisa Mutch! (Do you like my Happy Face pic?) I am so much happier with the gauge that I have now so despite all of my false starts, I am glad that I persevered with finding the perfect gauge for me! I can't wait to see it finished and blocked since I am far behind those of you who have already finished their kal projects! There is still plenty of time since we have until November 30 to finish.
KNIT GROUP AND GALLERY
The Lisa Mutch (Northbound Knitting) Shawl Along: Asunder or any of her shawl patterns is running from October 1 to November 30.
OR
Any Project Knit Aong: An everlasting knit-along to encourage and support you to knit your own project (any project, and join in anytime!). This has the same dates and deadlines as any other knit-along running so is included in the same draws! This KAL has also started is also running from October 1 to November 30.
Please sign up and post pictures by the November 30th deadline to be included in the next draw.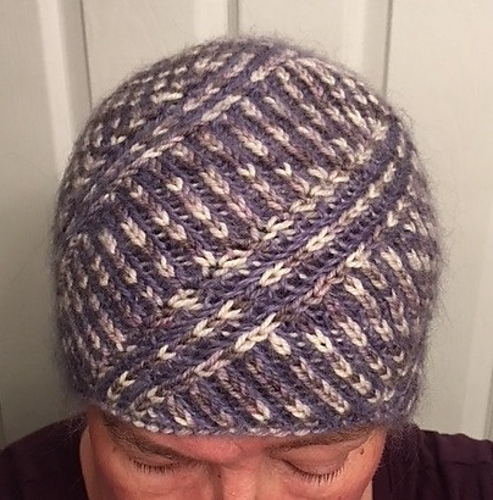 sandima's Spiral Brioche Hat The colours in the photo don't do it justice - they are spectacular! The pattern is Spiral Brioche Hat by Katrin Schubert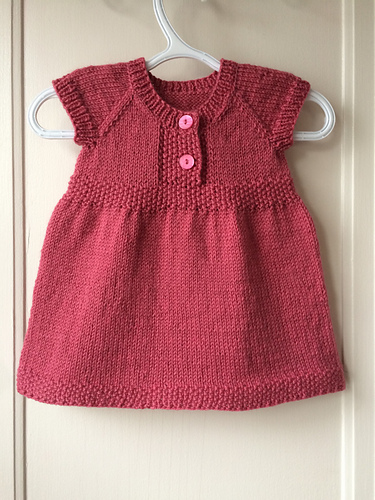 Mattedcat's Simply Sweet - Simply Sweet Georgia, the pattern (in case you didn't know) is my pattern:)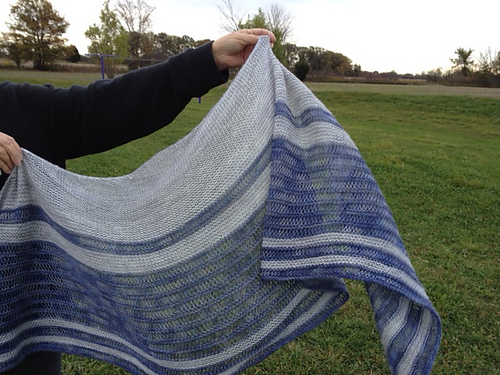 maltesecross's Cool Lisa Mutch's Asunder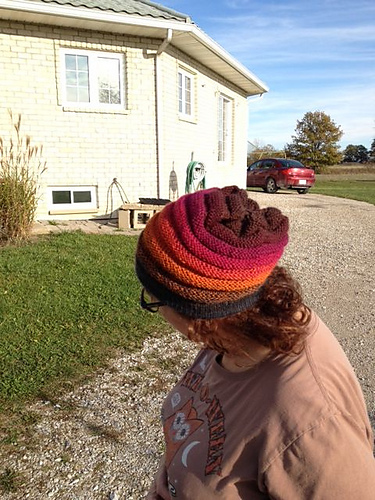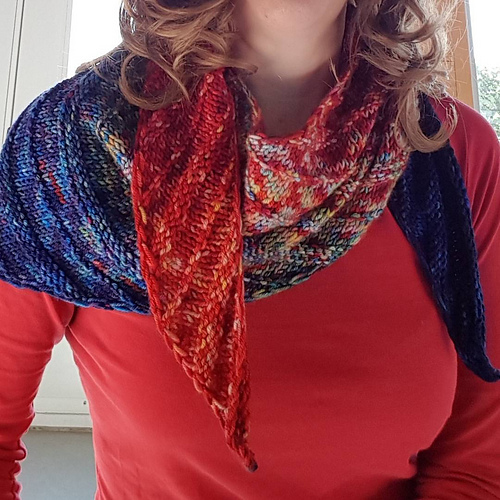 AJMatte's Gradient Shawl/Scarf, her Quaker Yarn Stretcher Boomerang
News
I have a new teacher, Deborah Meadows who will be holding an introductory special "Meet the New Teacher" Christmas Mini Socks Workshop suitable for anyone with a basic knowledge of knitting who can knit and purl. This will be held on Saturday, December 9 from 1:00 to 3:00 pm. The cost will be the $40 for the 2 hour class including a yarn kit. We will have a few different kits so you can choose yours! You will need 3.00 mm (US 2.5) needles. I will post the class to the website so that you can register and pay. You can also register at the shop. For this workshop, we will not worry about the regular maximum of 8. We can sit at the worktable or on the couches.
I will post the Classes and a schedule soon. They will start in January and will include classes for beginners and special workshops for blocking and more. Of course, if there is something you have been wanting to learn, let me know. The schedule is not yet set so if you want to say learn to knit socks first, we can:)
Happy Friday and Happy Knitting, Crocheting and Crafting!!
Save
Save
Save
Save
Save
Save
Save
Save
Save
Save
Save
Save
Save
Save
Save
Save
Save
Save
Save
Save
Save
Save
Save
Save
Save
Save
Save