A sock monkey sweater for a beloved Baby's Christmas gift with a matching toque!
Have you started your Christmas gift knitting yet? I hope so because we are more than half-way through November already or if you are like me, you don't have gifts to knit for any one except yourself! Actually, most of my knitting is for samples for the shop - all of which I wear lol!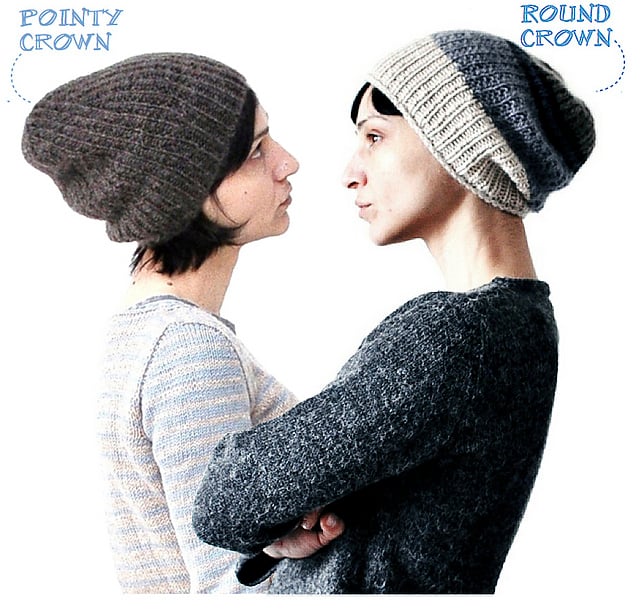 Cocoon by La Maison Rililie is the hat rililie designed to replace a favourite store- bought, ratty, old hat because she just loved it's fit and style. Her pattern now includes a variation that has a tubular cast on and much more pronounced decreases - a kind of a pointy/hipster version of the original Cocoon hat.
Two sizes available for both versions. The free pattern no longer has a downloadable pdf but you can still view it online or copy and paste it to a document if you need to have it printable.
Cocoon uses a bulky weight yarn with a gauge of 16 stitches and 32 rows = 4 inches in Broken Rib Stitch using 119 - 126 yards (109 - 115 m) of yarn. 5.0 mm (US 8) and 5.5 mm (US 9) 40 cm/16"
long) or DPN's or the needles to get gauge are required. If you are going to use the tubular cast on, then 3.5 mm (US 4) needles are used.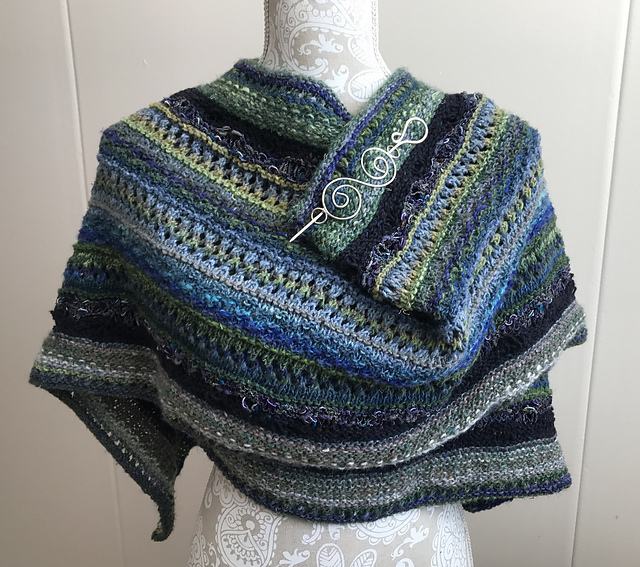 Stitch Sampler Shawl by On This Day Designs is a rectangular wrap that has less structure than a lace pattern. It is a mix of stitch patterns including dropped stitches, slipped stitches, eyelets and other textures. The shawl can be made with a single yarn or a mix of worsted weight stash yarn taking about 600 yards (549 m) for finished size of about 60" by 13" using 6.0 mm (US 10) needles. Pictured is jophilly1's Stitch Sampler Shawl that she knit using Noro Silk Garden.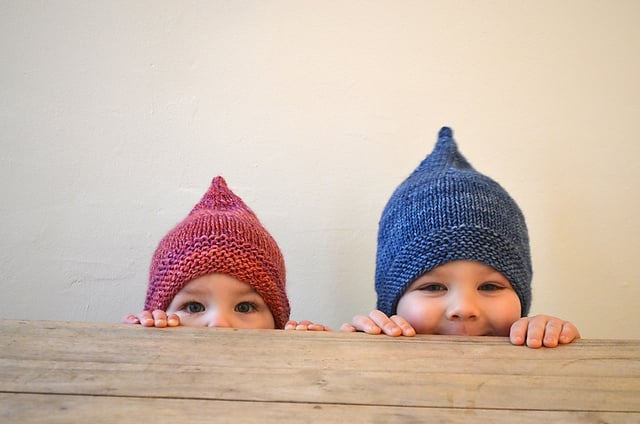 Cute, oh so cute is the Troll (hat) by Gabriela Widmer-Hanke! It is a sweet, easy and quick knitted hat for your little troll ;-) It is knitted in rounds from bottom up in stockinette using a chunky yarn with a gauge of 16 stitches and 22 rows = 4 inches. 100 - 140 yards (91 - 128 m) of yarn is required and 4.5 mm (US 7) and 5.0 mm (US 8) double pointed needles.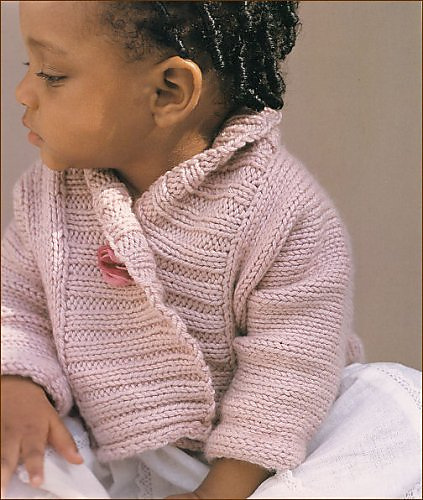 Debbie Bliss's Ribbed Baby Jacket is warm unisex baby jacket with a wide ribbed lapel. The pattern is sized for 0-3 months (3-6 mo., 6-9 mo., 9-12 mo., 12-24 mo.) using 392 - 600 yards (358 - 549 m) of aran weight yarn. The gauge is 18 stitches and 24 rows = 4 inches in stockinette stitch using 4.5 mm (US 7) and 5.0 mm (US 8) needles. The link worked when I used the web address and selected to open with Acrobat Reader instead of selecting save. You can save the pdf after you have opened it. Note, if you have trouble, I have saved it to Dropbox.
WIP's and FO's
Last week, I finished the Sock Monkey sweater pictured above...I still have to block it! I also discovered that although I have 2 sock monkey sweaters posted to Ravelry, I didn't post any of the 2 others that I knit using the same yarn as this one. Therefore, I don't know the exact yardage since I forgot to weigh what I started with!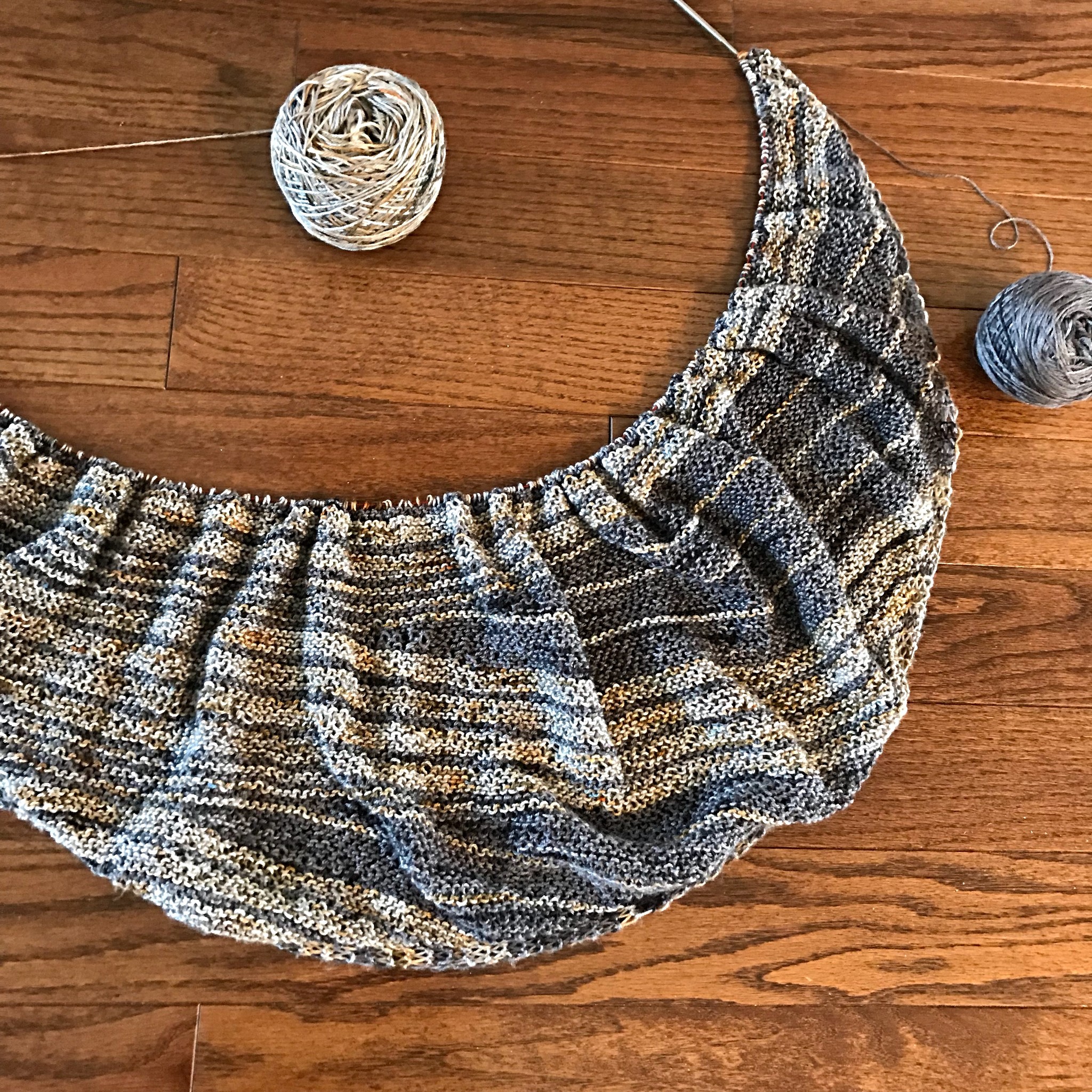 I am almost finished the last Section of my Surge by Lisa Mutch! Twelve more rows before I bind off and then block it. I am really pleased with it now that I have a gauge that I like! Next week my Surge should be a finished object - I'll have it complete before the November 30th deadline!
Once again my Öræfi by G. Dagbjört Guðmundsdóttir has only progressed a few more inches. At least now, I think there is only about 5 more inches to go before I can join to start the yoke!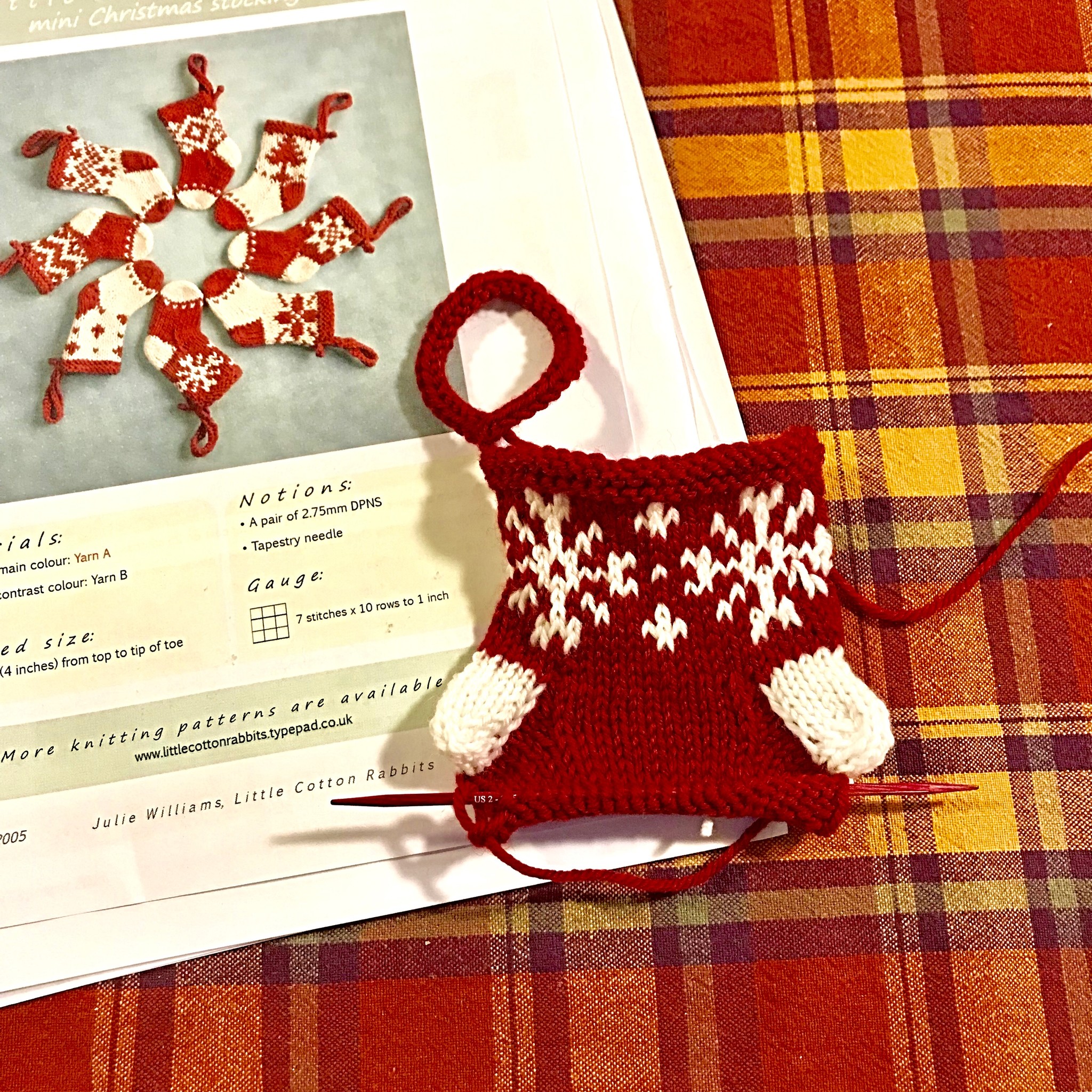 I started my sample for the December Workshop! It looks so cute! Deborah knit up a few samples of another pattern as well! The pattern above can be done plain, with stripes, contrast heels and toes or with colourwork. The kits we will have included with the workshop can be used for either pattern.
The Christmas Mini Stocking Workshop is now up on the website so register early! You can register online or in the shop.
Details
$40 – Saturday, December 9, 2017 – 1:00 to 3:00
Deborah Meadows will be my new teacher! Our introductory special "Meet the New Teacher" Christmas Mini Socks Workshop suitable for anyone with a basic knowledge of knitting who can knit and purl.
Details
Cast on mini Christmas Stockings that can be used as tree ornaments, to hold your cutlery at your holiday table, as a small gift bag, as an advent calendar or strung from an i-cord garland! They are knit flat and then sewn together.
Sizing
Finished sock ornament measures 3.25 inches
Needles
3.00 mm (US 2.5) needles
Gauge
26-28 sts = 4" in stockinette stitch
Notions
darning needle
Kits will be included for this first Workshop! There will be a couple of different kits to choose from including 2 or 3 colours and some Christmas buttons for decorative flair! Needles are not included in the kit.
Note - Depending on how many register for the workshop, we will run this again, the following Saturday, December 16, 2017 – 1:00 to 3:00
I will post the Classes and a schedule soon. They will start in January and will include classes for beginners, Classic Top-Down Pullover, First Cardigan and special workshops for blocking and more. Of course, if there is something you have been wanting to learn, let me know. The schedule is not yet set so if you want to say learn to knit socks first, we can:)
KNIT GROUP AND GALLERY
The Lisa Mutch (Northbound Knitting) Shawl Along: Asunder or any of her shawl patterns is running from October 1 to November 30.
OR
Any Project Knit Aong: An everlasting knit-along to encourage and support you to knit your own project (any project, and join in anytime!). This has the same dates and deadlines as any other knit-along running so is included in the same draws! This KAL has also started is also running from October 1 to November 30.
Please sign up and post pictures by the November 30th deadline to be included in the next draw.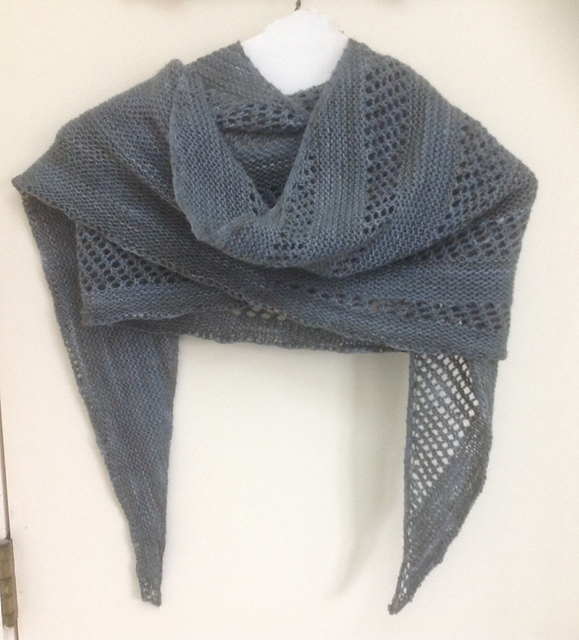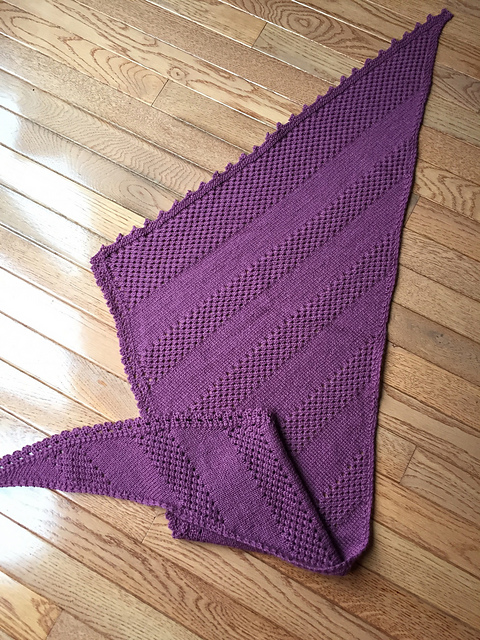 Jean091's Bosc Pear - Jean knit several of Bosc Pear shawls in different yarns!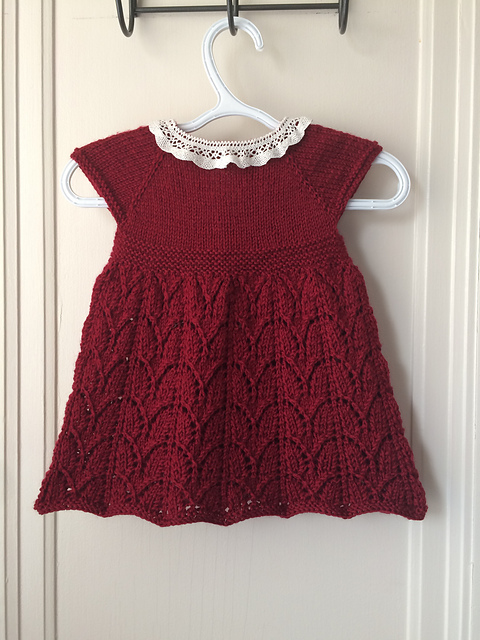 Mattedcat's Baby's First Christmas (Paulina Dress) - Lise's granddaughter to be has an amazing knit wardrobe!
Teri bought the Berroco Ultra Alpaca Light yarn to knit herself Autumns End by Alana Dakos but she ran in to trouble on the final stretch! She only had the top part of the sleeves and the yoke left before the neckline when she realized the stitch count was wrong with different stitch count for each sleeve. She attempted to tink back back ended up frogging the whole sweater and knitting this instead! I think that the new sweater turned out awesome (even though I saw her Autumn's End in progress and that was pretty spectacular too)!
Happy Friday and Happy Knitting, Crocheting and Crafting!!