Posted on
By Susan Wong-Tsang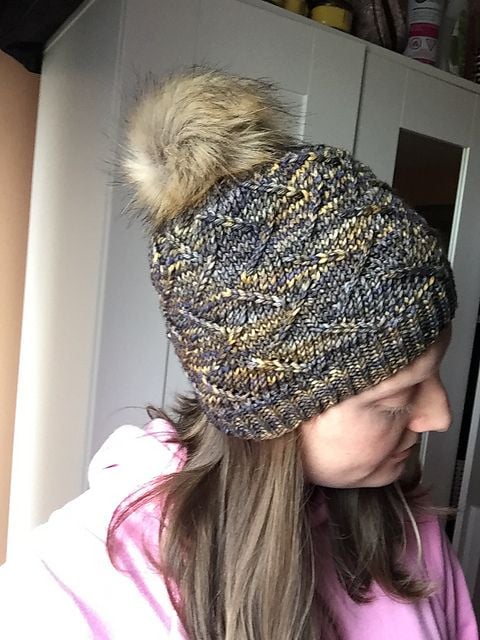 There are 25 days until Christmas and it is coming faster than we thought possible!
We think we still have lots of time and then we get a little frantic and stressing about gifts to buy or make but there IS still time to make those last minute gifts!
Christina loves the Irma hat by Aneta Gasiorowska that she knit herself with Malabrigo Rios! Now she plans to knit herself matching mitts!! The hat is a free pattern that is a very giftable and quick knit that only needs 142 - 153 yards (130 - 140 m) of a DK to worsted weight yarn using 3.5 mm (US 4) and 4.5 mm (US 7) needles for a gauge of 22 stitches and 28 rows = 4 inches in stockinette stitch. The icing on top is the pom pom!
While Linda Fridholm's Pole Pole Socks are not free, they certainly are gorgeous! Pole Pole means "slowly, slowly" in Swahili and is something you often hear when visiting East Africa. Sometimes we surely need to be reminded not to always hurry, or to be on the go all the time. It is enough to just be, here and now.
The pattern to Pole Pole Socks is inspired by textiles from the island Mafia outside the Tanzanian coast. I hope that you, when you knit these socks can do it pole pole and enjoy knitting.
These socks need approximately 60-65 grams/250-275 metres/275-300yards of the main colour and approximately 18- 20grams/75-85metres/85-95yards of a contrast colour of sock yarn. The designer got a gauge of 34 stitches and 40 rounds = 10x10 cm after blocking to fit a medium sized foot with a leg circumference of 20.5 cm/8", and a foot circumference 19.5 cm/7,75". The length of the sock is adjustable using 2.25-2.75 US 1 – US 2 needles.
Runningyarn2's Pole Pole Socks look a lot like Christmas!
WIP's and FO's
I wasn't able to work much more on my Chevron Cloud WIP but I am almost to the point where I separate the body from the sleeves on my Ninilchik Swoncho!
The Swoncho Colourwork Class finishes up Sunday morning so I hope to have some finished object photos to post soon!
Design 7 and 8 Hat and Cowl from Lana Grossa's Best of Olympia pattern foldout knit in Olympia colour 25 is satisfyingly quick!! I made my cowl shorter than the pattern using only one ball of yarn! Nicole knit both pieces using three balls and the full size cowl while Deb used two balls for the hat and a shorter cowl!
Christmas Gift Ideas
The Gift Advent Calendars arrived with a few days to spare - December 1st is tomorrow. Hurry in to get one for your knitter or treat yourself! Limited quantities (only 3 left)
These "Craftvent Calendars" are filled with Koigu yarn and other nifty goodies that are very possibly on every knitter's wish list! A little something for every day of December until Christmas!
A new Limited Edition Christmas Sock yarn has arrived from West Yorkshire Spinners Signature 4 Ply line just in time to knit up! With every purchase of their brand new Fairy Lights yarn, you will receive a free printed sock pattern, designed by the wonderful Christine Perry AKA 'Winwick Mum.
Fairy Lights is a festive self-striping yarn with striking bands of colour that create a bright and cheerful Christmas palette – the result - fabulous festive knits. For a more traditional Christmassy look why not pair up Fairy Lights with our Cayenne Pepper or Chocolate Lime.
Holly Berry Christmas sock yarn...
Holly Berry knit up in a different sock pattern
Last year's Candy Cane Christmas sock yarn is also still available!
These I included a few weeks back but since they make perfect stocking stuffers...Wool & Wire Fall Mini Stitch Markers, Letter Stitch Markers, Yarn and Needles (Knit) and Crochet Enamel Pins, and Kollage Square Circular Needles (firm cord) and Square Crochet Hooks.
Needle Sets anyone???? ChiaoGoo 4", 5" Small, Large and Complete Sets, ChiaoGoo Spin (bamboo), ChaioGoo Mini snd Shortie Sets, HiyaHiya, Knit Picks Short IC, Addi and Knitter's Pride too
Lykke Indigo and Umber Sets
Shopping for someone else but not sure what to give them? Give them the gift of choice with a Gift Card!
If you are looking for a little something that is already knit up, there are some Handknits by Sue2Knits available for purchase. There are some hats, infinity cowls, and some baby knits...
Red Handknits Lacy Cardigans with Hats by Sue2Knits
Heart Elbow Patch Cardigans
KNIT GROUP AND GALLERY
The current Knit-Alongs are the Knit Your Any Project KAL: An everlasting knit-along to encourage and support you to knit your own project (any project, and join in anytime!) from September 15 until December 31, 2018. Remember that you have to post to the Finished Objects thread to be included in the next draw. In January, we will start a Any Sweater KAL!
Knitnut246's socks knit with West Yorkshire Spinner's Signature 4 Ply in Goldfinch
Nicole's vanilla socks - West Yorkshire Spinners Signature 4 Ply in Tequila Sunrise
Lise's Fairy Dust by Dani Sunshine knit with Garnstudio Drops Flora in Coral
Closeup of Lise's Fairy Dust
Happy Friday, Happy Knitting, Crocheting and Crafting!