Fall officially arrives at 9:54 pm tomorrow, and daylight lasts about 8 minutes longer than nighttime on the day of the equinox. I put my fall wreath on my front door and changed the tablecloths to autumn-toned ones!
It is time to think about warm and cozy patterns, sweaters and cardigans, shawls, cowls, and accessories to make for yourself or to give as gifts! Kathy found that it was just cool enough to wear her Deschain by Leila Raabe which she knit with Rowan Pure Linen.
Ausable by Amy Christoffers is as she describes, "the sweater that I am always going to reach for when I feel a chill… something unfussy, a raglan which will sit comfortably over anything I happen to be wearing, a shawl collar to ward off drafts and extra long sleeves that will keep my wrists warm or fold back when I find myself up to my elbows in dinner. A uniform sweater but with a little something special to keep it fun." This beautifully detailed cardigan is knit using a bulky yarn with 5.5 mm (US 9) and 6.5 mm (US 10.5) needles to get a gauge of 15 stitches and 22 rows = 4 inches in moss stitch on the larger needles. Amy's advice about needle size is to "always use a needle size that gives you the gauge listed below - every knitter's gauge is unique". I knit loosely so in order to get gauge, I usually have to go down a needle size.
Study Hall Shawl by Sarah Schira is a shawl that uses slipped stitches for a deceptively easy mosaic pattern of geometric colour play!
The shawl will need about 830 - 960 yards (759 - 878 m) of fingering weight yarn made up of two colours to give you a finished shawl that is about 27" deep at the center back by about 66". You will need 4.0 mm (US 6) and 4.5 mm (US 7) needles for a gauge of  24 stitches and 32 rows = 4 inches in stockinette on the smaller needles and 20 sts/36 rows = 4 inches/10 cm in garter stitch using the smaller needles.
With this type of mosaic knitting, the charts show two colours per row but you will not be using both colours while working a row. You will only be slipping stitches to pull the colour of the row below into the current row.
WIP's and FO's
My Zweig by Caitlin Hunter is moving along! The body is complete as well as one of the sleeves. I knit my sleeves narrower by decreasing every 10th row starting on the 12th row for a narrower, slim sleeve instead of knitting the sleeves as written. On every 10th row, I knit 1, k2tog, knit to 3 stitches before the marker, ssk, k1. I knit my sleeves for 10" and I worked a k1, p1 rib for 30 rows (approx. 3") instead of a k2, p2 rib.
I cast on the Ninilchik Swoncho by Caitlin Hunter. I decided on The Fibre Company's Arranmore Light in Kinnego Bay for my main colour. I am going to use Rowan Felted Tweed DK in Alabaster, Barn Red and Seafarer for the other colours. Nicole is going to knit hers using Rowan Felted Tweed DK in Clay as her main colour and Mineral, Duck Egg and Seafarer for the other colours.
KNIT GROUP AND GALLERY
The current Knit-Alongs are the Knit Your Any Project KAL: An everlasting knit-along to encourage and support you to knit your own project (any project, and join in anytime!) from September 15 to December 31, 2018. Don't forget to post a pic to the finished object (FO) thread  whenever you finish a project during the Knit-Along so that you will be included in the draw!
Congratulations to Lise (Mattedcat on Ravelry) for winning the September 15th draw!
Melissa in the sweater she knit with Malabrigo Rios in the Playa colourway!
Her little cardi looks great even from the back!
Paulette's Voss Self Fringing Shawl by Sue Flanders & Janine Kosel is stunning using Katia Paint with a solid dark colour. The technique she used is what she will teach in the Ninilchink Swoncho colourwork class. The class is scheduled to start this coming Sunday morning from 10 am to noon so if you want to sign up, you need to right away. We need a minimum of 4.
Last week's Yarn Dyeing Workshop was a great success! Here are some of the photos...
Painting with the dyes.
The two skeins I dyed plus a third mini dyed in the same dye as the pink skein but on a beige base. We used Zitron Trekking XXL Undyed sock yarn as our base and did a few Jamieson & Smith 2-Ply Jumper Weight in a medium grey (054) and a beige (002).
Linda was after a fairly specific colour so she started with a grey base (Berroco Ultra Alpaca Fine in Salt and Pepper).
Here we all are (except for Karen) with all of our gloriously dyed yarn!
If you are at all interested in signing up for any of our fall / winter classes, be sure to check them out and register! Please share with anyone who might be interested too:)
Are you planning to knit or crochet up some pumpkins for your Thanksgiving table decor? I have had Pumpkin knitting at our Knit Afternoons the last 2 years and we will again! Pumpkin Kits (including stuffing) have once again been added to the shop for purchase but you can come join us with worsted to chunky weight yarn and 5.5 mm or 6.0 mm double pointed needles. Autumn Pumpkins by Jan Lewis, Pumpkin - Jack Be Little - this is the one I've always used and Amigurumi Pumpkins - this one is crocheted.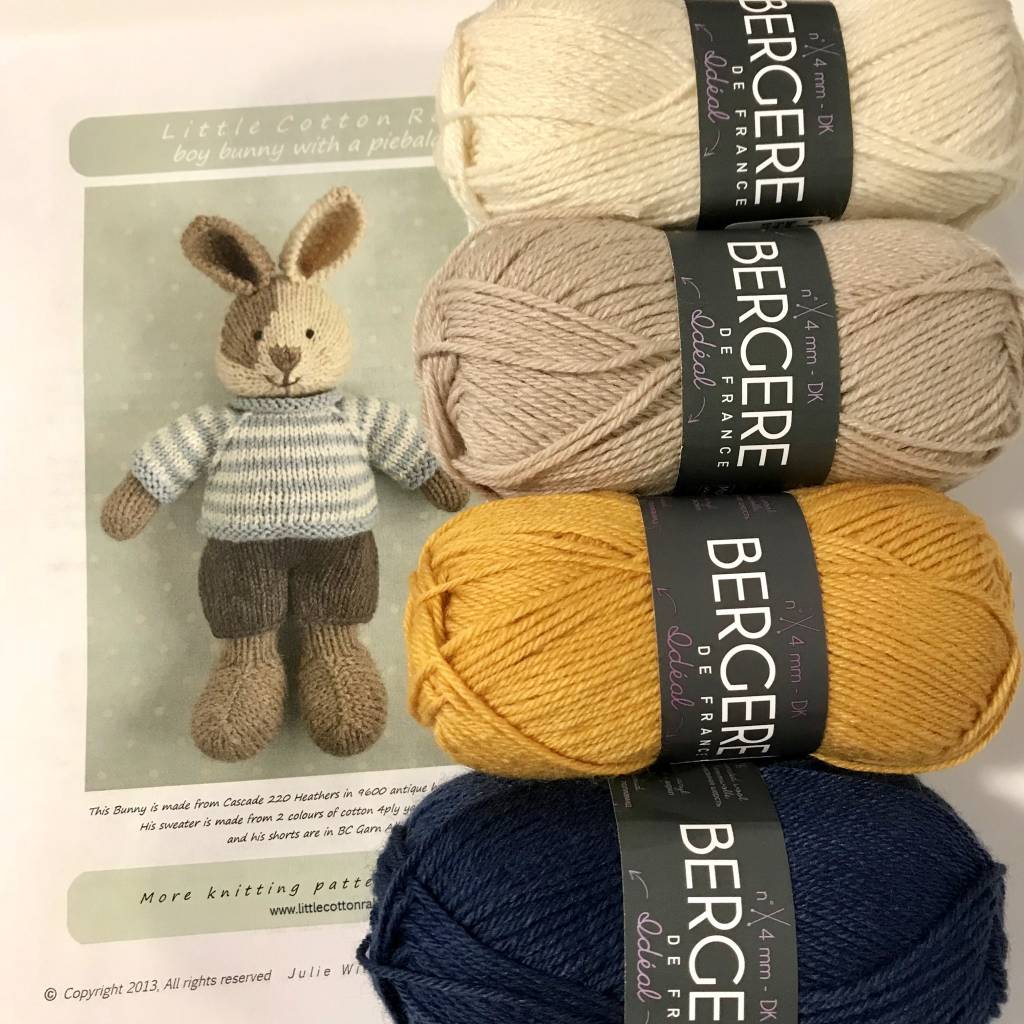 More Little Cotton Rabbit Kits have been added to the shop again as well.
UPCOMING EVENT!!
On Saturday, October 13, 2018, the yarn shops of Windsor-Essex will be hosting a Yarn Crawl as a part of I Love Yarn Day! Mark it on your calendar and plan to attend...Yes, it is the same day as the Woodstock Fleece Festival and the Creativ Festival. This will be our local event! More details to follow but each shop will have a pattern / kit and food and drinks as well! The participating shops as of today are Sue2Knits and Yarn, Little Sheep Yarn Boutique, and The Hook Pusher.
Happy Friday, Happy Knitting, Crocheting and Crafting!