Today it is sunny out but ohh, there is still a chill in the air! It is still too nippy out to not have a shawl of scarf to throw on. At our Knit Afternoons on Wednesday, we were commenting on how "we can't imagine not having Ravelry" in our knitting or crocheting lives. It have added such a wonderful community of inspiration to all of us! It gives us a place to go and search for that perfect pattern for this yarn or that yarn in our stash and the photos of gorgeous projects that inspire us to want to make it too!
I know that not everyone likes shawls or scarves...I myself had never knit a shawl or scarf until last year! I had always worn woven scarves - both silk or cotton but had never considered knitting myself one. A shawl??? How does one wear it? These were questions that I asked myself often and then it happened! I decided to join in on Stephen West's Building Blocks MKAL which to those still unsure of knitspeak means Mystery Knit Along and that was that! Now I know what the fuss is about especially why we all LOVE kals! They are fun and if you have group to knit with whether with friends in person or virtually on one of Ravelry's Kals, they are even better!
Here are two free patterns that were both designed by Michele C Meadows.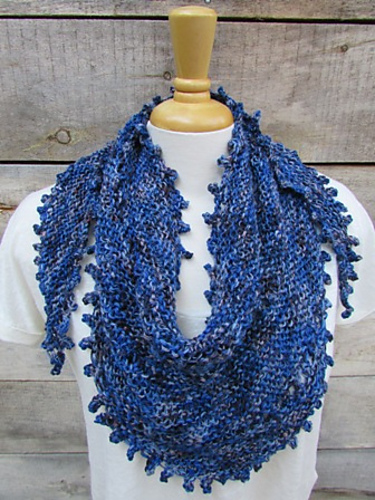 Riverside Scarf by Michele C Meadows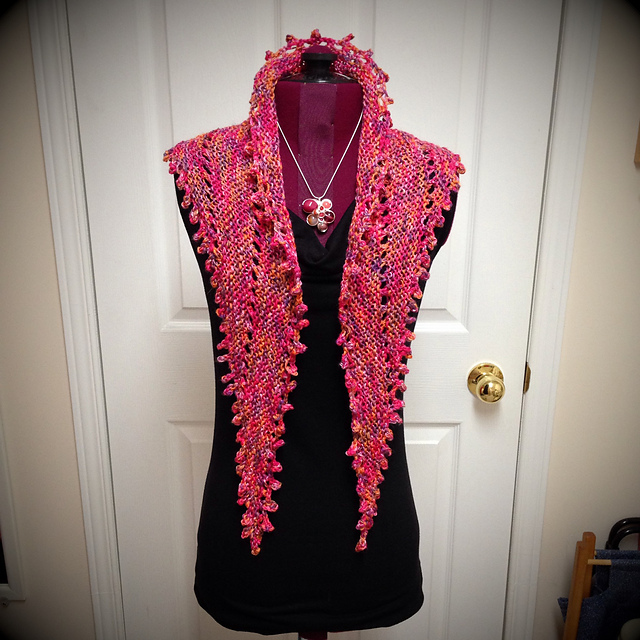 RIVERSIDE SCARF
Finished Size: 30.5 cm/ 12 ins x 127 cm/ 50 ins
Yarn: 1 skein SUMMERTIME (100g) by Diamond Luxury Collection in col. #162
Needles: 5.00 mm/US 8 (begin with a pair of straight needles then switch to a circular needle if needed)
Tension: 15 sts and 28 rows = 10 cm/ 4 ins over garter stitch
Cast on 3 sts.
K 1 row.
*Next Row: Cast on 5 sts using backward loop method, cast off 3 sts, k to end.
Rep last row 18 times.
Next Row: Cast on 5 sts using backward loop method, cast off 3 sts, [yo, k2tog] rep to end.*
Rep *to* 3 times = 80 rows.
Picot Cast Off Row: Cast off 3 sts, [slip rem st back to left needle, cast on 3 sts, cast off 6 sts] rep across row until all sts have been cast off.
Sew in ends.
Design by: Michele Meadows