Posted on
By Susan Wong-Tsang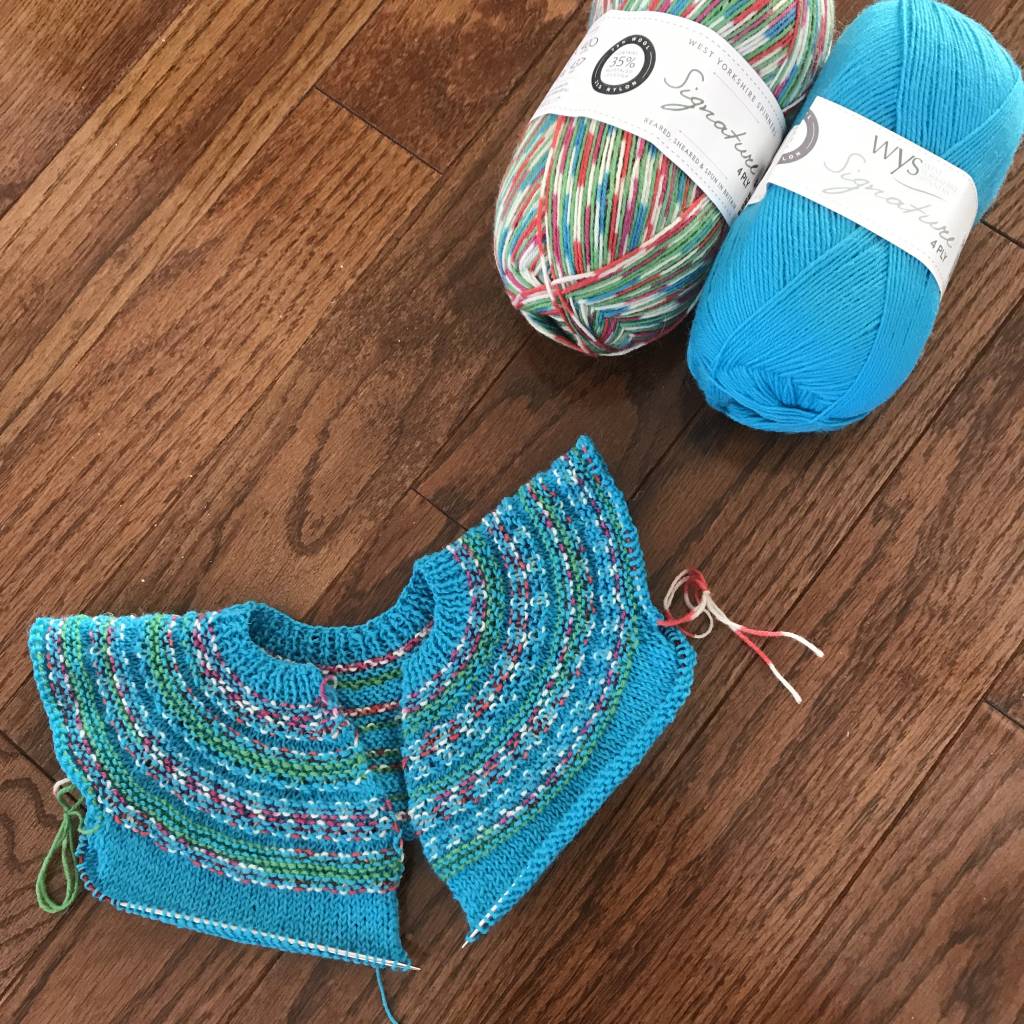 I cannot believe how cold it has been!! Have you like me been curling up, watching television and knitting away? Of course, I do that anyways but brrrr...this is a great time to get a lot of making done!!
Hats are a must especially with this cold snap and colourwork being everywhere this season, here is a wonderful free pattern! If have never done colourwork before, you can start with a hat or cowl before jumping in to a big project!
Anthology Recipe by tincanknits includes recipes for a hat, cowl or tubular cowl in multiple sizes and 3 gauges! It is a 'plug and play' design so you can try out yarns, colours, and patterns in an accessory using any of the nearly 100 stitch patterns they have included. Hat sizing starts at a newborn up to an adult large or to fit from 14" up to 23" head circumference. The regular cowl includes sizes to fit a toddler to an adult or approximately 18 (19.5, 21.5)" in circumference and 6 (7, 10)" tall. The tubular cowl is sized at approximately 18 (40, 22, 54)" in circumference and 7 (7, 9.5, 9.5)" tall.
You can knit any of the accessories using sock/fingering, DK or worsted/aran weight yarns.
Toddler-sized Antholgy beanies are so sweet! The pattern is a free Ravelry pattern but it is also part of tincanknits Strange Brew book!
Strange Brew by tincanknits - Join them on a journey through colourwork yoke sweaters and their family road trip around Iceland. At the centre of this collection is a 'design-your-own' yoke sweater recipe, which will guide you as you create your own colourwork masterpiece. The collection also contains 8 sweater designs and 4 accessories too!
Pull out those needles dive into your stash, we're convinced you're going to be knitting yokes for days! These delicious and fun knits are sized for the whole family, from baby through both women's 4XL and include men-specific sizing too.
Andrea Mowry's circular yoke cardigan The Throwback is destined to become a favorite cardigan for layering and keeping warm all Autumn and Winter long! This worsted weight sweater is worked flat from the top down, seamlessly, except for the sleeves which are knit in the round. It is intended to be worn with approximately 5"/13 cm positive ease. There are notes in the pattern to help with picking the size best suited for you!
The pattern includes sizing for a finished bust circumference of 35' up to 59". Knit it using 4 colours using 4.5 mm (US 7) and 5.0 mm (US 8) needles or as required to get a gauge of 18.5 stitches and 26 rows = 4 inches in stockinette stitch, after blocking with the larger needles.
I took this progress shot of Bev's Throwback by Andrea Mowry knit using Navia Sock, a worsted weight 3-ply wool and nylon blend! She is almost finished and I can't wait to see it finished!
Sunday Sweater by PetiteKnit is knit from the top down with a loose gauge. The yoke is knit in the round with shaped with rib stitches and increases. Body and sleeves are knit in stockinette stitch and finished with a ribbed cuff. The sleeves on the Sunday Sweater are extra-long and widen before the cuff. The neckband is folded over and sewn to the inner side of the sweater. The Sunday Sweater should have a positive ease of 5-10 cm compared to your actual bust circumference and it is important to note that the final measurements of the sweater have those extra 5-10 cm already built in.
Knit it using an airy yarn such as Drops Air or Berroco Brielle or using Drops Kid Silk held double with a DK yarn for a main gauge of 14 stitches and 20 rows = 4 inches in stockinette on the larger needles. The suggested needles include 5.0 mm (US 8), 5.5 mm (US 9) and 6.0 mm (US 10) needles.
WIP's and FO's
The Turtle Dove on my needles has only one sleeve to go! I really love how it it turning out so once it if finished, I will need to cast one on for me! This Turtle Dove is going to my mom:)
My mods include knitting long sleeves instead of 3/4 sleeves and using right and left lifted increases instead of kfb's for the increases. The yarn that I am using is Berroco Brielle, a blend of cotton, polyester, acrylic, wool and alpaca. The soft halo from the alpaca content combined with just a little bit of shimmer creates timeless pieces that are soft and warm to wear. 
Here is another sneak peak of the new stashbuster baby cardi design that is on my needles! Such fun colours for a baby! I am using the West Yorkshire Spinners Signature 4 Ply left from my Fairy Lights Socks!
Another one of my WIPs is Hayley Geary's Bynx hat that I am knitting with Kelbourne Woolens Scout. Texture and cables...what more could you ask for in a hat!
KNIT GROUP AND GALLERY
The current Knit-Alongs are the Knit Your Any Sweater KAL and the Knit Any Shawl KAL: As always there is also an everlasting knit-along to encourage and support you to knit your own project (any project, and join in anytime!) from January to April 30, 2019. Don't forget to post a pic to the finished object (FO) thread  whenever you finish a project during the Knit-Along so that you will be included in the next draw!
Here are a couple of progress shots of Nadine's Sode knit with Kelbourne Woolens Scout.
Fabulous and complicated cables...
Melanie knit this squishy raglan pullover using easy care Bergere de France Baltic!
Doubleknitting!!! Isn't this dishcloth the cutest?
Pretty cabled hat knit by Lynn!
Carol's Dalmation Socks!
Here are a few of all the beanies Lise has finished recently!
The sweetest baby wearing the littlest of the Yukon Campfire Hats by Liz Sutton that Linda knit!
Winter Classes 2019 have been posted! Register soon!
Give It a Whirl Crash Crochet Class
$35 - 1 session, materials not included
If you've never crocheted before, or if you learned years ago and want a quick refresher, this one afternoon class will get you started. You will learn the basic stitches (chain stitch, single crochet), how to read a simple crochet pattern and how to do simple increases and decreases to create a Whirl of a hat.
Materials: 
200 - 250 yards (183 - 229 m) of worsted weight yarn such as Noro Kureyon or Silk Garden or Cascade Casablanca
5.5 mm (I) crochet hook
Gauge:
4 stitches = 1 inch in single crochet in the back loop only
Level: No experience necessary
Saturday, February 9, 2019 - 1:00 to 3:30 pm
$40 – 2 sessions plus materials
Required experience: Knit 1 or ability to cast on, knit, and purl. In Knit 2, you'll learn to cast on to circular needles, to join in the round, to switch to double pointed needles, and to make decreases while you knit your hat. Once you're comfortable with knitting in the round, you can make a variety of hats, cowls, and infinity scarves. We will knit Purl Soho's Classic Cuffed Hat.
Sizing
finished hat to fit baby (child or adult)
Finished Body Circumference: 15 (17, 18 1/2) inches
Finished Ribbing Circumference (unstretched): 12 (13, 14) inches
Finished Height (not including pom pom): 9 ½ (11, 12 ¼) inches
Yarn:
164 - 328 yards (150 - 300 m) of aran/worsted weight yarn
Needles:
A 3.75 mm (US 5) 16-inch circular needle
A 4.50 mm (US 7) 16-inch circular needle
A set of 4.50 mm (US 7) double pointed needles
Gauge:
20 stitches and 28 rows = 4 inches in stockinette
Notions:
5 stitch marker (one a different color from the others), darning needle
Saturdays, February 2 & 9 – 10 am to 12 pm
$60 – 3 Sessions plus materials
Required experience: Knit 2 or ability to cast on, knit & purl in the round. If you are comfortable with knits and purls, and you are ready to progress to start learning more, the Maize Mitts will teach you several new techniques; knitting in the round on DPNs or using the magic loop technique, increasing, and picking up stitches.
You can make cute fingerless mitts, or snuggly warm mittens for your boyfriend, grandma, or little one!
Sizing
Toddler (Child, Adult S, M, L)
Fits hand: 6 (6.5, 7, 7.75, 8.5) inches around
Mitten length: 7.5 (8, 8.5, 9.5, 10) inches cuff to tip
note these can be knit as fingerless mittens or as full mittens
Yarn
Worsted / aran weight yarn
70 (80, 120, 150, 200) yds for mittens
50 (60, 80, 100, 140) yds for fingerless mitts
(Toddler, Adult S, and Adult L samples shown in
SweetGeorgia Superwash Worsted in 'Goldmine', 'Tumbled Stone', and 'Bison')
Needles
US #6 / 4.0 mm (or as required to meet gauge)
Gauge
20 sts and 28 rows/ 4" in reverse stockinette stitch
Notions
stitch markers, darning needle
Saturdays, February 9, 23 & March 2 – 10 am to 12 pm
Colourwork and Steeking Class - Sheep Carousel
$60 – 3 sessions plus materials
This jolly tea cosy features a carousel of Shetland sheep and offers a small sampler of many of my favourite hand-knitting techniques: stranded colourwork, steeks, vikkel braids, corrugated ribbing, i-cord and centred double decreases. Practice on your teapot before trying these things out on a sweater! Required experience: Advanced beginner. Student should already know how to knit, purl, decrease and increase and how to knit in the round.
Sizing:
one size to fit standard teapot up to 20" circumference
Yarn: 
Fingering weight yarn in 2 colours - Jamieson & Smith 2-Ply Jumper Weight
1 ball each of 01A (white) and 005 (brown) or 2 colours of your choice
Needles:
US 2.5 / 3.0 mm 40 cm / 16" (or as req'd to meet gauge)and US #6 / 4mm
US 2.5 / 3.0 mm 80-100 cm / 32 - 40" circular needle for magic loop OR DPNs for working the crown top and openings
US 4 / 3.50 mm 40 cm / 16" circulars for working bottom edging (or as req'd to meet gauge)
Gauge:
7 stitches and 8.5 rows = 1 inch in stockinette
Notions:
stitch markers of two types, a and b. Waste (sock) yarn in contrasting colour. US C / 3mm crochet hook, tapestry needle. And, of course (essentially) a teapot!
Saturdays, February 23, March 2 and 9 – 1 pm to 3 pm
Classic Top Down Pullover Class
$80 – 4 Sessions plus materials
Cast on and learn all the techniques you need to make your first sweater! Flax is a very simple seamless pullover knit from the top down. It's perfectly unisex; adorable on little boys, big boys, and the ladies too!
Sizing
0-6 mo (6-12 mo, 1-2 yrs, 2-4 yrs, 4-6 yrs, 6-8 yrs, 8-10 yrs, XS, S, S/M, M, M/L, L, XL, XXL, 3XL, 4XL)
Chest Measurement: 18 (19.5, 20.5, 22, 24, 26, 28, 31, 33, 35, 37, 39, 43, 47, 51, 55, 58) inches
Yarn
270 (300, 310, 440, 500, 680, 700, 800, 850, 1000, 1050, 1100, 1400, 1500, 1600, 1700, 1800) yds aran/worsted weight yarn (samples shown in SweetGeorgia Superwash Worsted in 'Deep Olive', 'Tumbled Stone', and 'Hush' )
Needles:
US #6 / 4 mm and US #8 / 5 mm (or as req'd to meet gauge)
0 - 4 yrs: 16" circulars and dpns in each size
4 yrs - XS: 16" circulars, 24" circulars, and dpns in each size
S – 4XL: 16" circulars, 32" circulars, and dpns in each size
Gauge
18 sts and 22 rows/ 4" in stockinette stitch in the round on larger needles
Notions
stitch markers, darning needle
The Flax pullover is knit seamlessly, in the round, from the top down. Starting with the ribbed collar, you progress to work the yoke in rounds, with increases at 4 'raglan' lines. The body and sleeves are separated, and then body and sleeves are knit in the round from underarm to hem and cuffs.
Wednesdays, February 13, 20, 27 and March 6 – 6 to 8 pm
NOTE: That if by popular demand, Espace Tricot's Turtle Dove can replace the Flax pullover. Material requirements would of course change. The Turtle Dove is a fairly quick knit because it has a larger gauge.
$80 – 4 Sessions plus materials
Many of you have seen the little rabbits that I knit before they were gifted to my grandkids! Last winter we held a class for the little girl lamb and the little boy ram from the popular series of little animals from Julie Williams of Little Cotton Rabbits. We also discovered that 3 classes was not enough so we have added a 4th session. By popular request, we did the rabbits which I find are my favourite last fall and now once again! You can choose to do either the boy bunny or the girl. The pattern is for knitting flat and the pieces are seamed afterwards. The pattern calls for worsted/aran weight yarn, however I like using a DK weight yarn. In this class, you will learn how to knit increases and decreases to shape the bodies and their clothing, and how to assemble them using neat finishing techniques with a tapestry needle.
Skills Required: knit, purl, M1, ssk, k2tog (you should be an advanced beginner or intermediate knitter to be comfortable in this class).
Materials Required: Kits are available for $30 HERE.

For the girl bunny:
4ply weight yarn in 3 contrasting colours for the clothing: Yarn B, Yarn C, Yarn D
Scraps of black and grey yarn, DK or 4ply for the eyes and facial features
For the boy bunny:
4ply weight yarn in 3 contrasting colours for the clothing: Yarn C, Yarn D, Yarn E
4ply weight yarn in dark colour for shorts: Yarn E
Scraps of black 4ply/DK yarn for the eyes and nose
Notions (Not included in the kits):
Knitting needles: A pair each of 3mm and 2.75mm
Tapestry needle
Note:  I used the same weight of yarn for everything and only 2.75 mm needles. I also recommend the boy bunny pattern since it includes all of the "faces" while the girl bunny has the single colour face only. The girl clothes can be purchased separately.
Saturdays, March 9, 16, 23, 30th – 10:00 am to 12:00 pm

$60 – 3 sessions plus materials
Learn how to cast on, knit, purl, bind off, read a knitting pattern, mattress stitch. We will cast on and learn to knit a neck warmer / cowl.
Sizing
About 22" by 9.5"
Yarn
208 yards (190 m) of bulky weight yarn
Needles
6.5 mm (US 10.5) (or as required to meet gauge for bulky)
Gauge
14 stitches = 4 inches
Notions
tapestry needle
Saturdays, March 16, 23, 30 - 1 pm to 3 pm
$80 – 1 session
In this DIY class you will learn the basic techniques to make your own fabric using a rigid heddle loom! This introductory class will guide you through weaving your first scarf. You will learn how to warping your heddle loom, basic weaving methods and finishing techniques. Students will weave on looms provided by Sue2Knits. Practice and experiment with Plain Weave Patterns and colour changes to create stripes and texture.
1 session class, some of the materials are included in class fee, some can be purchased.
 
Materials: Class fee includes yarn for the warp and the use of a Sampleit Loom for the class.
 
Level: No experience necessary.
Sunday, March 31 – 10 am to 4 pm
Happy Friday, Happy Knitting, Crocheting and Crafting!