Even though I didn't get a chance to knit my youngest grandson a new sock monkey, isn't it wonderful that hand-me-downs look just as great!
I happen to love sock monkey sweaters and I must admit that I have used several patterns as my base but Gramps by Tin Can Knits is my go-to pattern even though it is a paid pattern. My oldest grandson Griffin was able to wear it until last year and he is now four! Griff is on the small, skinny side but hand knits are great - they wear them with the cuffs turned up first! Babies are so much fun to knit for!
FREE PATTERNS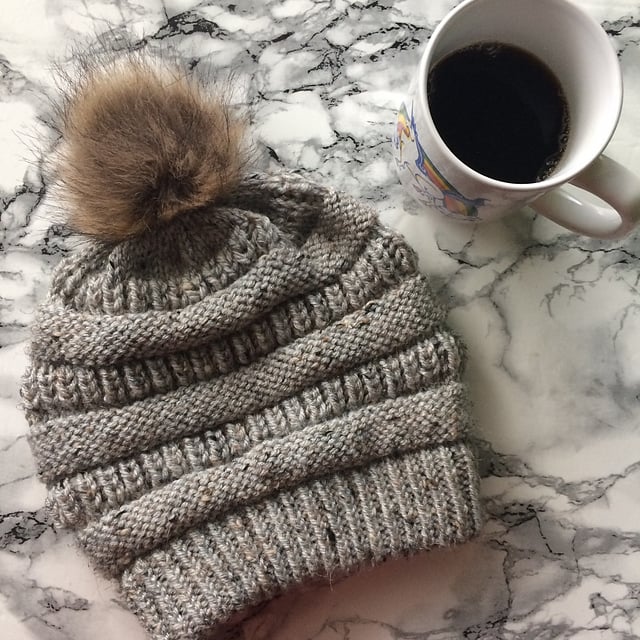 weelittlestitches' Copycat CC Beanie by Emily Ingrid that is in her opinion, the perfect unisex hat with the perfect amount of slouch! While she was in Chicago on a trip, she saw three different people wearing the same style hat. This hat was the result after obsessively analyzing it, counting stitches and rounds so she could faithfully replicate it. It is designed to use about 200 yards worsted weight yarn and 4.5 mm (US 7) needles. This hat lends itself so well to having the popular pompom attached to it!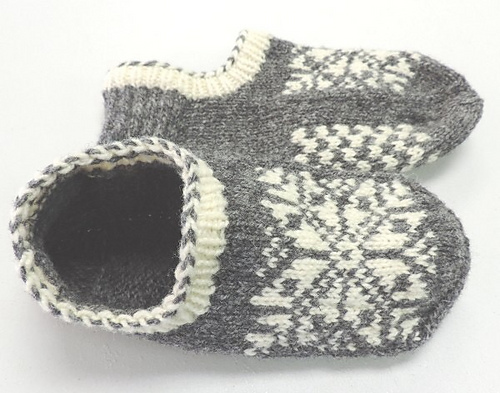 Uppsala Slippers by Ram Wools Yarn Co-op is a pattern for a slipper with a contrasting cuff and a stranded top of foot and coordinating pattern on bottom of foot. There are four size options ranging from Length 7.5", Width 8.5" to Length 10.25", Width 10" included. One skein each of Main Color and Contrast Color are needed in an aran weight yarn. The gauge is 24 stitches = 4 inches in stranded stockinette stitch using 3.75 mm (US 5) needles.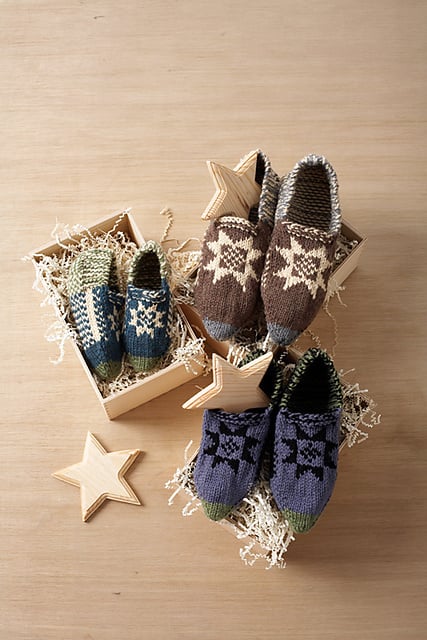 Fair Isle Slippers by Bernat Design Studio is another beautiful slipper pattern with a holiday appropriate snowflake motif on them! It is also knit with an aran weight yarn with a gauge of 20 stitches and 26 rows = 4 inches in stockinette stitch using 4.0 mm (US 6) needles. The pattern includes sizing for a child, a woman and a man.
These are slippers that I've seen on Pinterest but the photo doesn't include any links to a pattern. I think they are great - fun and practical! It shouldn't be too difficult to adapt one of the patterns to use a different motif!
WIP's and FO's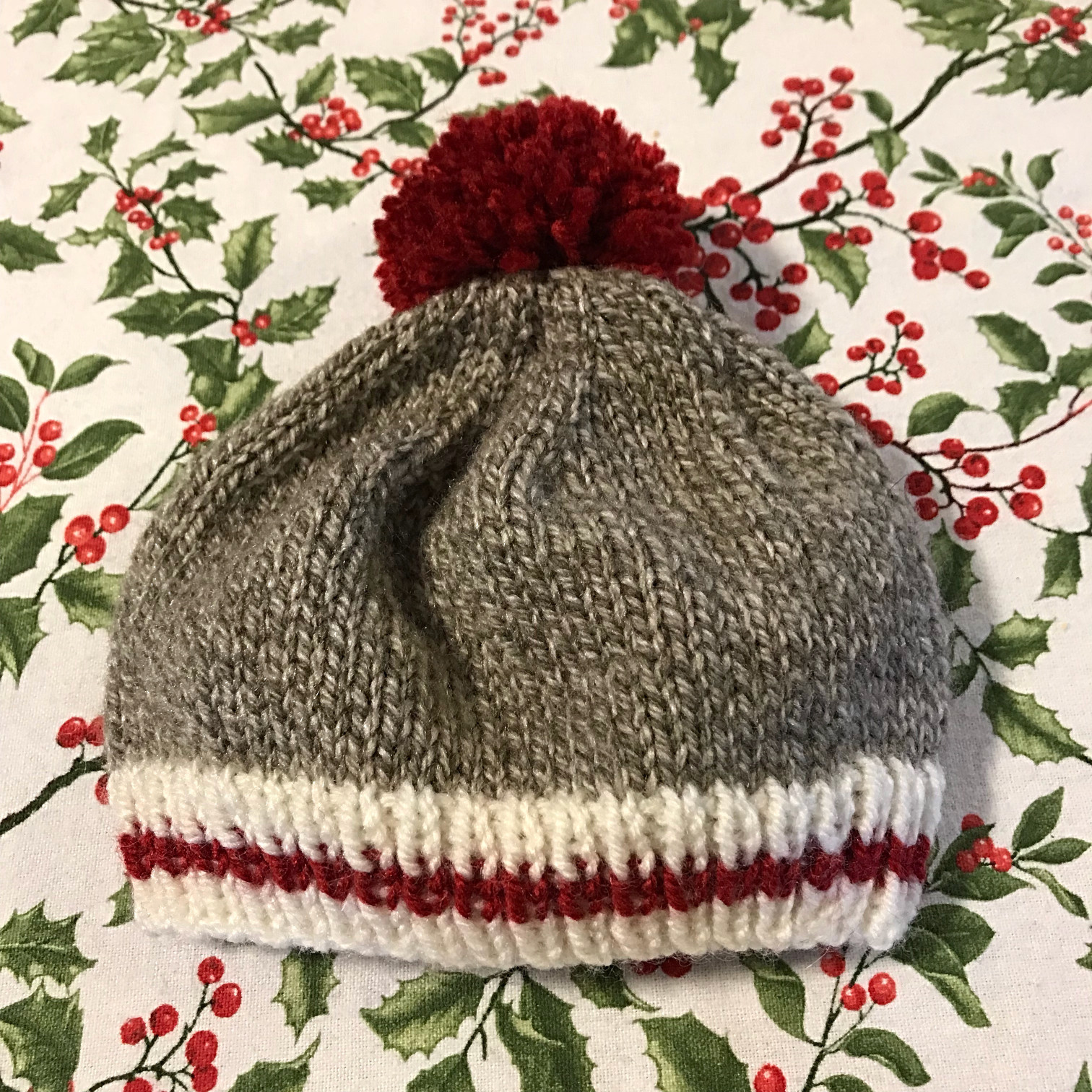 Another sock monkey hat is off my needles! All it needs is to be washed and dried! It is 8.5" flat and slightly stretched but will stretch wider. Once again I used Bergere de France's Jaspee yarn. I think that I like the red pompom instead of my usual mix of the white and the marled.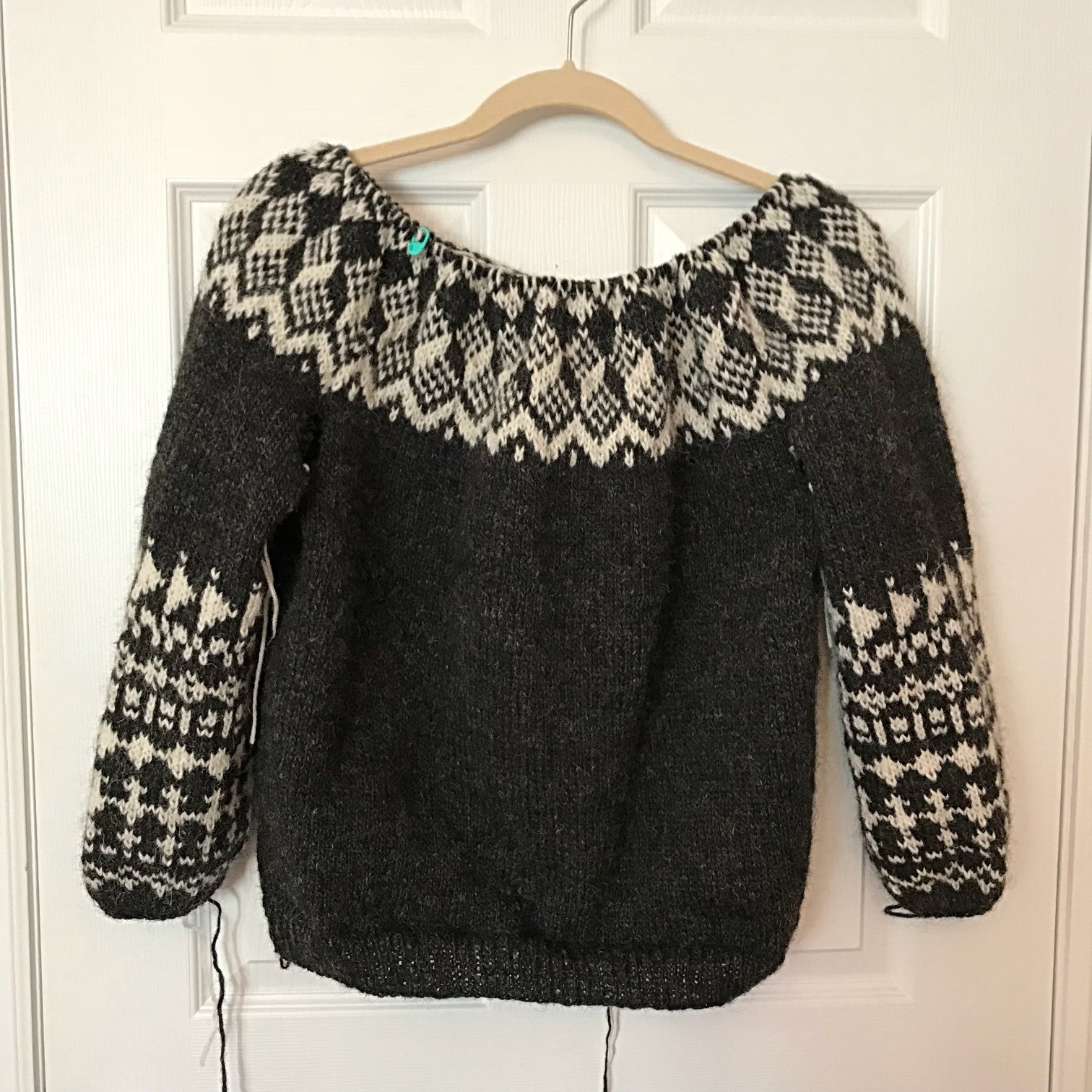 My Öræfi by G. Dagbjört Guðmundsdóttir is now 21 rounds before the collar! I still have the 40" needles on it and it doesn't look like I need to use a shorter needle yet but I have to put my needle keeper on it every time I set it down or stitches slide off! What a great knitting accessory to have. If any one is interested in knitting this pattern, I have two kits available for purchase that include enough yarn for all of the sizes.
KNIT GROUP, GIFTS IDEAS AND NEW TO THE SHOP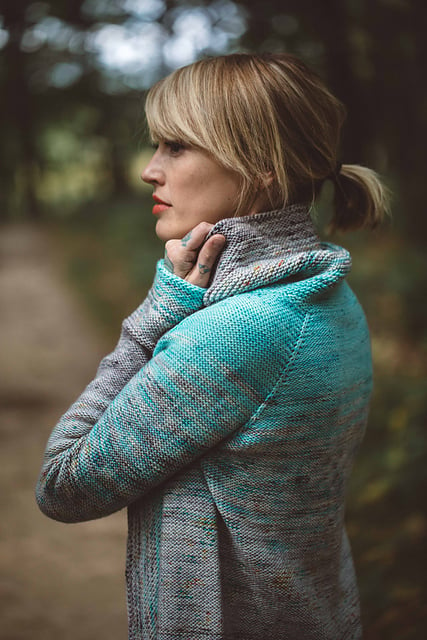 I still have not decided on the next Knit-Along so for now we will all use the Any Project category!! The new Comfort Fade Cardi kits that I had Koigu put together for me have been shipped so they should arrive next week. There will be 3 colourway kits in blue, olive and purple.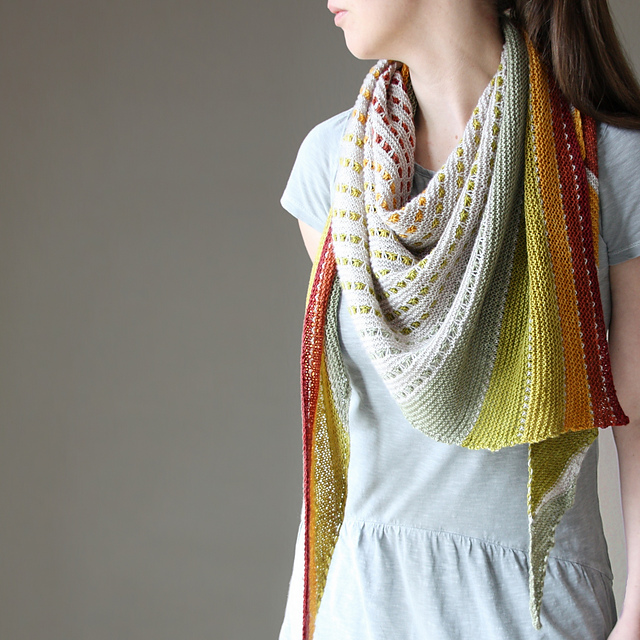 On the Spice Market by Melanie Berg is a shawl that I have started making up into kits featuring SweetGeorgia's Party of Five. There are two different kits made up so far and I have a few more in the works.
GIFTS IDEAS AND NEW TO THE SHOP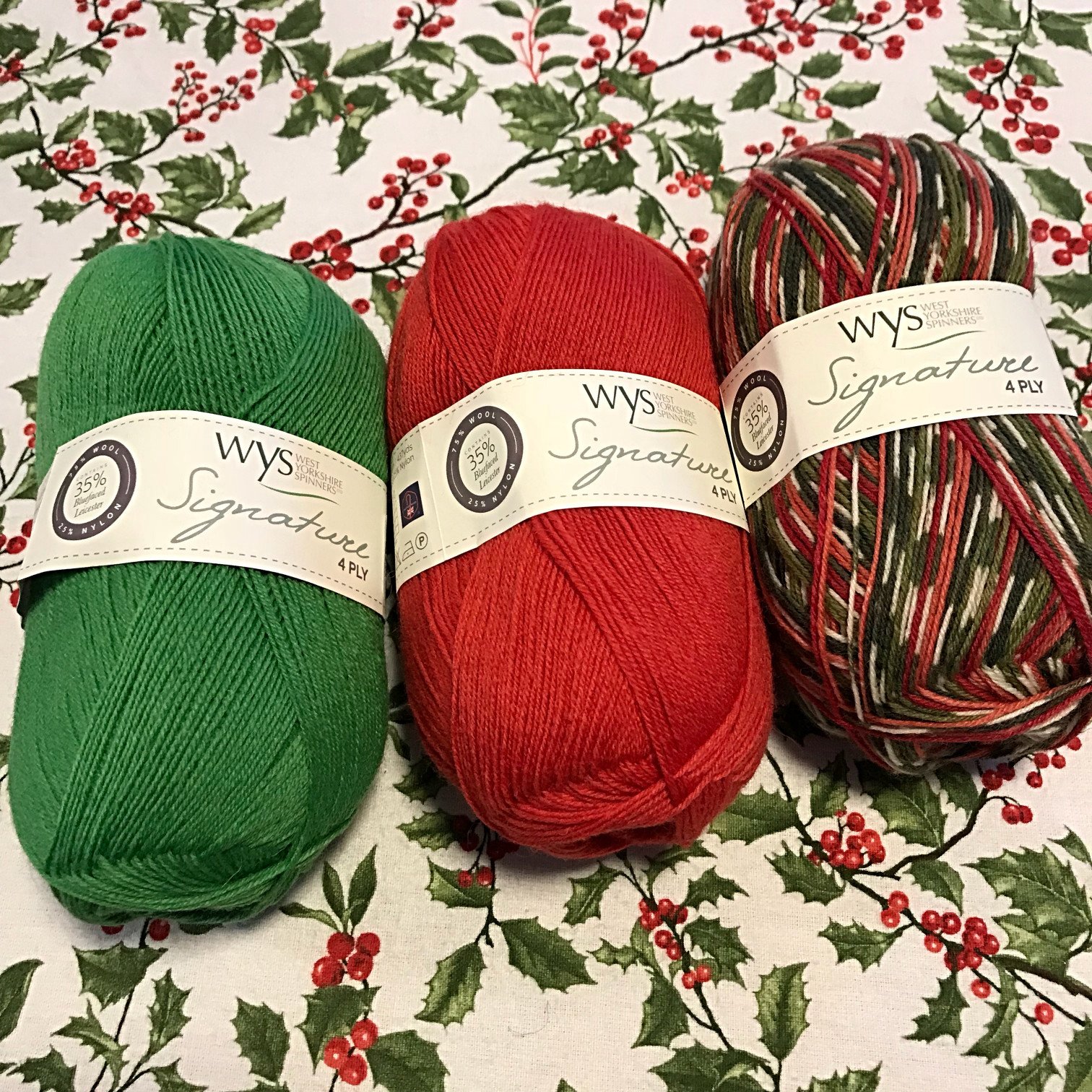 West Yorkshire Spinners Signature 4 Ply had some Limited Edition Christmas Specials
Holly Berry brings together all the classic Christmas colours in a unique print. Cherry Drop is a stunning deep red which complements Holly Berry perfectly.
Candy Cane brings together a palette of bright and cheerful Christmas colours perfect for the holiday season. Cayenne Pepper (Red) and Chocolate Lime (Green) are the perfect accent shades that really compliment this festive yarn.
Candy Cane has still not arrived in the shop but Holly Berry, Cherry Drop, Cayenne Pepper and Chocolate Lime are available.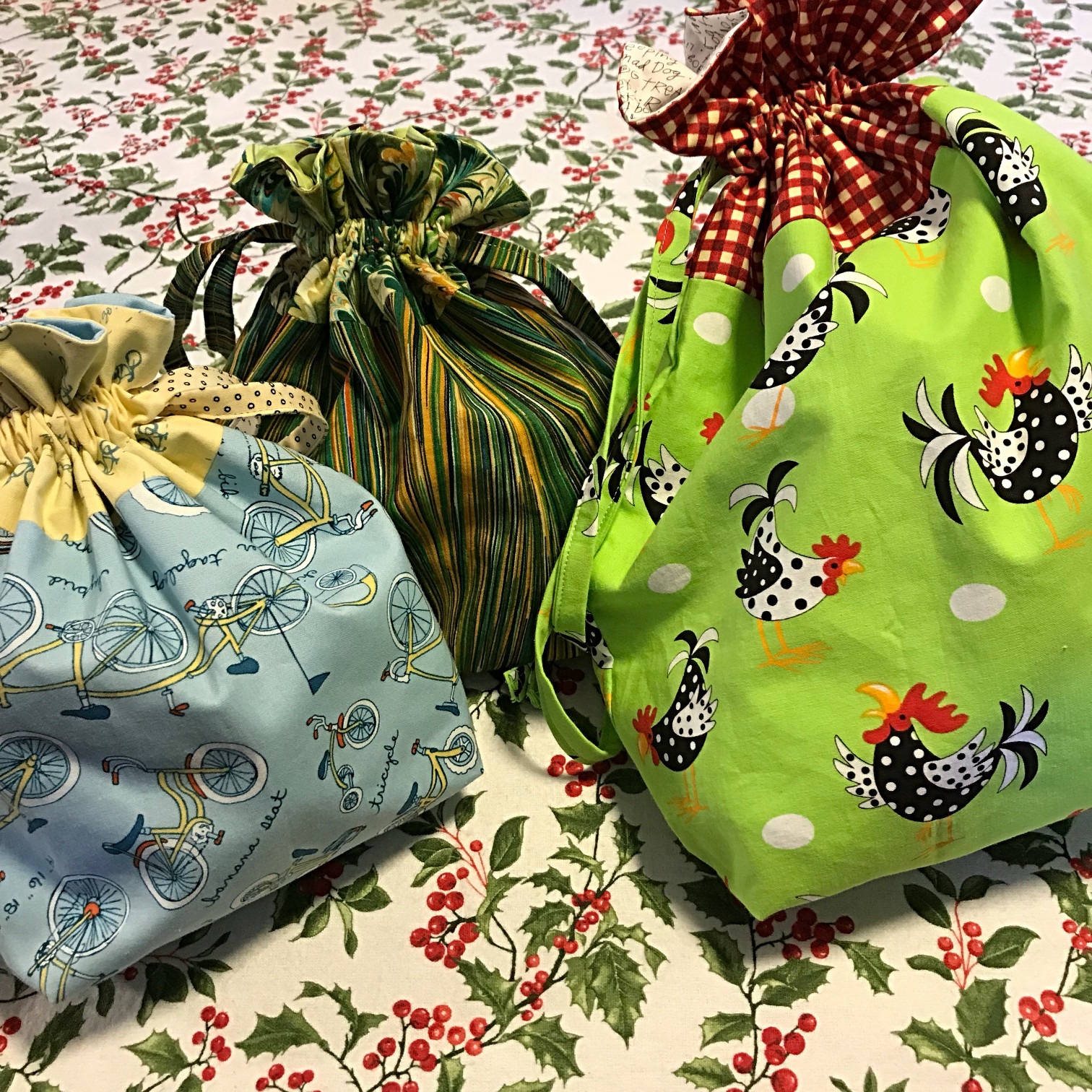 In stock are 3 Project Bags created by Craftmatte, a local 'maker' from Essex County! I hope to be able to stock more from Jodie in the future but for now there is one each in small, medium and a large size.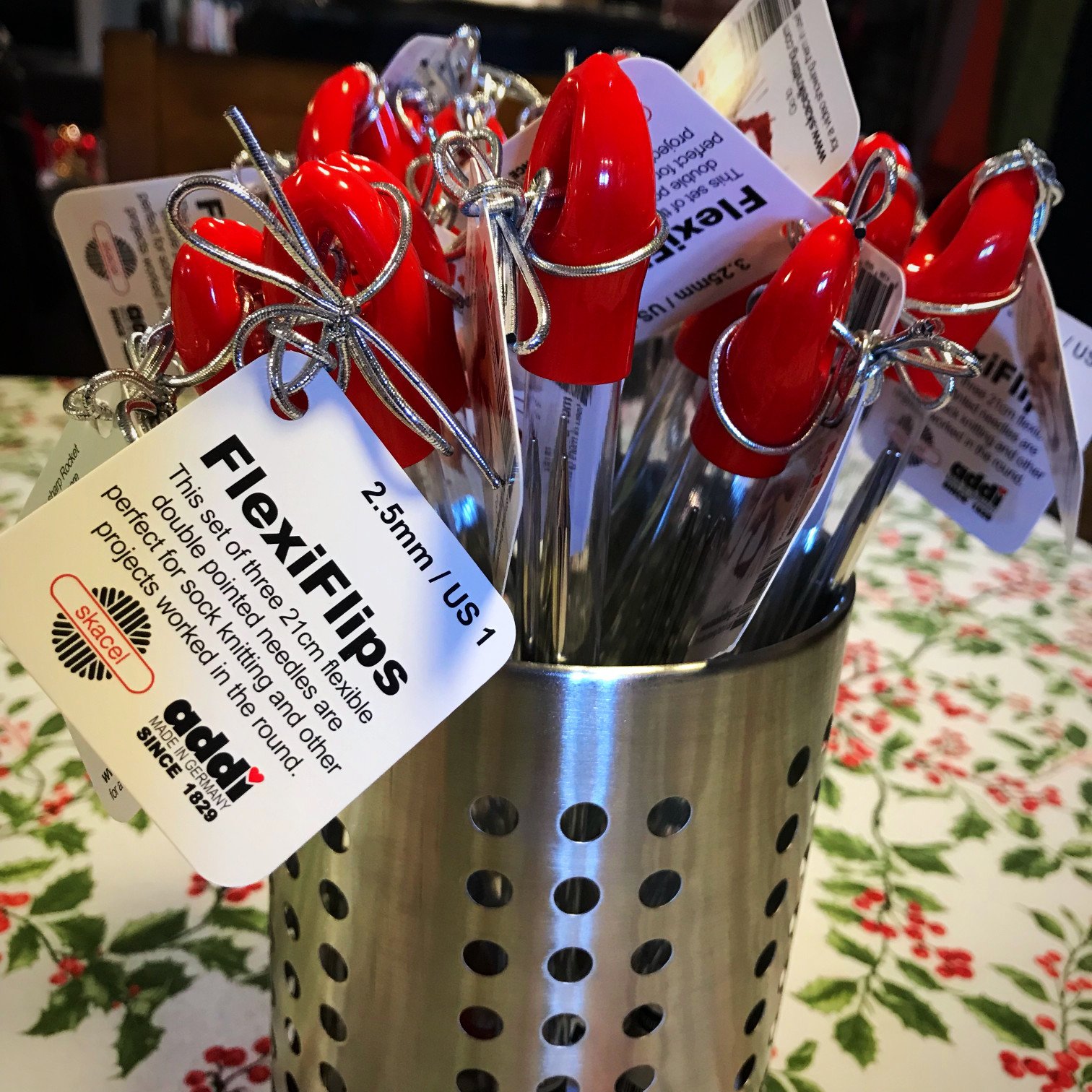 FlexiFlips will revolutionize your circular knitting! These are brand new and I have some in stock but due to overwhelming demand, it will be hard to re-stock! Each needle has one Turbo tip and one Rocket tip, so you can choose whether you want a sharp point or a blunt one. The tips are 3.5" long, with a 1" flexible cable connecting them. Your stitches are distributed on two needles while you use the third to knit, resulting in only two needle changes per round. With FlexiFlip, you'll always have the right needle, when you need it!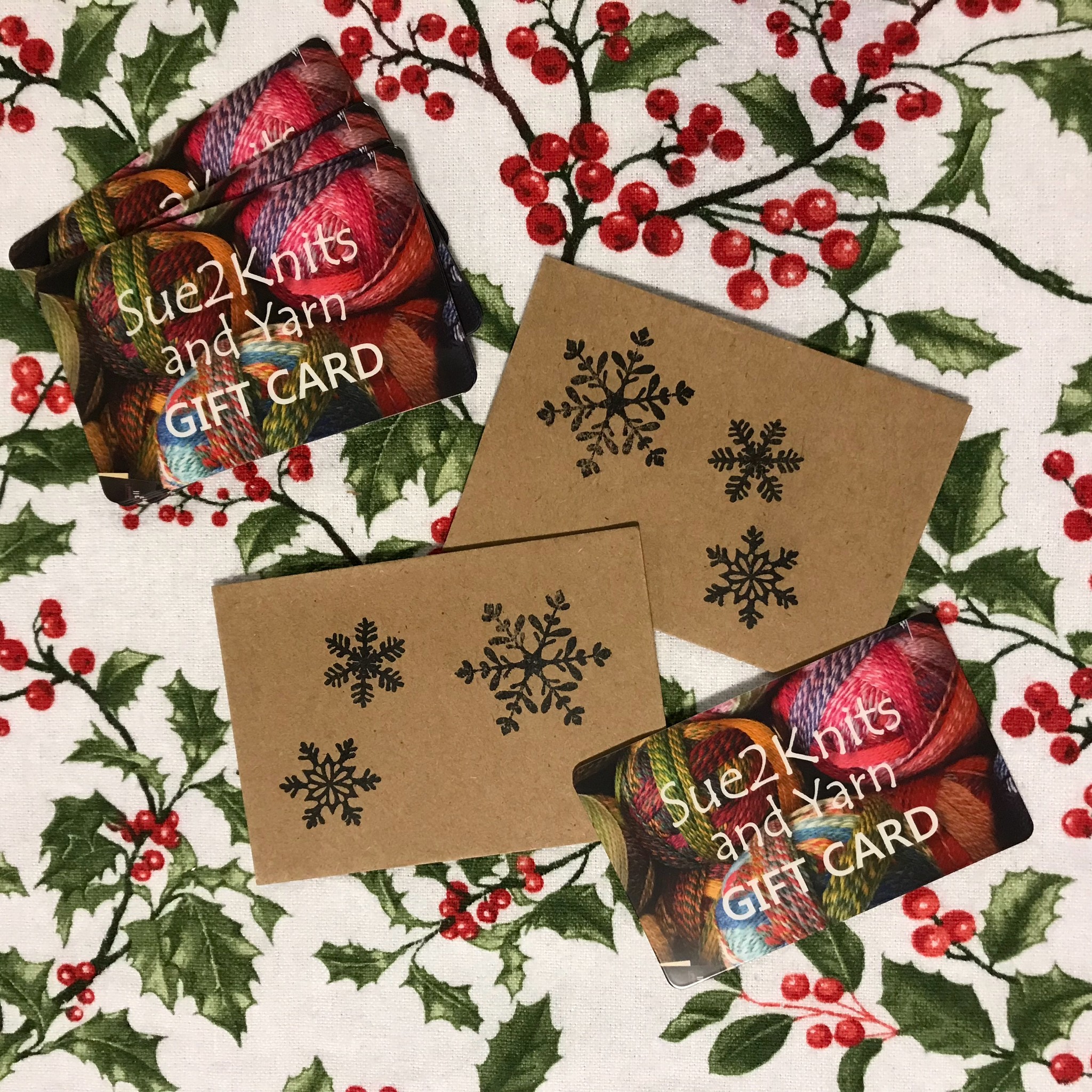 Shopping for someone else but not sure what to give them? Give them the gift of choice with a Sue2Knits and Yarn Gift Card!

Happy Friday and Happy Knitting, Crocheting and Crafting!!