I think that I have had quite enough of this winter...I want some sunshine, warmth and no more rain!
I for one am ready for some color to add to these grey days we keep getting. How about knitting yourself some fun, colorful socks!
Crystal Socklet by Lynn DT Hershberger (ColorJoy) is a three-color sock with an unusual heel, the Crystal Heel, which is an afterthought that is actually shaped like a human heel! You can follow chart or text for the 16 rounds of stranded colorwork. On YouTube, the ColorJoyLynnH channel you can find video tutorials specifically created for this sock. They are numbered in the order needed to knit along with the pattern. Here is a clickable link: http://www.youtube.com/ColorJoyLynnH. The socks are knit with fingering / sock yarn with a gauge of 30 stitches and 42 rows = 4 inches in stockinette in the round.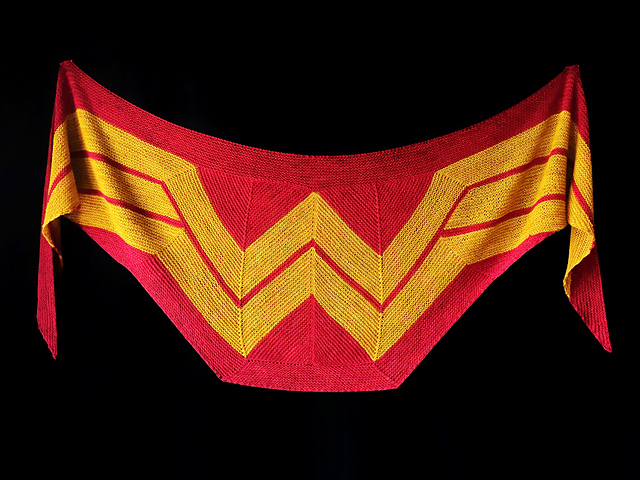 Carissa Browning's Wonder Woman Wrap is definitely a winner in red and yellow! I am not into comic book culture but the giant logo on a shawl is actually quite striking! The designer tried to keep it as simple as possible and is suitable for an advanced beginner or an adventurous newbie! Short rows are used in the logo but this is knit seamlessly with mostly garter stitch. Fingering weight yarn knit using 3.5 mm (US 4) needles to get a gauge of 17 stitches and 33 rows = 4 inches in garter stitch. The small wrap requires about 175 yards each of 2 colors while the large will require about 437 yards each of 2 colors. The finished small wrap has a wingspan of approximately 60 by 11 inches while the large has a wingspan of approximately 86 x 22 inches. The majority of the projects have been knit using varying reds and yellows but here is a simply gorgeous one that is not!
Have you been wanting to try your hand at brioche? The only time that I have used brioche so far was in my Stephen West Building Blocks Shawl!
Cassondra Rizzardi (Rizzaknits)'s Lush Brioche Cowl is a beginner level brioche pattern that includes simple, clear instructions paired with step-by-step photo tutorials to break down the process of 2 color brioche worked in the round. The pattern is written for a bulky yarn but you can easily substitute any other weight and needle size. The pattern calls for 108 yards of 2 colors of chunky yarn and 6.0 mm (US 10) needles to get a gauge of 10 stitches and 16 rows = 4 inches in Brioche.
WIP's and FO's
This year I seem to have given away or sold many of my newer samples for the shop even though I don't sell my handknits any more - at least online! I have knit 2 Arika Cowls and both are gone, the Wurm Hat and the Getting Warmer Cowl. as well as my Fireside Sweater so now I have to find the time to make more. These went to my sister-in-law when she came to visit us last weekend.
Marie wearing the Fireside Sweater by Amber Allison. This is her copy of the sweater worn by Cameron Diaz in the movie The Holiday.
My Comfort Fade Cardi by Andrea Mowry has not progressed too much - I ended up knitting the sleeve, frogging it and then getting back to where I am now! It is ready for the cuff.
I really do like how the fading colors look in the reverse stockinette!
The Vintersol by Jennifer Steingass that I am knitting for the Berroco-Lopi Knit-Along, knit.love.wool Knit-Along and the Sue2Knits Knit-Along is about 4 inches from when I start the bottom border. I am using LettLopi from the shop but Berroco Ultra Alpaca is another option for a softer yarn.
I haven't worked too much on my Candy Cane Socks but I am up to the heel flap of my second sock!
KNIT GROUP AND GALLERY
The current Knit-Along is going to be an Any Project Knit-Along! The deadline for this one will be March 31, 2018 so there is a lot of time to get a bigger project such as the Comfort Fade Cardi or a bunch of smaller projects complete to enter in the next draw! You don't have to come to a Knit Afternoon or Knit Night to be included in the draw but you do need to post your finished projects to the Group Finished Objects thread on Ravelry.
Last time, Linda's On the Spice Market Shawl by Melanie Berg was modeled by Jean but this time she is wearing it herself!
My sister Mary finished her Öræfi by G. Dagbjört Guðmundsdóttir - she bought her kit from me when she came to visit after Christmas. She decided to make the pattern as written and not change her colors since she lives so far away from me!
We all had a great time at the Little Lamb class last Saturday! In all honesty, I am terrible at remembering to take my phone out to take pictures during our Knit Afternoons or Knit Nights!
For those of you who do not follow Sue2Knits on Instagram and Facebook, a whole bunch Yarn Shops from all over have been doing a photo blitz of some of our favorite yarny and LYS related things for the month of February. Check out the #28daysofyourlys to see what we have all been posting!

Happy Friday, Happy Knitting, Crocheting and Crafting!