You would never guess that I don't like knitting with bulky yarns as much as I like finer weight yarns based on all that I have knit using bulky yarns! I do love Malabrigo's Rasta yarn - it is so soft, squishy and knits up beautifully.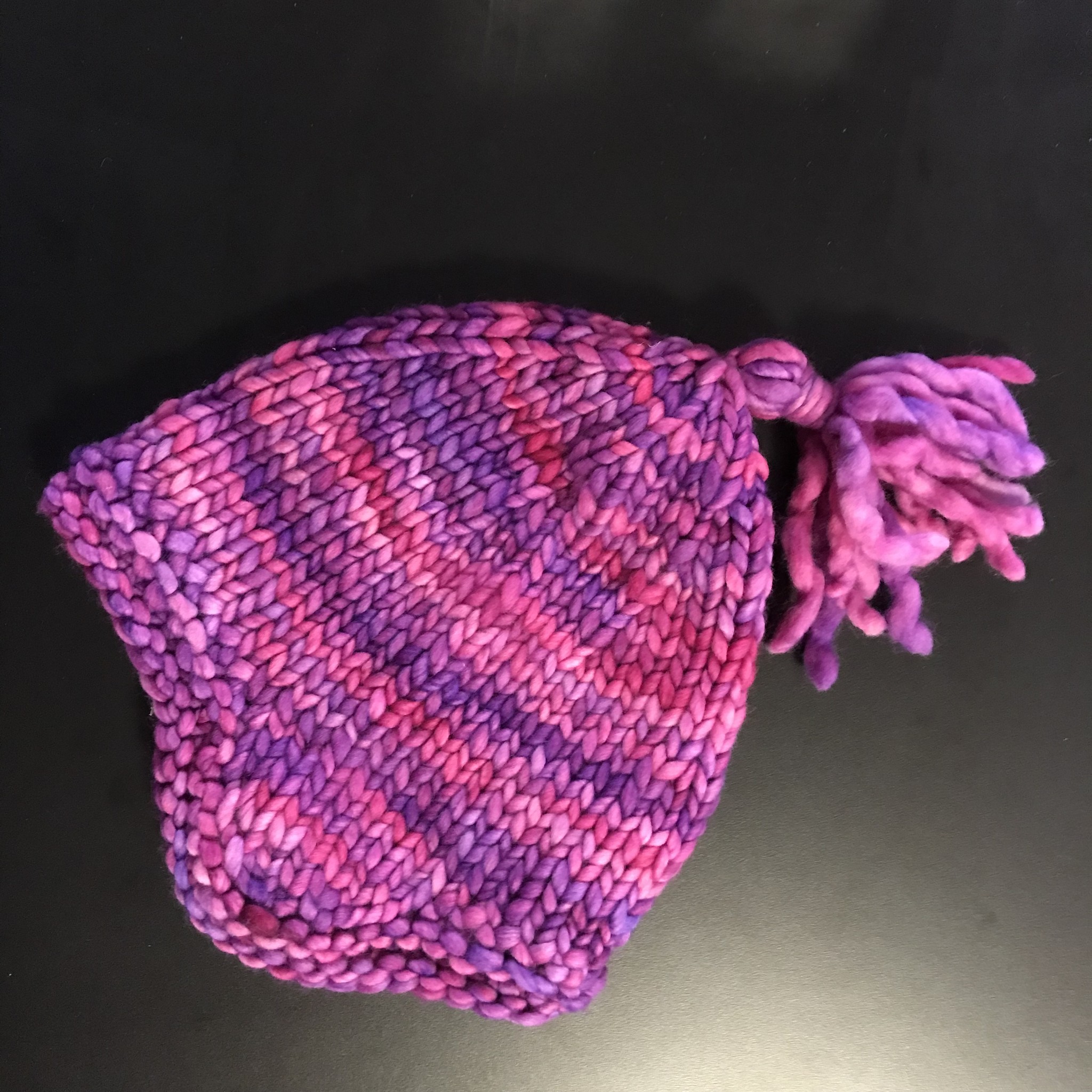 Chunky and bulky yarns knit up quickly and always look amazing so they are wonderful to use for all of those gifts you might want to knit. The earflap hat was knit using Alfalfa by Kristina Larson modified to knit in the round. I knit several of these last winter out some of Malabrigo Rasta's awesome colourways with each hat using just one skein of yarn! An alternative to Malabrigo Rasta is Lana Grossa Olympia a stunning variegated super bulky yarn that is 53% Merino Wool and 47% Acrylic.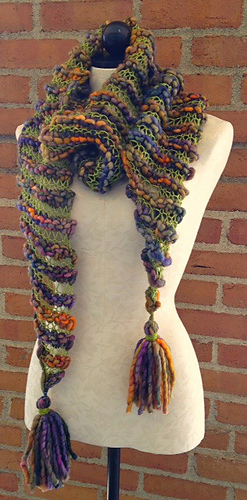 Tilled Scarf by Quirky Bird Knits is a quick knit and simple scarf combining a bulky yarn and a laceweight yarn to create a cool texture that looks like tilled soil. This garter stitch scarf is worked end to end. Their sample uses one skein of Malabrigo Rasta (shown in Piedras) and one skein of Malabrigo Silkpaca (shown in Lettuce). The Silkpaca is held double throughout.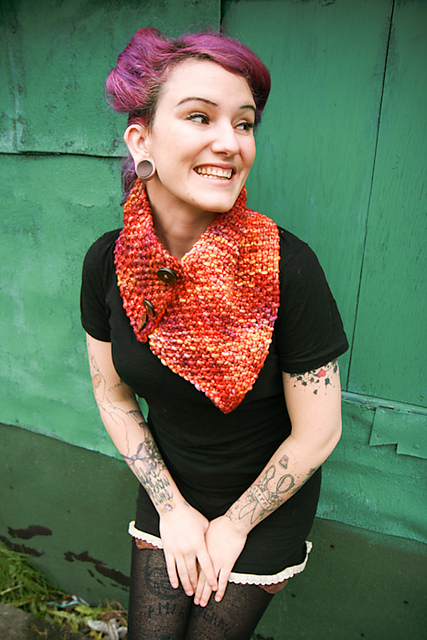 The One Ball of Rasta Version of the Triangle Cowl by Sylvia McFadden is another beautiful quick knit using Malabrigo Rasta that is ideal as a last minute Christmas gift. Don't forget to knit one for yourself too!
In Tanimuda's The One Ball of Rasta Version of the Triangle Cowl, she has changed it up by using a simple slip stitch pattern.
I have knit mittens from Rasta too! The pattern that I used was Really Quick Mitts by Haley Waxberg (Knit-O-Matic) - mine are pictured here!
WIP's and FO's
My friend Jill from Minnesota sent me a photo of Q wearing his Flax by Tin Can Knits, Sue2Knits' Flax. It fits him and he likes it!
I did end up frogging the body of the Öræfi by G. Dagbjört Guðmundsdóttir. The more length I knit, the more it looked like I would not be happy with the size. Before I frogged it though, I knit the sleeves just because I really wanted to get started with the colourwork! Both sleeves are finished and I have started the ribbing for the body.
Well, this was definitely a week for frogging - I because my Surge by Lisa Mutch has also been frogged! I have always been a loose knitter and adjust accordingly most of the time - note to self - adjust always, but even with 4.00 mm needles I was not liking the looseness of the gauge. I am now using 3.5 mm needles and I am much happier with it!
I have another Gramps by Tin Can Knits on my needles - how many have I knit now? My favourite yarn to knit this with so that it is squishy but easy care is Bergere de France Jaspee.
KNIT GROUP AND GALLERY
The Lisa Mutch (Northbound Knitting) Shawl Along: Asunder or any of her shawl patterns is running from October 1 to November 30.
OR
Any Project Knit Aong: An everlasting knit-along to encourage and support you to knit your own project (any project, and join in anytime!). This has the same dates and deadlines as any other knit-along running so is included in the same draws! This KAL has also started is also running from October 1 to November 30.
There are a few Surge, an Augury, an Asunder or two and an Auspice being knit for the Lisa Mutch Shawl Along. There is a Pumpkin Patch Shawl, hats of course in the Any Project KAL. Please sign up and post pictures by the November 30th deadline to be included in the next draw.
Nicole has finished her Flax Light by Tin Can Knits which she knit using SweetGeorgia's Tough Love Sock. Stunning in the purples she chose!
I have shown Nadine's stunning Koru Cardigan before but here we have her wearing it! She has also used SweetGeorgia's Tough Love Sock.
Happy Friday and Happy Knitting, Crocheting and Crafting!!
Save
Save
Save
Save
Save
Save
Save
Save
Save
Save
Save
Save
Save
Save
Save
Save
Save
Save
Save
Save
Save
Save
Save
Save
Save
Save
Save
Save
Save
Save