Posted on
By Susan Wong-Tsang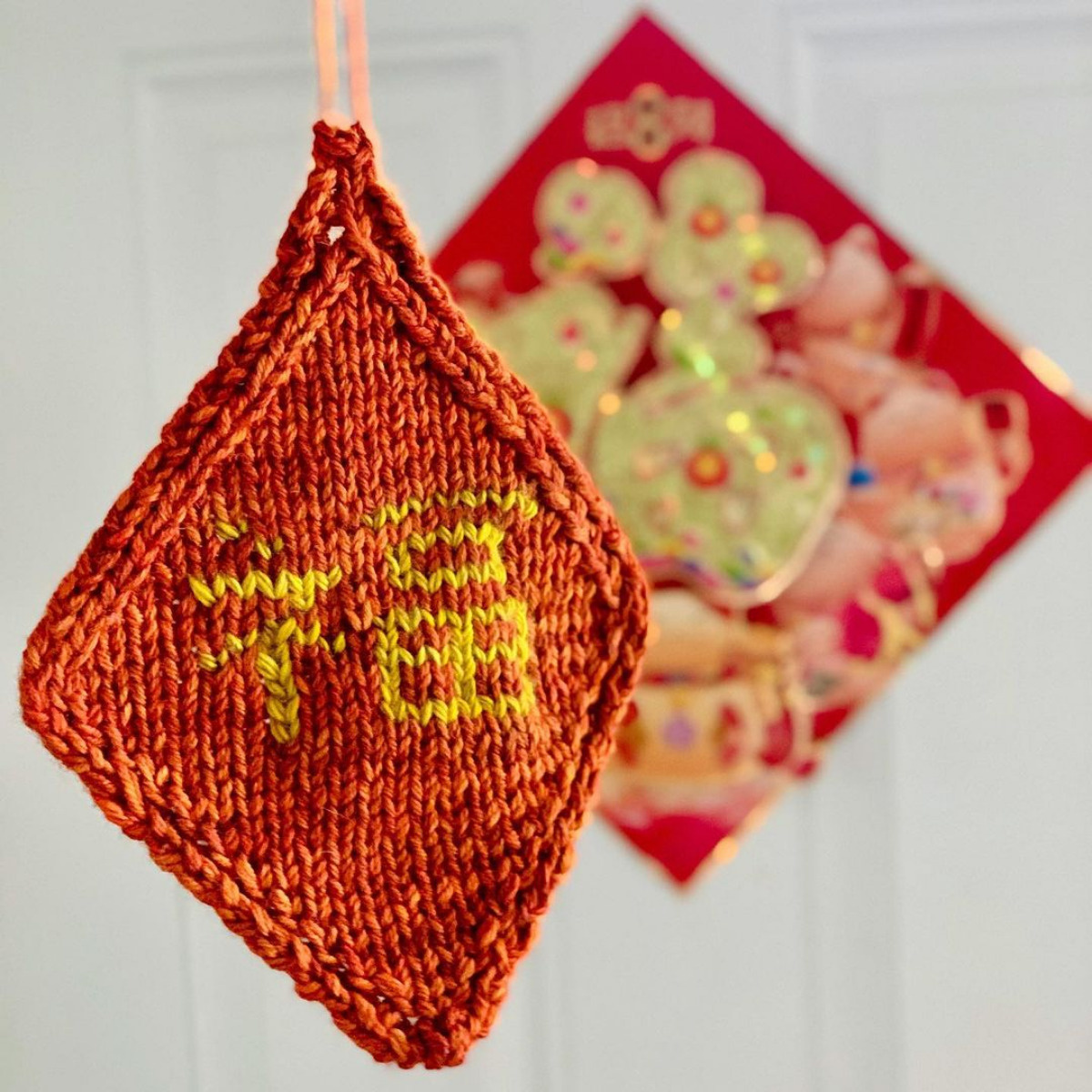 Happy Chinese New Year! Happy Year of the Ox! This is #lnknitdecorations a free pattern from @tina.say.knits.
Tina suggests knitting one every year around this time to fill one's home with good fortune.
You can find the pattern on Tina's website HERE. This design features the Chinese character, 福 ('fuk' in Cantonese, 'fu' in Mandarin), meaning good fortune, good luck, and prosperity.
It is made using two-color stranded colourwork worked flat. Though most stranded colourwork is in the round, learning to purl in stranded colourwork is a useful skill!
May the Year of the Ox brings us all strength, as well as good fortune.
Stephanie Jessica Lau has this cute Chinese New Year Ox crochet pattern on Ravelry and her All About Ami Website.
Crochet your own adorable ox with floppy hair, sweet little horns, ears, hooves and a bell! This amigurumi ox is fun to work up with a unique construction method and is the perfect gift for your loved ones born in the Year of the Ox!
Note that the free crochet pattern can be found HERE and there are two step-by-step tutorials that contain detailed pictures:
Part 1 covers how to crochet the body, dividing into four leg chains, and crocheting each leg and can be found HERE.
Part 2 covers how to crochet the snout, hair, hooves, belly, horns, ears and tail and can be found HERE.
For your special Valentine, you might want to cast on this little hat with its hearts and Xs and Os to spread some love! Pattern is Ebba Hat by Kristin Drysdale. Ebba is knit in the round, with corrugated ribbing and colourwork from bottom to top. There are some rows with 3 colors, but most rows are worked with two color so is a little more challenging but is still a fairly quick knit!
Most of the Ebba Hats have been knit in colours similar to the designer's but this one knit by @fumifumi1206 is striking!
ValentineSox by Wenche Roald are cozy socks that I always seem to include! They are knit with DK weight yarn using 3.0 mm (US 2.5) needles for a gauge of 22 stitches = 4 inches in stockinette stitch. They are knit cuff down in the round. The pattern includes both charts and written instructions. Knit someone a pair and knit yourself a pair as well!
maskerurid's ValentineSox are knit using a worsted weight instead of DK! Knit them using Navia Faroese Sock using 3.0 mm (US 2.5) needles for a gauge of 22 stitches = 4 inches in stockinette stitch.
Galentine's Day lands on February 13th, the day before Valentine's Day.
There will be a special Galentine's Day Cast On Party! Diane (@boujeeknits) and Michelina (@roadtripknits) have come up with this great idea for us to cast on a new project using what started out as pink or red on Galentine's Day (February 13th)! Cast on now with any favourite colour! Who is in to cast on? I know many of us have multiple projects on the go so we haven't set an end date just the cast on date.
Galentine's Day, you ask? It's a day for celebrating the love you have for your lady friends, it's a day dedicated to showering your closest friends with love and attention...more than you do every other day. I had never heard of it before but of course I am in!
Diane (@boujeeknits) is trying to decide between these two shawls for her Galentine's cast on!
We will also have a special Galentine's Day Zoom Party at 3 pm tomorrow afternoon! Use the same link to join that we always use.

Join our Cloud HD Video Meeting
 
Meeting ID: 407820804
WIP's
My Feel the Bern by Caitlin Hunter is moving along!
I am planning to lengthen the body from 4" to 6" before starting the colourwork chart for the bottom! I am also to knit longer sleeves too!
I didn't work on my Paloma by Espace Tricot this week but last weekend I did  finish the body! Now for the 2 inches of 1 x 1 twisted rib which I am so slow at!
For my Galentine's cast on, I plan to knit Austrina by Allison Jane. using The Fibre Co. Cirro in Graceful.
I was planning on knitting Austrina by Allison Jane for the Galentine's Day cast on but on second thought, I think I will knit Love Note by tincanknits using The Fibre Co. Cirro in this gorgeous colourway called Graceful!
KNIT GROUP AND GALLERY
The current Knit-Alongs are the Any Sweater / Shawl KAL and the Knit Your Project: the everlasting knit-along to encourage and support you to knit is running from January 1 to April 30, 2021.
Remember to post photos to the finished object (FO) thread HERE when you finish a project during the Knit-Along so that you will be included in the next draw! We will also add the option of posting your finished project to Instagram using the #sue2knitskal so that I can find them!
Felix loves the bigger Seaside Baby Blanket by Leelee Knits that Nikki knit him using Malabrigo Rios!
Angela finished this Big Ball Shawl by Black Sheep and Ewe.
Angie (KnittinGrapeVines)' Newsprint Cowl by Purl Soho looks fabulous! Knit using Berroco Ultra Alpaca Fine and Cascade Heritage Solids.
Sandi (sandima) used stash yarn for this cozy Beremeal by Laura Aylor.
Natalie finished another pair of Rose City Rollers by Mara Catherine Bryner.
Anna (@kollar.Annie) test knit the Fluffy Duck Dress by @thecumbrianknitter! The headband she knit because her daughter asked her to!
Kathy (chantrykathy) finished a sweet baby Gramps by tincanknits!
Isn't Pam's granddaughter adorable in the cowl and hat she knit her?
Here's Rita latest test knit...The Last Gambit Hat by Barbara Nalewko from @knittingilove using Malabrigo Rios in Lettuce.
Paulette finished this bulky knit cardi holding Berroco Vintage together with Berroco Remix Light and is waiting for a zipper!
VIRTUAL SOCIAL KNITTING
Virtual social knitting using the Zoom app! It has been a great way to knit together through social distancing! Join in with us either Tuesday afternoon from 2 - 4 pm or Thursday nights from 7 - 9 pm. We are continuing to hold our Zoom meetings each week until we can meet again in person. Clicking on the link will take you to our Zoom meeting.

Join our Cloud HD Video Meeting
 
Meeting ID: 407820804
Happy Friday, Happy Knitting, Crocheting and Crafting! Keep calm and keep on knitting and making!