It is that time of the year again to start thinking about your Christmas gift knitting and cozy knits for the cooler weather but for now it is still warm enough to wear a beautiful short sleeved cardi like Connie!
Connie's cardi is Ballou by Melissa Schaschwary that she knit using Hedgehog Fibres Sporty Merino which I don't carry...
It is designed to be knit using fingering so knit it using Hedgehog Fibres Sock, SweetGeorgia Tough Love Sock, Madelinetosh Tosh Merino Light or Drops Flora. It is the perfect, lightweight spring/summer cardigan that lets the yarn do the talking! The sweater is designed to be worn open and you can opt for decorative buttons or without with a stress free, top down raglan style with no seaming.
This morning Linda pointed out to me that Caitlin Hunter has added Ghost Horses to Ravelry! It is free until September 14th (tomorrow) so if you like her patterns, download it!
Ghost Horses is a top-down circular yoke sweater featuring all-over stranded colorwork. The pattern is written to be easily customizable in sleeve and body length. Options are given for short, long sleeves or elbow length. It is written for sport weight yarn with a gauge of 24 stitches and 32 rows = 4 inches in stranded stockinette stitch with the larger needles. The suggested needles are 2.75 mm (US 2) and 3.5 mm (US 4).
Isabell Kraemer's new pattern Manou, is worked seamlessly from the top down. First some short rows are worked back and forth to create a higher back neck and then the yoke is worked top down to sleeve separation. Some last short rows are worked to finish the yoke shaping right before sleeve stitches are placed on hold, then the body is worked in rounds down to the hem. Sleeves are worked top down to the cuffs last. Manou is knit using 3.5 mm (US 4) and 4.0 mm (US 6) needles for a gauge of 20 stitches and 28 rows = 4 inches in Stockinette stitch using worsted weight yarn. Knit it using Cascade 220 Heathers, Berroco Ultra Alpaca or Berroco Ultra Wool to name a few.
WIP's and FO's
I cast on some socks...I don't yet know what pattern I will knit! A plain vanilla sock or something more complicated?
I decided to knit these with Urth Yarns Uneek Sock in the colourway 54 - Just look at how the yarn is knitting up already and I have only knit the ribbing! Each Uneek Sock Kit contains two pre-wound 50g skeins of sock yarn. The yarn is dyed so that the socks will be almost identical in their striping pattern (assuming that both socks are knit at the same gauge!).
Don't the pre-wound cakes of yarn fit wonderfully in the separate pockets in the knitting bag that was sewn and gifted to me by Carla?
I just love the lacy back of my current WIP - Riverway by Veera Välimäki!
Here is the front! I had 480 stitches on the needles before I separated the sleeves and the body! I really can't wait to get this finished so that I can block it to get the full effect of the lace opened up!
KNIT GROUP AND GALLERY
The current Knit-Alongs are the Knit Your Any Sweater KAL and the Knit Any Shawl KAL and the Knit Your Project: the everlasting knit-along to encourage and support you to knit will run from September 1 until December 31st.
Rosemary knit Joji Locatelli's Jodi shawl using Rowan Felted Tweed
I love the subtle colour palette that Rosemary chose!
Angela's Hermosa Tee by Robin Allen Knit using Bergere de France Ecoton
Jen (zjewell)'s Hocus Pocus test knit for VenomousFlower on Ravelry - she started them for herself but hubby said no they are his!
Lise (Mattedcat)'s Raspberry Leaves text knit for DishClothDiva1
Lise (Mattedcat)'s Veggie Patch Cardigan test knit for frogginette (Lisa Chemery)
Veronica (xovee.knits)' lovely shot of her working on one her gorgeous hats...this one using a strand of Malabrigo Mechita and a strand of Drops Kid Silk
Sweet gifts for baby!!! A little Cardi and bonnet that Linda knit using Bergere de France Caline
Heidi finished this cute baby hat using Sirdar Snuggly Baby Crofter DK to gift to the same babies as her mom Linda!
FIBER SHO
The first ever Fiber Sho last Saturday, September 7th was a big success!
I took a couple of photos before the show started.
Dianne took this one for us! Thank you to Dianne - The Hook Pusher and Sho Studios for organizing this event. Thank you to everyone who turned out to see what Windsor-Essex has to offer. A big shout out Thank You to Sandi and Jen for all of their help and to Ed who even had to make a trip back home to get our sign which I forgot!!
It was a great day seeing everyone and meeting so many more!!
CLASSES FALL/WINTER 2019
Classes and Workshops with Jen, Paulette and Kathy have been posted to the shop - a few more to be posted soon! sign up in the shop or online! Don't miss out! Note that a few have been rescheduled.
Have you ever wanted to learn how to make socks and think it's way too hard? Or been intimidated by working with double pointed needles? Sign up to learn how to knit socks using magic loop! Please note that we had to reschedule this class to start Saturdays, Oct 12, 26, Nov 2 & 9 - 10 am to 12 pm. Register HERE.
Register and take this class - learn and practice stranded colourwork; steeking - cutting your work, oh my!; vikkel braids; corrugated ribbing; I-cords...This class starts soon so don't miss out! This class was also rescheduled to start Saturdays, October 5, 12 & 26 – 1 am to 3 pm. Register for this class HERE.
Strange Brew is a great first time stranded yoke sweater project. Register for this more advanced Colourwork Class knitting Strange Brew by tincanknits. I knit one for my youngest grandson...doesn't he look cute in it? The class starts soon starting Wednesdays, Sept 18, 25, Oct 9, 23 & Nov 6 – 1 to 3 pm. Register for this class HERE.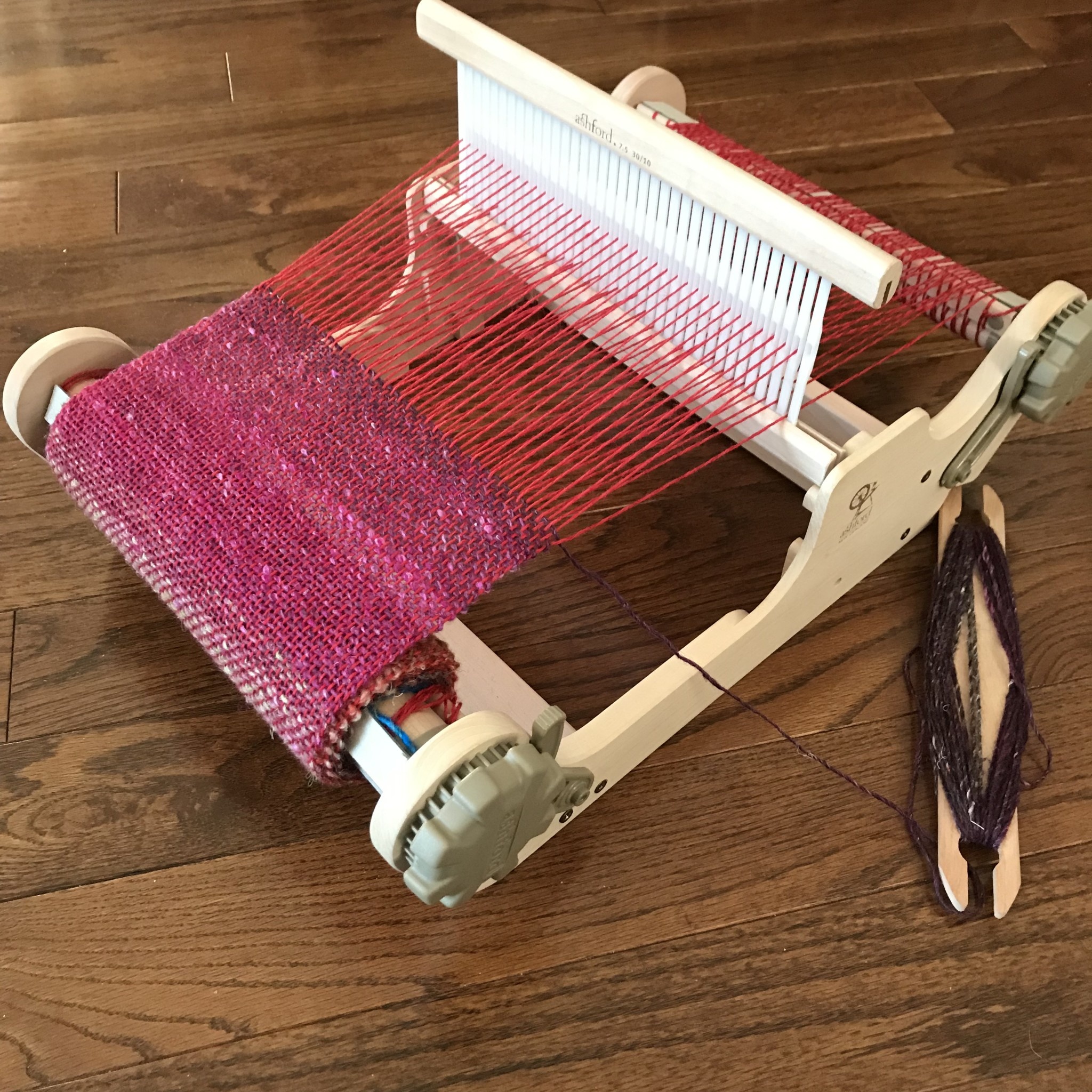 Have you ever wanted to try weaving? In this DIY class you will learn the basic techniques to make your own scarf using a rigid heddle loom! The class fee for this one session workshop includes yarn for the warp and the use of a Sampleit Loom for the class. You will purchase yarn for your weft! This workshop is scheduled for Sunday, October 6 – 10 am to 4 pm. Register HERE.
Check out the other classes too! If there is any other class you are interested in or if weeknight classes are of interest, please let me know and we can see what is possible.
Happy Friday, Happy Knitting, Crocheting and Crafting!